Concordia College Lahore Intermediate Admission 2019 is now announced by the officials for almost all the Intermediate programs as in F.A, F.Sc, ICS and I.Com for all those candidates who have clear their last 10 years qualification from any SSC Boar recognized School or Institute. The Concordia College being the best College of this Modern age is looking forward toward those candidates who are luminous and shine in their studies. So if you are among those candidates who have cleared their Matriculation Examination or equivalent exams you should get admission in Concordia College Lahore. For this purpose you have to clear the Process of getting admission specified by the college officials. As you have to buy the prospectus along with admission form from the college admission office which will remain open by Saturday and Sunday, read it carefully and fill it dully and resubmit it to the same office. You are hereby advised that you should fill in the Concordia College Admission 2019 Form with correct information according to your documents which you have to attach with admission or application form on the time of submission. These necessary documents are discussed bellow in this page stay connected with this page and a look down.
Concordia College Lahore Intermediate Admission 2019 FSc, FA Form
Concordia College Admission 2019 is open in the following programs.
Inter with Science Subjects F. Sc ( pre-Medical or Pre-Engineering)
Inter in Computer Sciences (ICS)
Inter in Commerce ( I. Com)
Inter with General Science Subjects (F.A)
Important Documents
Following Documents are necessary to attach with the admission form.
Certificate of Matric Class examinations or equivalent.
Attested Certificate if O, A-Level
Character Certificate
4 Fresh Passport size Photographs.
Concordia College Admission 2019 Eligibility
Concordia College Lahore Intermediate Admission 2019 FSc, FA only offer, if the following eligibility are lies in any student.
Admissions are only granted to those candidates who have qualified the Matric Examinations with Minimum 50% marks from SSC.
Candidates who varies on the Merit restricted by the Concordia College Officers.
Admission will be granted according to the General Policy and procedure of Officers.
College Officers can reject any candidates for admission without any reason.
Result waiting candidates are also eligible.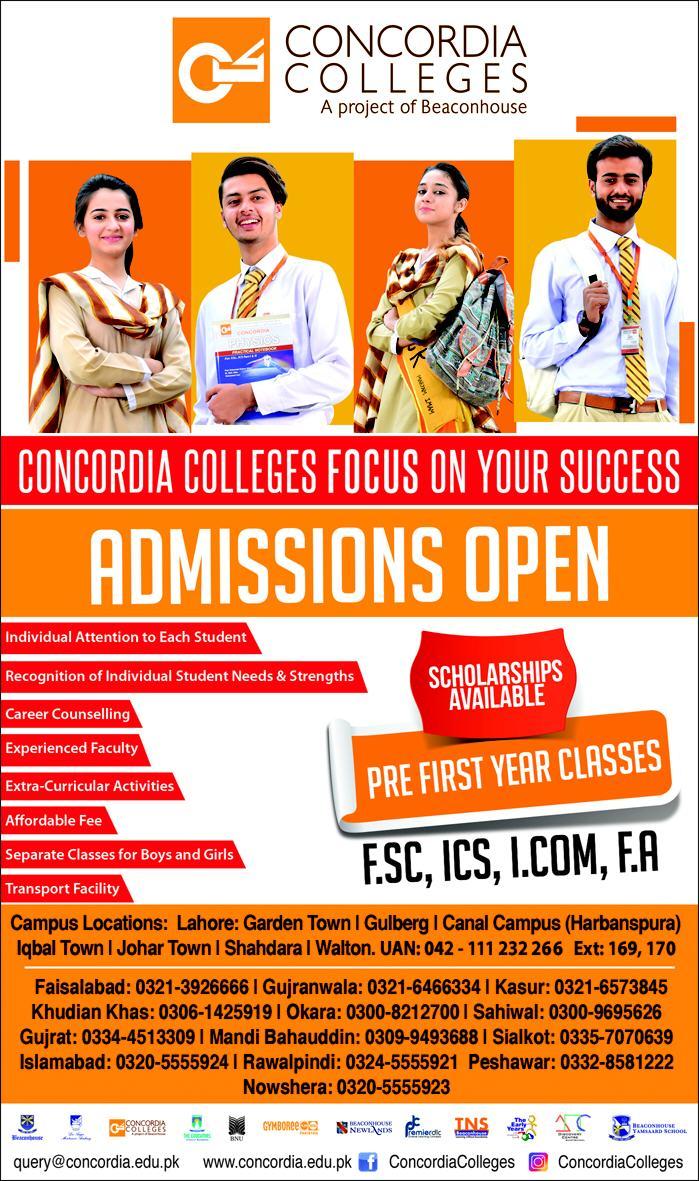 Concordia College Lahore Intermediate Admission 2019 F.A, F. Sc, ICS and I. Com. So if you are eligible according to above mentioned points so you can be a part of this well reputed organization. Concordia College Lahore is the project of Beaconhouse Authority which is consisting on the team of hard work and loyal individuals which are with their new strategies of imparting education making a value able progress. Concordia College Lahore is also providing online Learning management System known as LMS to its enrolled candidates so they can avail the education while sitting in their home as tuition base academic activities. Highly qualified Faculty is dedicating their students to produce the stand out runner. This time admissions are open in this well reputed organization so physically visit the college admission office so you can entertain by the admission process.