Pakistan Steel Cadet College Admission 2017-18 For 8th Class is now announced by the officials of College. This college works under Pakistan Steel Mills Corporation where students take admission in 8th class and remain in this college till they have passed their inter lever education. Pakistan Steel Cadet College was established in year 1982 and is among the one of the best cadet college in Pakistan. So those students who are at the age 12 to 14 on 31st March 2017 can apply for the admission in Pakistan Steel Cadet College for the 8th class. At the time of admission candidate student must have clear the 7th standard annual examinations. College prospectus along with the application form of worth Rs.1000 is available at the college and you can get the prospectus and application form at your home Via post in just Rs. 1150/- and for that you have to send a pay order on the name of Principal Pakistan Steel Town, Karachi.
Pakistan Steel Cadet College Admission 2017-18 For 8th Class
Written Test:
Written Test for the Admission in Pakistan Steel cadet college  will be of English, Maths, Urdu/Islamiyat and General science and syllabus of the test is in the college prospectus. Written test will be on 18th December, 2016 at 09:00 am in the following cities Karachi, Sukkur, Multan, Lahore, Islamabad, Faisalabad, Peshawar and Quetta.
In case of some reasonable number of applications from UAE and Saudi Arabia written test may also can be taken at Abu Dhabi, Riyadh and Jeddah.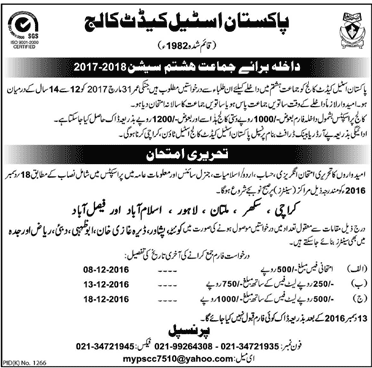 Contact Details
For further information on offered programs, admission guidelines and queries, you may please contact:
Principal,
Pakistan Steel Cadet College,
Steel Town Karachi-75010, Pakistan.
Telephone: (+92 21) 99264308, 34721935
Fax: (+92 21) 34721945
E-mail: pscc@paksteel.com.pk