All details about Quaid e Azam Law College Lahore Admission 2020, Merit List, Fee Structure, and all admission related information is available here on this page. If you are among those candidates who are going to get admission in QLC for LLB-I then this is the time to plane about to get admission 2020 in Quaid e Azam Law College. There is a completely authentic procedure to get admission if you are eligible and have completed your previous educations and now going to cater to their future with Law educations then you are advised to get admission before that the during date and time has passed. The Quaid e Azam Law College was established in 1987 to provide the best Law educations in the private sector to all the nationals located in Lahore. The QLC every year producing the best quality graduates in the jurisdiction fields that are performing their best to prevent the nation from any type of corruption. It is one of the best Law Colleges in Pakistan. The QLC varies on top in the list of Law Colleges and every year producing Top Positions in Pakistan. Hence admission is now open in this well-reputed organization and if you want to get admission here then you have to complete the following admission procedure.
Quaid E Azam Law College Lahore Admission 2020, Merit List, Fee Structure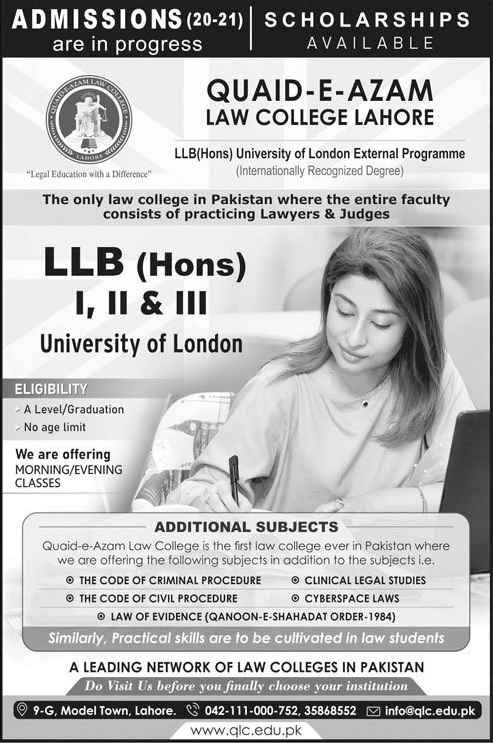 QLC Admission 2020 Program
Quaid e Azam Law College is offering admission 2020-21 for those students who have interested.
QLC Admission 2020-21, How to Apply
There is the complete authentic procedure to take admission in 2020 in Quaid e Azam Law College which every applicant has to complete so he can be entertained by the admission procedure. The procedure is to buy the prospectus along with the admission from the admission office and by filling it dully and by attaching all the required documents resubmit it to the same office before the last date. Any application submitted after the last date will not be accepted in any case and will be rejected for QLC Admission 2020.
QLC Admission 2020 required Documents
Willing candidates have to attach the following necessary documents with the application form.
Eight Fresh Photos passport size
Attested copies of All-Academic certificates
1 Attested copy of National Identity Card
Character certificate
Graduation from other then Punjab University required attaching the migration Letter.
In service, employees can also apply
Related: List of Best Law colleges in Lahore
QLC Merit List And 2020 Fee Structure
Quaid e Azam Law College Lahore Admission 2020, Merit List, Fee Structure, and all related data according to courses are widely written in the prospectus and the Merit List will be displayed here on this page as after the officials declared it. So stay connected with this page so you can get admission 2020 in QLC.