It is Rahbar Medical And Dental College Lahore Admissions 2019 and the Merit List for eligible candidates will be dispatched here as after the officials of RMDC has announced it. The RMDC is looking for all those candidates who are self-motivated and want to confident with their studies. So if you are also among candidates who have such abilities then you are hereby notified that the golden opportunity is now available for all the eligible candidates i.e. admission 2019 in RMDC is now open. If you want to grow your medical future with this college then you have to make sure that you are eligible for getting admission to this college or not (See the bellow given Eligibility Criteria). Besides this the admission form and the availability of application form and the procedure for getting admission are also given below. Rahbar Medical College is affiliated with the University of Health Sciences UHS and recognized with the Pakistan Medical and Dental Council PM&DC. The RM&DC always hires the well trained and highly qualified teachers who depart the educations to those candidates who are enrolled in MBBS, BDS or any medical faculty. So these days' admissions for MBBS are open here in RMDC and if you want to be a part of this college then scroll down this page.
Rahbar Medical And Dental College Lahore Admissions 2019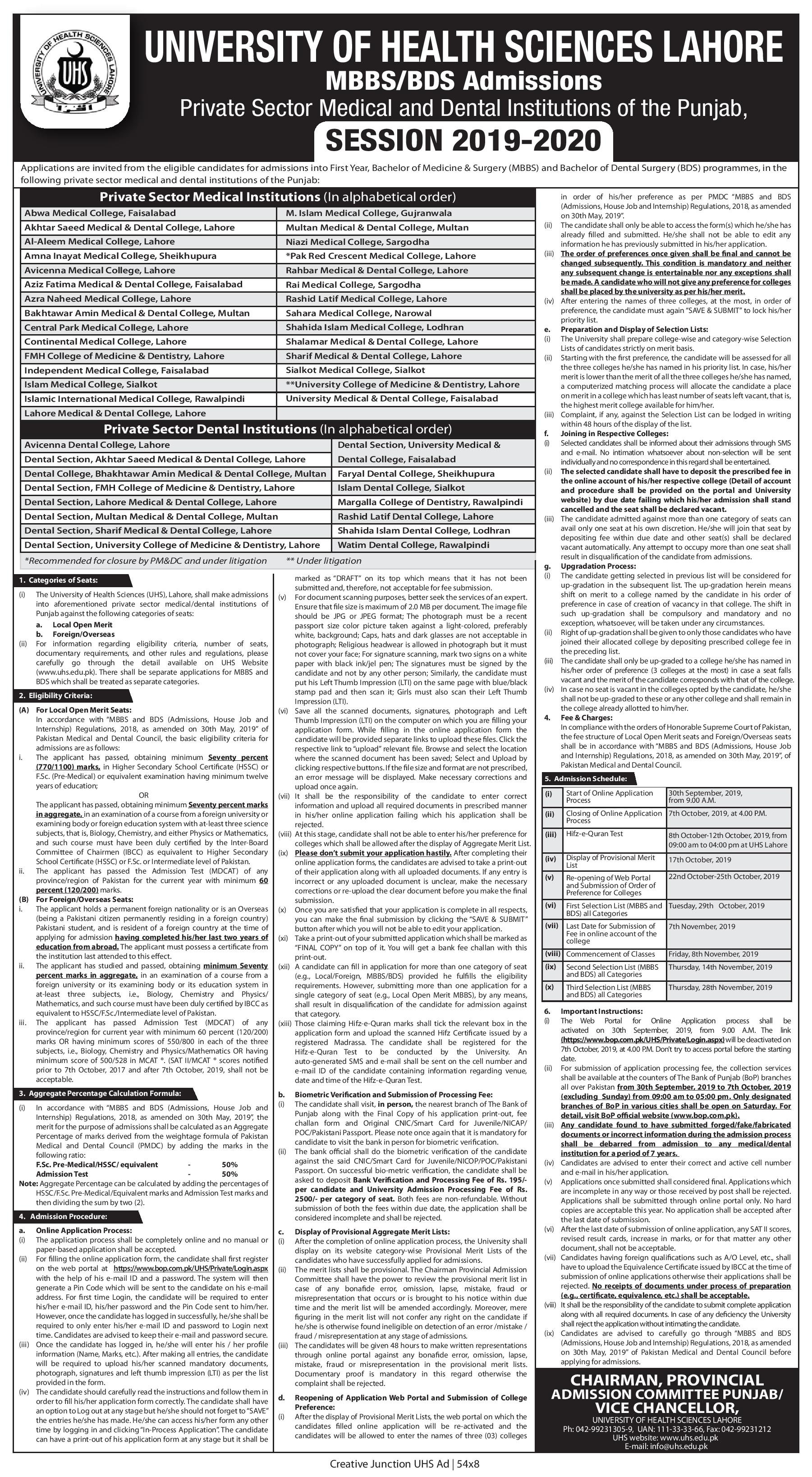 Admission Schedule for Rahbar Medical and Dental College
        Event
           Dates
Online admission starting date
30th September 2019
at 9:00 AM
Last Date for the application form
07th October 2019
at 4:00 PM
Hifz-e-Quran Test
8th to 12th October 2019
Display of Provisional Merit List
17th October 2019
Admission link will be re-opened for Submit Preference Order for College
22nd to 25th October 2019
1st Merit List for MBBS/BDS
29th October 2019
Fee Submission deadline
7th November 2019
Starting Date for classes
8th November 2019
2nd Merit List for MBBS/BDS Programs
14th November 2019
3rd Merit List for MBBS/BDS Programs
28th November 2019
Eligibility Criteria
Well, candidates, you are hereby notified that only the eligible candidates can get admission in Rahbar Medical and Dental College RMDC who lies on the eligibility Criteria restricted by the officials.
Those candidates who have qualified their FSc Pre-Medical with Minimum 70% marks
Those candidates who secure a minimum of 60% marks in the MDCAT.
Those who have an equivalent degree to FSc pre-Medical from any American High School or Foreigner with at least 70% marks in subjects including Biology, Chemistry and Physics/Math.
All those candidates who are applying from overseas must have a passing certificate of the SAT-II/MCAT
The foreign candidates have to bring the attested IBCC Certificate.
RMDC MBBS Admission 2019 Procedure:
Well, candidates if you are eligible according to the above-given eligibility criteria then you are advised to response against the instructions of admissions given below:
UHS Private Medical Colleges Admissions 2019 for RMDC has set an online admission system.
The applicant just has to log in to the official page of the Bank of Punjab (BOP) by visiting http://www.bop.com.pk/UHS/Private/Login.aspx. It's generated automatically pin code and password for login.
After that, you will be uploaded or scanned complete mandatory documents with signed applications form at the bank UHS login page. Visit any nearest BOP branch in Pakistan for a Biometric verification and fee processing system of Rs.195/- per student and also an admission processing fee of Rs.2500/- per program which is not refundable.
Private Sector Medical And Dental Institutes have the same procedure to apply for the www.uhs.edu.pk. Aggregate marks are divided as the best feature through the defined schedule means the Matric and equal exam has a weight age of 10 percent FSC and the Equal exam weight age is 40 percent, Admission test weight age of 50 percent.
RMDC MBBS Admissions 2019:
Well, candidates, the submission of application forms will be ended on 07th October. So the candidates should apply as early as possible. After the applications, the Merit Lists will be displayed as given in the dates. Stay connected with this page and stays up-to-date about any educational activity before others. We are trying hard to stay our viewers up to date about studies.