Shalamar School of Allied Health Sciences has started admissions for Medical programs. Interested students can check Shalamar Medical and Dental College Admission 2019 Form Fee Merit List for selected students through this website. Shalamar Medical and Dental College is a private medical and dental college which was established in 2009. The college is accredited by the Pakistan Medical and Dental Council and also affiliated with the Fauji Foundation Hospital Lahore for medical training. Shalamar Medical and Dental College Lahore admissions were being offered from September to October. Admission forms are available to students on the official page and the last date to submit the application form is 07th October 2019. After the closing date, the Shalamar Medical college Merit list for selected students will available on this website.
Shalamar Medical and Dental College Admission 2019 Form Fee Merit List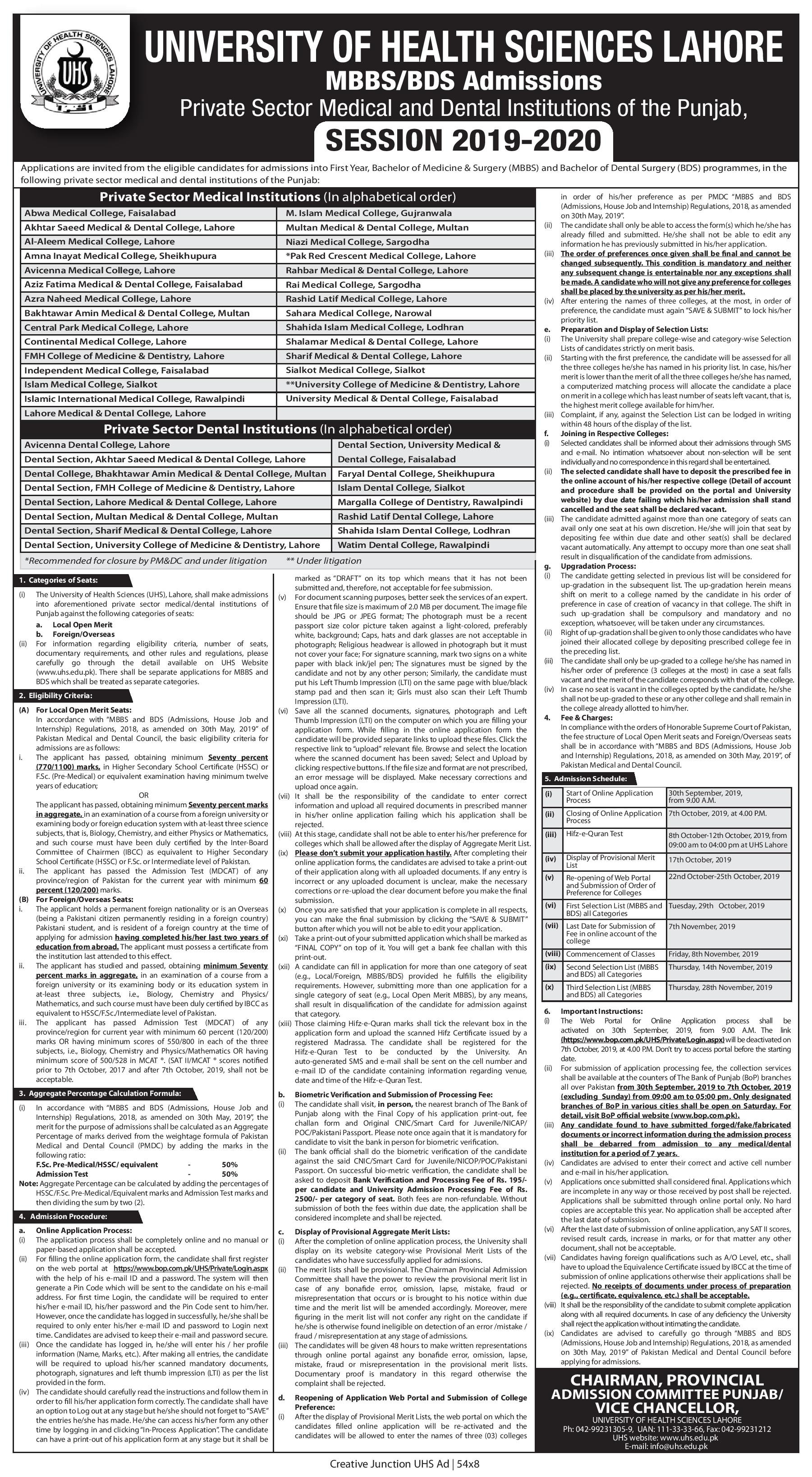 Shalamar Medical and Dental College Admission Requirements:
In order to take admission to the MBBS, the student must have FSC pre-medical with 70% or above marks.
A level students, who have 70% marks after equivalence are also eligible to apply for admission.
In the case of A level or other foreign degrees, it is compulsory to submit an equivalence letter which must be issued by the Inter Board Committee of Chairmen (IBCC).
Students must have appeared with the MDCAT admission test for 60% marks from any region of Pakistan.
Shalamar Medical and Dental College Admission Schedule:
              Event
                        Date
Start of online applications
30th September 2019
Final date for online admission
7th October 2019
at 4.00 P.M
Hafiz-e-Quran Test
8th October to 12th October 2019
from 9.00 A.M to 4.00 P.M at UHS Lahore
Display of Provisional Merit List
17th October 2019
Re-opening of Portal
22nd October to 25th October 2019
Display of 1st Merit List
29th October 2019
Last date for submission of dues
7th November 2019
Starting date of classes
8th November 2019
2nd Merit List
14th November 2019
3rd Merit List
28th November 2019
Shalamar Medical and Dental College Admission 2019 Procedure:
Shalamar Medical and Dental College Admission form 2019 required an online admission system linked with UHS. Any students shall not apply through manual or paper-based systems in any medical & Dental college for the latest admission.
Candidate must have to log in at the official page of the Bank of Punjab (BOP). Visit http://www.bop.com.pk/UHS/Private/Login.aspx if you want to log in. It's generated automatically pin code and password for login.
After logging in, you have to provide all the informations and documents required by the college. Now visit any nearest BOP branch in Pakistan for a Biometric verification and fee processing system of Rs.195/- per student and also an admission processing fee of Rs.2500/- per program which is not refundable.
Private Sector Medical And Dental Institutes have the same procedure to apply for the www.uhs.edu.pk. Aggregate marks are divided as the best feature through the schedule means. Matric and equal exam have a weight age of 10 percent. Whereas, FSC and the Equal exam weight age is 40 percent. The Admission test has a weight age of 50 percent.
Shalamar Medical and Dental College Merit List 2019:
After that you apply for the admissions, now you have to wait for a time for the Merit List. The merit list will approve your admission in the Shalamar Medical College. The official date for the Merit list has been uploaded by the officials and is also available on the page. As soon as the officials will announce the merit list, we will also give you access to the merit list. You can easily check the merit list on this page. All you have to do is to check the page regularly and especially on the day of the Merit list. We are trying to give you important news about the education system.