Sindh University CSS, PCS Coaching Classes Admissions 2015 is now open in the essential subjects like English Composing, English Essay Writing, Pakistan Affairs, Current affairs, Daily Sciences, General Knowledge and Islamic Counseling which seized by the federal public service commission / Sindh Public Commission. All those students who have pass their Bachelor examination and now wants to go for Pakistan Police department are able to continue their carrier after taking the coaching classes in PCS and CSS.  This page has brought up to date for all willing students who want to be preparing for PCS / CSS examination. For this purpose the admission forms can collect from the office of Central Superior Services / University of Sindh Jamshoro from Monday 25th August, 2015. Interested Candidates have to visit the office by this date onward. This is one of the oldest Universities in Pakistan which was established in 1947 in the year of Pakistan existence; from that time it is performing to produce the best quality leaders to serve the Pakistan.
Sindh University CSS, PCS Coaching Classes Admissions 2015
Eligibility for CSS / CSS
7.5% Admissions will be given on merit, Educational and qualification base.
Other 92.5% Admission will grant by Quota system of Civil Service of Pakistan.
Admissions are open for both male and female Candidates according to their qualifications and Merits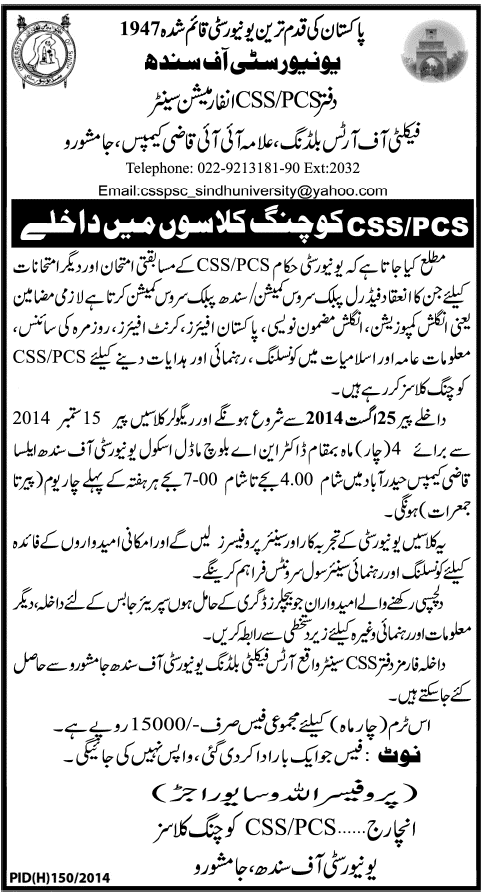 Admissions are now open only for all those Candidates who have qualify for the Bachelor degree programs in Pakistan Civil Service (PCS) and Central Superior Services (CSS) .Let have some introduction about CSS and PCS before taking its coaching classes for the mind satisfaction.  As the CSS are elite Permanent bureaucratic authority and the PCS stands for Pakistan Civil Services and these both are responsible for operating the civilian bureaucratic operations and government secretariats. For the Development in Civil and Government secretariat the directors of the Cabinet Secretariat apply instructions according to the department of CSS and PCS. The PCS defined itself as the key wheels on which the entire engine of the state has to move. During its time of formation, the bureaucracy produced Ghulam Ishaq Khan who would go on to become country President, and had influence and partial influence on many of state's defense, internal, foreign and financial polices.