Hamdard Public School Lahore Admission 2018 Fee, Form Last Date announced in all the classes from play group to Metric and O-Level for both the boys and girls. This page is providing you all the information relating to any educational activity so you are on the accurate webpage here you will get all the information about your admission. The School is looking for all those candidates who have qualified the last year examinations or very new students as in play group. Hamdard Public School is a totally English Medium school providing best quality educations consisting on the Islamic thoughts as well as the modern way of educations depending upon the computerized system. So for this purpose you have to complete the process of getting admission in this well reputed school. Prospectus along with admission form is available from the main office of the school. All other information relating to your admission is given bellow widely. Let's have a look down.
Hamdard Public School Lahore Admission 2018 Fee, Form Last Date
Hamdard Public School Lahore Admission Admission Form
Any candidate who wants to get admission (play group to Metric) has to complete the first step of getting admission that is submission of admission form. So for this purpose visit the admission office of the school and buy the prospectus along with the admission form in just rupees Rs. 200/-, than read the prospectus carefully and fill in the application form dully and resubmit it to the same office with I n the due date i.e. 08th May, 2018.
Last year Results
The students bring 100% results in Metric examinations by securing 1041, 1031 and 1030 marks and ranking on First, Second and Third Possessions. 50% students secure A-Plus Grade. Similarly in O-Level, two of the candidates bring 9A stars and four students bring 8A's stars. As a total students get 116-A's grade in O-Level which is the result of the Teachers effects and the students efforts as well.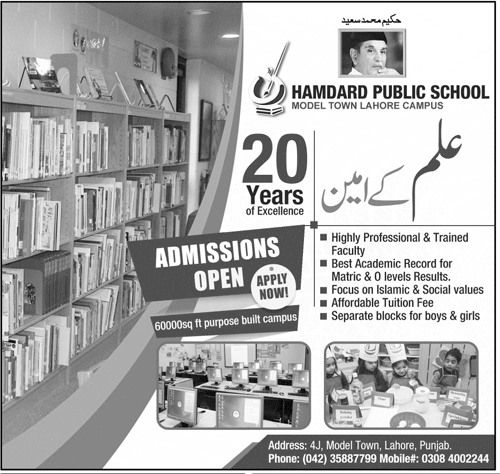 Hamdard School Lahore was established in 1999 by Hakeen Hamd Saeed Shaheed Pakistan. This School is providing English based education consisting on Islamic rules. From the Beginning the school influences its students for Computer Technology by professional thoughts.  And with the Mercy of God the School is going to complete its 15 years of is progress. The School is spread in 60,000 esquire feet in Model Town Lahore. Hamdard Public School Lahore Admission 2018 Extra curriculum activities are also arranged by the school for the physical extension for its enrolled students. The School is also providing other facilities like AC/ NON-AC buses for transport, Affordable fee structure and fee Concession to deserving students and availability of electricity in case of load shading is make the school different from all the schools in the state.