University of Central Punjab UCP Job Fair 2015 is going to held on 07th December, 2015 as this career fair will be a best option for the fresh graduate as well as the experienced person because this will bring more then 8000 students of the Bachelor, Master, MS and PhD program that are belonging from different field to come in face to face interviews with many employers in Pakistan. Pakistan is not a small country so there are a lot of businesses is running and this job fair will act like a platform between the employer and the employee and the employee has a choice to choose a company that is relevant to their education and same on the other hand employer has also a lot of option to choose the best person that are perfect according to the job specification. So students do not forgot to bring your CV along with you as on the spot interview would be a career option for you and yes also do not forgot the proper formal dressing too because as you heard that first impression is the last impression. So candidates if you have clear your educational degree and looking for a job then University of Central Punjab UCP Job Fair 2015 will be the best option for you. The other details of the Job Fair are as follow.
University of Central Punjab UCP Job Fair 2015
Job Fair Date: 07th December, 2015
Job Fair Time: 10;00 am till 4:00 pm
Job Fair Venue: UCP Campus, Khayaban-e-Jinnah, Johar Town, Lahore
There are mnay companies that will be a part of this UCP Job Fair that are from different business pattern and product the industry of the companies would be
FMCG
Manufacturing
Advertising
Engineering
Consultancy
Education
Banking
Service
Software
Pharmaceutical
Telecommunication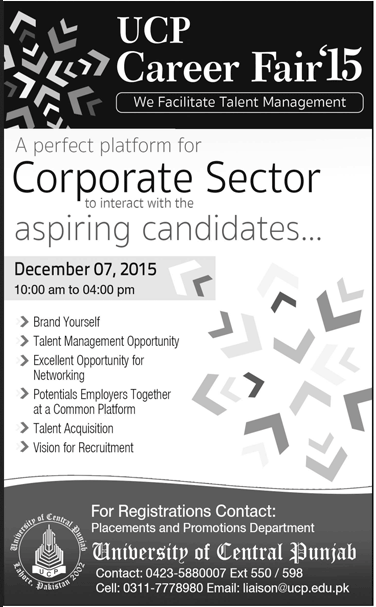 Registration Details:
All those who wants to be a part of this UCP Job Fair 2015 should register them self as the company participation registration deadline is 7th December, 2015. There are just limited stalls that are available in this job fair so first come first get rule is applied here that is why if you want to participate then don't be late as the clock is running.
For Other Inquiries:
Write us in the comment section of this page and we will provide you complete assistant
or
Contact: 042-35880007
042-35880007 Ext: 528, 526, 598