University of Gujrat UOG 2nd Hayatians Alumni Dinner 2013 is going to be held in 30th March, 2013 so are you going to this dinner or not if you wish to go there then you have to register yourself before 10th March. University of Gujrat starts its operations in 2003 as before this was a school established in 1921 as Zamindar School then it is converted into college in 1937 this college is so popular that attract many students of near cities so in 2003 the Punjab government Chief Minister Chaudry Pervez Elahi established UOG in the vacant space of Hafiz Muhammad Hayat that is why this campus is known as Hayatian.
With the quality Education University of Gujrat is also belief on the Lifelong and productive relationship between the Hayatians and their Alma Mater that is why this university has established a complete and scheduled network for the Alumni just to make their relationships more stronger with all those who have completed thier degrees from this educational institutes.As you can see here that this Alumi Association is so fast and active that are arranging a dinner on 30th March.
Important dates:
Last date of Registration: March 10, 2013
Hayatian's Alumni Dinner: March 30, 2013
Venue: Hafiz Hayat campus
Registration:
Online Registration  CLICK HERE
Download Printable Registration Form CLICK HERE
Some terms and Conditions for the Hayatians' Alumni Dinner 2013
Those students who have completed thier degrees from University of Gujrat under semeter system can attend this dinner event.
Alumni Dinner registration Fee is PKR 1500/- only must be submitted online in UOG Alumni Account ID # CD 001038-000-6 the Bank of Punjab, UOG Branch .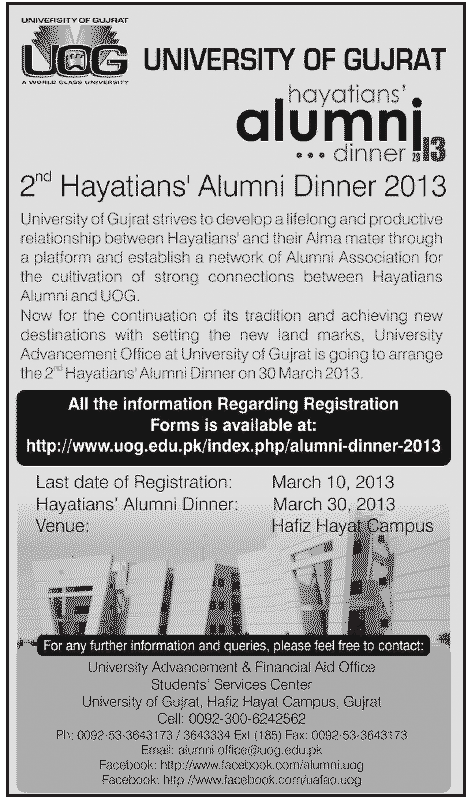 For More inquiry and information related to Dinner 2013 contact:
University Advancement Office, SSC, University of Gujrat, Hafiz Hayat Campus, Gujrat
Ph: 0092-53-3643173 / 3643334 Ext (133) Fax: 0092-53-3643173