Engineering College Admission Test ECAT Preparation Online Guide will show students it is important to prepare for the students to pass it. It helps to get the admission in the engineering college or university in Pakistan. Engineering field is the dream of every student who opts for the sciences in the 10th class. The dream continues when a student goes to the FSC with the same mindset. The sciences at both platforms show the parents and teachers that a student wants to get admission in engineering college. Therefore, Engineering College Admission Test ECAT Preparation will show you best way to prepare for the test. Before, further discussion education platform wants to show you the engineering colleges in Pakistan and how they are preparing to intake able students in the desired form.
The dream has no weight age unless or until the student has the composed way to prepare for Engineering College Admission Test ECAT test. Sound admission strategy is important to complete with other students in the ECAT entry test. Follow these steps if you really want to get the good marks in the engineering field. The only intake method applies in Pakistan is the ECAT test and good marks to sustain in the market. Eligibility is the first step for the ECAT test guide which is going to publish online free of cost. Engineering institutes in Pakistan are the second thing which needs attention and motivation for the student to compete. The admission planning is the third and important step because every student has the one goal after the test.
Engineering College Admission Test ECAT Preparation Online Guide
Engineering College Admission Test ECAT
Entry test will be there at the fourth step. Admission form or priority list is fifth thing needs to be discussed so far. ECAT Entry Test Aggregate formula and its formation at student level is another important thing. The engineering colleges admission test has a specific way to deal with the student's documents. ECAT Hafiz e quran test, open merit for engineering and finally admission schedule after the test are important things and needs to consider while preparing this Engineering College Admission Test ECAT Preparation Online Guide.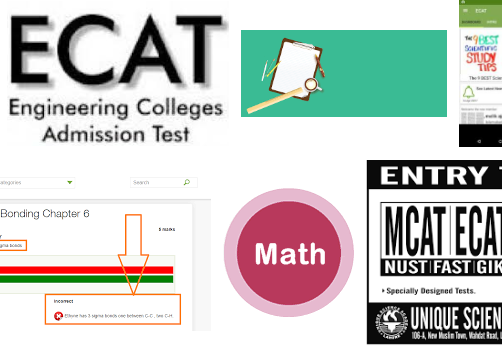 Pakistan has the low cost engineering field as compared to other regions in Asia. 150 plus institutions are competing with each other. About 60 plus engineering programs offered in Pakistan with the help of these 150 plus institutions. It means that students cannot ignore their dream now.
Engineering Fields or Categories
Electrical
Civil
Mechanical
Chemical
Emerging fields
The engineering field selection may increase or decrease for its duration. Like BSC BE or BS, engineering field continues for 4 years. Architecture engineering duration is 5 years, and finally, bio medical engineering duration is 5 years as well.
Engineering College Admission Test ECAT Entry Test Eligibility
A student is eligible if he opts for sciences in Matric and math, physics, chemistry in Fsc pre engineering stage. The 60 percent marks required in Matric science, 60 percent marks in FSc pre engineering and entry test are three stages of evaluating the admission scope for students. Those students who opted for ICS Math, Physics, the computer  can participate in ECAT test as well. Electronics, Computer, mechatronics, telecommunication, and software engineering are included in their scope. Fsc pre medical students can go with bio engineering and biio medical engineering as well. DAE, BTEC students, can go with the engineering fields.
BTech pass of 2 years, B Tech hons for 4 years and BS technology can get the benefits of exemptions, but it highly depends upon the university decision. If an A-level student wants to get admission through ECAT entry test, then equivalence certificate of IBCC is mandatory to produce during admission. IBCC offices are situated at Lahore, Karachi, Peshawar, and Quetta as well. O level students also need the equivalence certificate.
Engineering Universities in Pakistan
There are about 150 plus institutions offering engineering courses. For example, you have the merit calculator with you and wants to select the colleges then here is the method. For example, if your Marks in FSc is 80 percent then you should go with those universities wants high marks in FSc pre engineering like UET Lahore, UET Taxila, UET Peshawar and finally NED UET Karachi. These institutes required higher marks in FSc pre engineering. The selective approach will give you the benefit to get the admission in engineering universities in Pakistan. Now, lets suppose your marks un FSc pre engineering is less than 80 percent then students should go with PIEAS with 60 percent weightage, NUST with 75 percent weightage and GIKI with 85 percent.
Drafting a list of possible engineering universities is the habit of successful students in the engineering field. All institutes of Punjab and KPK only conduct one entry test, but Sindh, balochistan, and AJK have its own way to conduct entry test. Matric certificate, FSc Certificate, CNIC and domicile from home district are required documents for engineering colleges.
Test Conducting Authorities
Punjab, It is UET Lahore
For KPK ETEA Peshawar selected for the test
Karachi NED University of Engg 7 Technology Karachi
For Sindh Mehran university of Engineering and technology Jamshoro and Quaid e Awam University of engineering, science & technology Nawabshah
For Balochistan UET Khuzdar
Independent test institutes are PIEAS Islamabad, NUST Islamabad, and GIKI TOPI
COMSTAS and Institute of science and technology goes with NTS testing system for the engineering test
Overseas students can provide their SAT 1 and SAT 2 result for engineering colleges admission
After the result, each university opens its admission for students to apply. The priority list creation is important step, filling the admission form. Electrical is the first choice; mechanical is the second, Civil is the third, Chemical is the fourth, Computer is the fifth, Mechatronics is the sixth and Petroleum engineering is the seventh in the list. Introduction to every field before filling priority list is important indeed for students.
Engineering College Admission Test ECAT Documents Checklist
4 Passport Size pictures
Matric certificate or Equivalence certificate
FSc pre engineering certificate or equivalence certificate
Domicile home district
CNIC or NADRA registration certificate
Father or Guardian CNIC
Character certificate
Reserved seats can obtain from the Engineering College Admission Test ECAT Test as well which depends upon the Engineering College Admission Test ECAT Entry Test Merit. It is all about the Engineering College Admission Test ECAT Preparation Online Guide.