ECAT_ stands for Engineering College Test. It is very important to test in order to get admission in Engineering College. For Pre-Engineering students in Pakistan ECAT is conducted every year. It organizes by the University of Engineering and Technology in Punjab. It comes to notice that more than 45000 student's attempt ECAT ever year. But there are only 3000 seats are available for Engineering students in Punjab. This is ECAT Entry Test MCQ's based test. Each MCQ contains 4 marks. Every question is comprises of equal marks whereas there is negative marking -1 for the wrong answer. Here below we are going to discuss the detail information regarding ECAT Preparation Books List.
After the successful completion of the intermediate examination process, the ECAT Registration Form are available. Usually, the inter exams are conducted in the month of May. The ECAT Test holds in the month of August every year. The application process will start after inter exams.
ECAT Preparation Books List Online Free PDF Download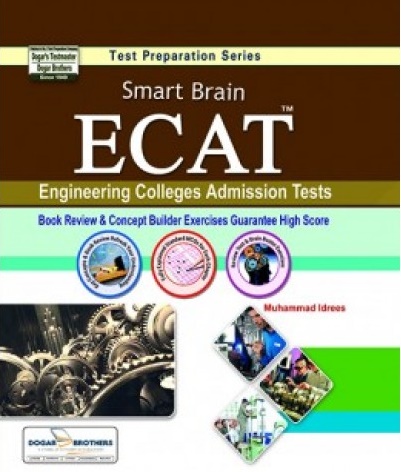 ECAT Preparation:
Every year the University of Engineering and Technology organizes ECAT Test for both public and private Engineering Colleges in Punjab.  The syllabus of ECAT is comprised of four subjects such as Physics, Mathematics, Chemistry, and English of FSc Pre-Engineering or any equivalent level. Students should try to master these subjects in order to pass ECAT Test UET.
There are so many online ECAT Preparation Institutes are available. It will surely help you to find out your plus points and weak points. You can easily prepare yourself for this test at home by online. A huge number of sites is available on internet which is providing these services. University of Engineering & Technology's official site will also instruct you best in this regard. You can also prepare yourself for by getting help from textbooks, notes, lectures during class.
Following are the major subjects consists of ECAT Test in which you must have a strong grip
Physics:                  30 MCQ's
Chemistry:             30 MCQ's
Mathematics:        30 MCQ's
English:                  10 MCQ's
ECAT Preparation Books List Recommended
Smart Brain ECAT By Dogar Brothers
NUST ECAT 1 Equals 4
Smart Brain ECAT-Challenge 2 Plus 8 by Dogar Brothers
NUST ECAT Solved Papers
Smart Brain Mathematics by Dogar Brothers
NUST BCAT Guide by Dogar Brothers
Smart Brain Biology by Dogar Brothers
Smart Brain Physics by Dogar Brothers
Smart Brain Chemistry by Dogar Brothers
Smart Brain English by Dogar Brothers
The ECAT Preparation Books List Online Free PDF Download of related subjects (Physics, Chemistry, Mathematics, and English) are helpful in this regard. All students are strictly advised to prepare themselves well in order to get good marks in ECAT Test. So that you will be able to get admission in any well reputed Engineering College. It will ultimately help you to fulfill your desire to become a successful engineer.