GAT General Test Format and Preparation Tips is here on this page so that you may be well aware from the this test as GAT (Graduate Assessment Test) is one of the most renowned and popular examination which is being conducted in Pakistan and in every session of this exam thousands of students appear to asses and to evaluate themselves for their skills which include the Quantitative Skills, Analytical Abilities and Verbal strength. GAT is being made as a compulsion for the students which are seeking the admission in either MS or M. Phil degrees from the recognized universities of Pakistan, at the same time the Higher Education Commission has also made the GAT exam as compulsory for the candidates which are looking forward for any scholarships for their higher studies either in Pakistan or even abroad. HEC has given the responsibility of conduction of the GAT examination to NTS which is the National testing System of Pakistan which are assigned the duty of conducting as well as issuing the results for the GAT General examination in Pakistan.
GAT General Test Format and Preparation Tips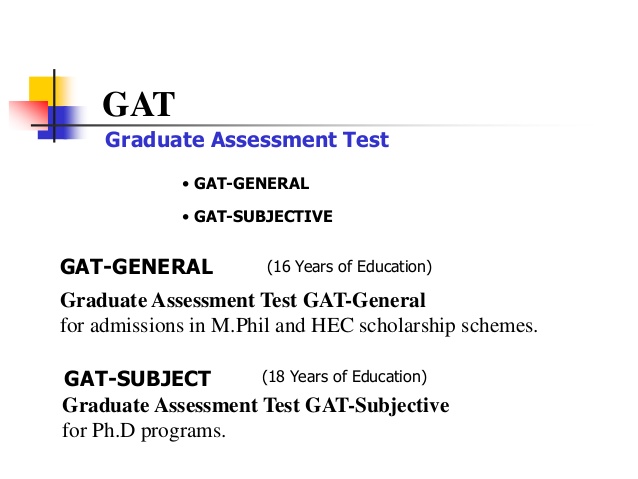 Test Format for GAT General:          
The format of the GAT General Examination is paper based which comprises of 100 Multiple Choice Questions (MCQs) each carrying a mark, the time which is being allowed to answer the test is 120 minutes which means 2 Hours.
There are three sections in the GAT General Examination;
       Verbal Ability: It is designed to assess the skill of English Language amongst the candidates as it consists of four parts respectively which includes the Comprehensions, Sentence Completion, Analogies and Antonyms.
      Quantitative Ability: In this respective section in the GAT examination there are two sub divisions amongst which one is the problem solving and the second is the Quantitative comparisons.
      Analytical Ability: This is the last section of the GAT examination which comprises of Analytical and Logical Reasoning.
Preparation Tips for GAT General:
Gat General Examination is basically unseen exam so it does not have any specific guideline for the students but to get fully prepared in this regard the candidate must be very much strong in quantitative, analytical and verbal skills. And that can be done through excessive exposure to such queries and situations which are available online as well as in various books of GAT and NTS.
Using of Dictionary is one best source for the students to get the grip and strength on the English language which is being required in the GAT examination because no doubt as this section is quite tough in the GAT examinations.