Today we will discuss International Relations Scope in Pakistan. International relation is a field that examines the interactions between different countries and other global actors. It focuses on the diplomatic, economic, cultural, and military aspects of international affairs. The field also considers the theoretical underpinnings of international relations such as realism, liberalism, and constructivism.
International relations also looks at global issues such as climate change, terrorism, and human rights. It considers the role of international organizations, such as the United Nations, and the European Union, as well as other international institutions.
International Relations Scope in Pakistan
Day by Day scope of International Relations going to increase in Pakistan but people are unaware of its importance and which universities offer these courses. Many institutes exist that offer different courses because you communicate from one country to another country.
Scope of IR in Pakistan
The scope of IR in Pakistan is vast and varied. IR is an important field in Pakistan as it is a major player in regional and global geopolitics. As a result, there is a strong demand for graduates with degrees in International Relations in the country. It is used to develop strategies and policies for governments, corporations, and international organizations.
In Pakistan, IR is used to study regional and international affairs, analyze and interpret domestic and international policies and identify and evaluate solutions to international problems. IR is also used to inform public opinion and to shape public policy.
The IR graduates can find employment in a variety of sectors, including the public sector, non-governmental organizations, diplomatic missions, international organizations, research organizations and think tanks, media and communications organizations, and the private sector.
In addition to these career opportunities, there are many international organizations such as the United Nations, World Bank, and International Monetary Fund that offer internships and fellowships to IR graduates in Pakistan.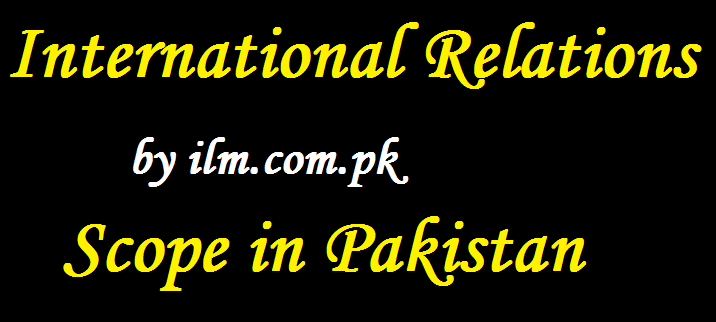 Salary Range of IR Fields
The salary levels for those working in the international relations field in Pakistan vary greatly depending on experience, qualifications, and employer. Entry-level salaries for international relations specialists typically range from Rs. 40,000 to Rs. 60,000 per month. Experienced professionals may earn salaries of up to Rs. 80,000 per month. Highly experienced professionals in the field may earn salaries of Rs. 150,000 or more per month. Bonuses and other forms of compensation may also be available.
International Relations Subjects
The following are the main subjects studied in International Relations program in Pakistan:
International Relations.
Security Studies.
Conflict Resolution.
International Law.
Diplomacy
Regional Politics.
International Organizations.
Economics & International Trade.
Terrorism & Counter-Terrorism.
Global Governance.
South Asian Politics.
International Political Economy.
International Relations Theory.
Strategic Studies.
Nuclear Politics & Non-Proliferation.
Human Rights & Development.
Migration & Refugee Studies.
Foreign Policy Analysis.
Dimensions of Geopolitics.
Modern Warfare.
Issues of Globalization.
National Security & Threat Perception.
Arms Control & Nuclear Non-Proliferation.
Also Review:
Universities for IR in Pakistan
The following is a list of universities in Pakistan offering IR degrees:
Quaid-i-Azam University, Islamabad.
Lahore University of Management Sciences, Lahore.
University of Punjab, Lahore.
University of Peshawar, Peshawar.
National Defense University, Islamabad.
University of Karachi, Karachi.
COMSATS Institute of Information Technology, Islamabad.
Bahria University, Islamabad.
University of Balochistan, Quetta.
Federal Urdu University, Karachi.
Fatima Jinnah Women University, Rawalpindi.
Institute of Business Administration, Karachi.
University of Sindh, Jamshoro.
International Islamic University Islamabad.
Aga Khan University, Karachi.
University of Balochistan, Quetta.
National University of Science and Technology, Islamabad.
Bahauddin Zakariya University, Multan.
University of Balochistan, Quetta.
Comsats Institute of Information Technology, Islamabad.
National University of Modern Languages, Islamabad.
Bahria University, Islamabad.
University of Azad Jammu & Kashmir, Muzaffarabad.
Why should you study International Relations?
Studying International Relations is important because it gives you a global perspective and understanding of how countries interact and how they influence each other. It also allows you to gain insights into how different cultures and countries function and how they affect each other. It also helps you gain insight into the political, economic, and cultural dynamics at play in the global arena.
Furthermore, Studying International Relations can help you equip the knowledge needed to navigate the increasingly interconnected world we live in and it is important to have a better understanding of global affairs and international politics in order to make informed decisions as a global citizen. This is complete details about International Relations Scope in Pakistan.