Today we will just discuss the Scope of Nutrition and Dietetics in Pakistan. Nutrition and dietetics is the study of the science of nutrition and its effects on the body. It focuses on how the body uses nutrients, how to promote optimal health, and how to prevent and treat diseases related to nutrition. It also involves understanding the food composition, food production, and food choices that people make.
Nutrition and dietetics professionals use their knowledge to assess, diagnose and treat nutritional problems as well as to provide food-related education and counseling. They also work with other health professionals to ensure that people get the best possible care.
Scope of Nutrition & Dietetics in Pakistan
The scope of nutrition and dietetics in Pakistan is growing rapidly due to the increasing awareness of the importance of nutrition and health. More people are becoming aware of the need to make healthy food choices and many are investing in nutrition and dietetics services to improve their health.
The demand for qualified nutritionists and dietitians is high in Pakistan, especially in the private sector. Dietitians are increasingly being employed in hospitals, health centers, and other health-related institutions. There is also an increasing demand for nutritionists in public health departments, NGOs, and other organizations that focus on health promotion.
In addition to providing nutrition and dietetic services, nutritionists and dietitians in Pakistan are also involved in research, policy-making, and health education. They help to develop nutrition policies and strategies that can be implemented within communities. They can also provide guidance to individuals on healthy eating habits and lifestyle choices. Overall, the scope of nutrition and dietetics in Pakistan is increasing and has a bright future.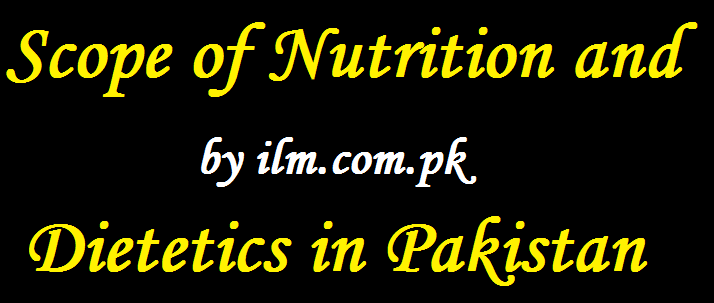 Universities for Nutrition & Dietetics Pakistan
The following universities in Pakistan offer Nutrition & Dietetics courses:
University of Health Sciences (UHS), Lahore.
Allama Iqbal Open University (AIOU), Islamabad.
University of Punjab, Lahore.
University of Veterinary and Animal Sciences (UVAS), Lahore.
University of Karachi (KU), Karachi.
University of Agriculture (UAF), Faisalabad.
University of Sargodha (UOS), Sarghoda.
COMSATS Institute of Information Technology (CIIT), Islamabad.
National University of Science and Technology (NUST), Islamabad.
Aga Khan University (AKU), Karachi.
Dow University of Health Sciences (DUHS), Karachi.
Shaheed Zulfiqar Ali Bhutto Medical University (SZABMU), Islamabad.
University of Central Punjab (UCP), Lahore.
Institute of Diet and Nutrition, Islamabad.
Gomal University, Dera Ismail Khan.
Baqai Medical University, Karachi.
Isra University, Hyderabad.
Liaquat University of Medical & Health Sciences (LUMHS), Jamshoro.
King Edward Medical University, Lahore.
Jinnah Sindh Medical University (JSMU), Karachi.
The Islamia University of Bahawalpur (IUB), Bahawalpur.
University of Balochistan, Quetta.
University of Agriculture (UAF), Faisalabad.
Salary Range of Nutritionists & Dietitians
The average salary for dietitians and nutritionists in Pakistan is around Rs. 40,000 per month. However, salaries can vary depending on experience, qualifications, employer, type of institution, and location.
| | |
| --- | --- |
| Salary Package | Starts from Rs. 40,000 |
Nutrition and Dietetics Subjects
In Pakistan, nutrition and dietetics subjects are taught at undergraduate and postgraduate levels in Universities and Colleges. The subjects commonly found in the curriculum include:
Undergraduate Level:
Food Science and Nutrition.
Food and Nutrition Management.
Food Composition and Analysis.
Community Nutrition.
Nutrition Planning.
Food Technology.
Nutritional Biochemistry.
Nutrition Education.
Dietetics
Food Service Systems.
Nutrition and Health Promotion.
Nutrition Intervention Strategies.
Food Safety and Hygiene.
Nutritional Epidemiology.
Postgraduate Level:
Advanced Nutrition.
Clinical Nutrition.
Advanced Food Science.
Advanced Dietetics.
Sports Nutrition
Nutrition and Metabolism.
Research Methodology in Nutrition.
Food Service Management.
Advanced Food Technology.
Nutrition and Health Promotion.
Food Quality and Safety.
Nutritional Gerontology.
Advanced Food Technology
Nutrition in Public Health.
You can acquire the knowledge and abilities required to make knowledgeable choices about food, health and nutrition by studying dietetics and nutrition. You can try to enhance your own health as well as the health of others by developing an awareness of nutrition concepts and how food impacts the body. Also, it can assist you in understanding the impact of nutrition on the prevention and treatment of sickness, as well as how to develop and adhere to dietary regimens.