If you are looking for Pak Navy Jobs For Females 2021 After FSc, Graduation then you are here in the right place. It is a very good chance for all the female students who have done their FSc or Graduate to apply for these jobs. Here I have arranged the jobs for the females in PN along with position name, eligibility criteria including age, physical standards, and marital status, also the applying and selection procedure according to the officials.  Well, there are fewer opportunities there for females as compare to males at this level of education but one who is holding more qualifications can avail a lot of recruitments in Pak Navy for ladies. There are three entries through which a girl can apply i.e. Permanent Commission, Short Service Commission (SSC), and Direct Entry Sailors. Pakistan Navy provides a well-respected, well-secured, and career build environment for females where she can utilize her skills and can also groom a career to get a superior rank. So keep on reading to get about how you can make-up your career in Pakistan Navy jobs for females after Inter and bachelors.
Pak Navy Jobs For Females 2021 After FSc, Graduation
Female interested candidates can join the Pak navy after FSc and Graduation. So further information about courses are going to mention in below and candidates can check all information and then they take the further steps for joining.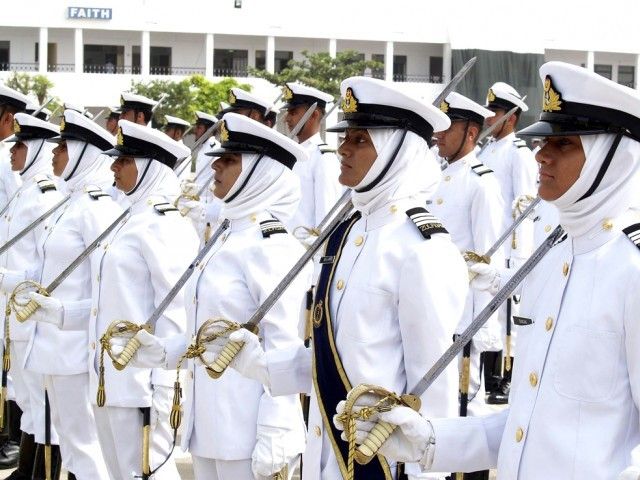 Through Short Service Commission (SSC)
Education Branch
Age: 16 to 28 years
Height: 5' (152.4 cm)
Marital Status: Unmarried
Qualification: 4 years bachelor's degree or 2 years master's degree i.e. total 16 years of education with at least 2nd division from any HEC recognized university in the following disciplines
Mathematics
Mathematics
Pak Studies
Islamic Studies
Physics
Chemistry
Psychology
Other
Through Direct Sailor Entry 
Female Medical Technician
Age: 16 to 20 years
Height: 5' (15.4 cm)
Marital Status: Unmarried
Qualification: – Matric with science (biology) with at least 65% marks from any registered school as a regular candidate
How To Apply/ Registration Procedure
These are two initial posts that are being offered by the Pak Navy Jobs For Females 2021 After FSc, Graduation and those who are meeting the above-written eligibility criteria have two ways to apply.
The first way to apply online via internet online registration by click on the link above of this passage. While the second procedure is
Visit the nearest Pakistan Naval Selection and Recruitment Center(PNSRC). After getting the application or registration form you have to fill this form dully and attach all the documents given below:
Required Documents
Original & Attested Photocopy of Academic Certificates
01 x Passport size photograph.
Attested photocopy of CNIC/Form B (NADRA).
Crossed Postal Order Rs.50/- in favor of Director of Recruitment NHQ, Islamabad.
Attested photocopy of domicile certificate.
Selection Procedure
When you have submitted your registration form before the last date which will be mentioned in the advertisement published through the newspaper in the month of January-February and June-July. After receiving the advertisement you have to submit the registration form before till the last date of submission of the application form. After receiving the application form officials will prepare a list of selected candidates and all the selected candidates will call for the following selection procedure
Entrance Test
Medical examination
Detailed medical examination
Interview
Interview of medically fit candidates is carried out at respective PNR&SCs.
Final Selection by ISSB
Final selection by Naval Headquarters
All these steps will be gradually performed for each selected female and one who will successfully pass through these procedures will be hired and appointed in the Pakistan Navy. Above all, you are also informed that there is an ineligibility criterion is also which is strictly restricted by the officials that is a candidate who is dismissed or discharged from the service due to discipline/ unsuitability and any physical disability.
So this is all about Pak Navy Jobs For Females 2021 After FSc, Graduation and I am hoping that you are all now fully aware and ready to apply for a job but in case you have any confusion about this post you can send your query via comments in the following box relating to this post we will reply you soon.