State Bank of Pakistan SBP Banking Service Commission BSC is offering jobs as OG-1 officers 3rd Batch 2014 and you have to download the National Testing Services NTS Form and then resubmits it before the last date. The SBP BSC is offering jobs for only the eligible candidates (eligibility criteria is given bellow). So if you have a desire to join this department then this is the time avail this job and for this purpose you have to analyze yourself that either you are eligible for this job or not. The SBP BSC has authorized NTS to conduct the NTS Test from all the eligible candidates so that they can purify those candidates who are eligible. The Bank of Punjab was established in the year of 2002 by the Federal Government of Pakistan as a whole owned subsidiary of State Bank of Pakistan. The State Bank is working under the Act 1956 with the subsequent amendments of Banks of Pakistan. Before the State Bank the Reserve Bank of India was functioning as the State Bank of India and Pakistan. But later in the year of 1956 the Government of Pakistan formed its own independent bank with the name of State bank of Pakistan. Well this is the short overview the State bank of Pakistan now have look down for the posts vacant instructions in SBP BSC.
State Bank SBP BSC OG-1 Officers 3rd Batch 2014 NTS Form, Last Date 
SBP-BSC Job Posts 2014
State Bank of Pakistan SBP Banking Services Corporation BSC is offering jobs 2014 in the following posts.
Officers Grade-1 (OG-1) Batch 3 
SBP BSC Job 2014 OG-1 Eligibility Criteria
Well you hereby informed that only the eligible candidates are able to get this job in Officers Grade 1, that are eligible according to the given eligibility criteria.
Those candidates who have qualified their graduation with minimum 60% marks or equivalent CGPA.
Candidate should complete his education from any University or Instotute that is affiliated with the Higher Educational Council HEC.
Result awaiting candidates are not eligible for apply.
Age Limitation is till 28 years old till the NTS Last Date. 3 years relaxation is allowed for the candidates belonging to the FATA, Azad Kashmir, Baluchistan and Gilgit Baltistan.
SBP employees are not restricted for the age limitations written above.
SBP OG-1 Jobs 2014 Date Schedule
State Bank of Pakistan SBP officials has restricted the date schedule and each and every candidate has to follow these dates. Because if any application form submitted after the last date will not be entertained and will be rejected.
Last Date of Submission of Application form 28th November, 2014
NTS Test Date : 14th December, 2014
Click for Online Registration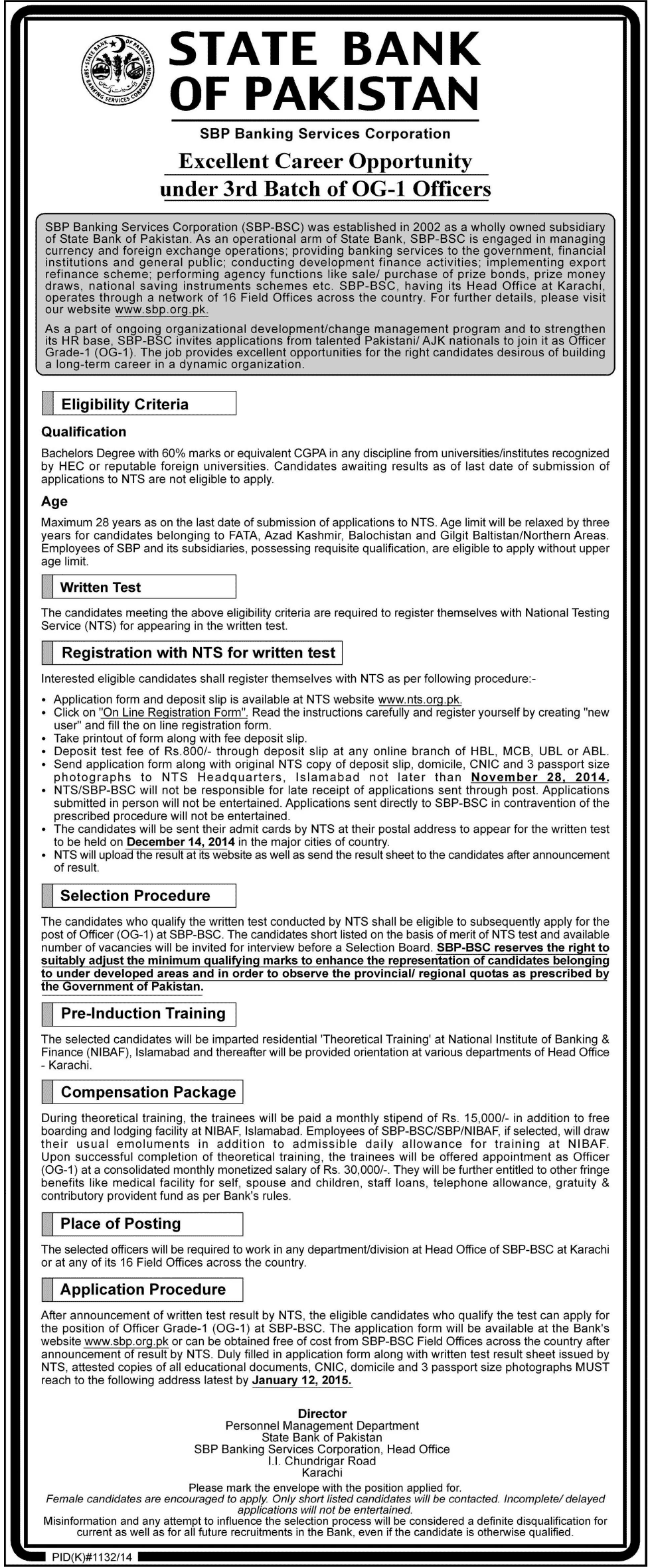 So candidates this is all about the State Bank SBP BSC OG-1 officers 3rd Batch 2014 NTS Form, Last Date. Now you are advised that if you are eligible then you have to follow the given instructions and response against the schedule so that you can be entertained by the 3rd batch OG-1 officers jobs 2014 in SBP BSC. Stay connected with this page if you want to get further any information about any update about this job or you have another patch to clear your mind that is the comment box given bellow. Our 7 / 24 working team will guide you about SBP jobs 2014 NTS Written Test OG-1 3rd Batch.