Gwadar Sea Port is a vastly debated issue on international forum. It is considered a game changer in the South Asia region. It is a seaport located in Balochistan province of Pakistan almost at the verge of Persian gulf-An international oil supply and trade route. This port was decided to be regulated in 2007 by Pervaiz Musharraf government. But practically it was regulated in 2015 with a view to connecting China with deep sea water in the Indian ocean. Under CPEC an economic initiative started by China with a broader aim of one belt one road policy, it was stated that Gwadar Sea Port would be started initially, with the investment of 46 billion $ but later it was extended to 62 b$ worth. It is a bigger project that probably in near future will provide a route to the landlocked countries of central Asia and to many others for perfect way out about  the Importance Of Gwadar Sea Port For Pakistan.
Importance Of Gwadar Sea Port For Pakistan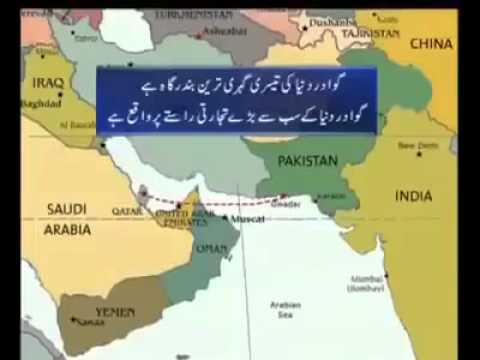 Importance of Gwadar port for Pakistan is huge. If it works on its projected aims, it is assumed that it will provide Pakistan with an immense opportunity to grow in the field of economy. It will make Pakistan do trade with central Asian countries, Afghanistan and East Asian countries. About 1.153 billion$ are deployed for the infrastructure including a vast road network, and railway tracks. A good sum of amount is being invested on the energy projects and further development of Gwadar city. It has a vast capacity to engage thousands of working men, e.g engineers,  labors, and technical men. By providing jobs to a number of people and collecting revenue in form of service tax, this profitable port can enhance the national exchequer. By providing a trade service, Pakistan can earn an enormous amount of Capital from this very project. In a true sense, it is a box of projects that are assumed to be cashed in the near future or later future for Importance Of Gwadar Sea Port For Pakistan.
Both Pakistan and China are supposed to work on this project sincerely. On the regulation of this project world is being trembling. Most of countries currently looking towards Pakistan as an enemy. As a port it is going to hit hard the trade of gulf countries. U.A.E is believed to be the most affected country by the regulation of Gwadar Sea Port. In addition to, America and India currently are playing the game of power politics in this region. In Central Asia-A region that is replete in natural resources : natural gas, petroleum, and other precious minerals ,all the game of world politics is being played by the major international power players. America just want to push China back from approaching the Central Asia that is why she is doing hard work to collapse pak –china economic corridor. Fearing the consequences of Gwadar Sea Port regulation, Gulf countries may prove a threat to Pakistan or they may be at least, assist the rival of CPEC bunch. Considering all these threats, It is highly needed on the part of Pakistan that she should deal with Pak China economic corridor with the depth of its heart. Because this is a thing of high importance that can change the fate of Pakistan.
In the last, it is worth mentioning that Gwadar port which is directly linked with C-PEC is much important for Pakistan at present. It can make Pakistan rich in energy and can enhance national exchequer. Pakistan should leave no stone unturned to make this project successful……