Here is the official list of List Of Nobel Peace Prize Winners Of Pakistan. Nobel prize is the highest award which given for a scientist work in the fields of, chemistry, physics, physiology or medicine economics, peace, and literature. As per of will of Alfred Nobel who was a chemist, and an industrialist invented more than 350 new things at the time of his death in 1895 decided to bequeath about 90 percent of his total assists to the persons who are the real benefactor of the humankind' scientists. But in actual his plan got materialized in 1901 when full prize was giving different organization established in the fields of, Chemistry, physics, medicine, peace, and literature. Economics was the sixth field which later in 1969 added to the list of Nobel prizes. Until now Nobel prizes have been granted to 811 different individuals in different fields. Two persons from Pakistan also have been awarded this prestigious prize. Abdus Salam was the first who got Nobel prize in 1979 in the field of Physics for his contribution of  'Electroweak forces unification theory.' Mala Yusufzai is the second person to whom peace Nobel prize awarded for hard struggling for the rights of women. She commonly is known as an advocate of women rights of her native people in swat valley Pakistan.
List Of Nobel Peace Prize Winners Of Pakistan
Abdus Salam:
                          Dr. Abdus Salam born in Jhang, on 29 January 1926 in Pakistan. He was included in first position in List Of Nobel Peace Prize Winners Of Pakistan. He was a keen and intelligent student since his early education. In matriculation, he topped Punjab board with a record which was not jumped up since last four years. After that, he completed his graduate degree from government college and university. At that time for the young graduates to be a member of Indian civil services was very luring alam too endeavored Indian railway service but could not qualify a mathematics test which was a necessary qualification for the post of railway officer. Quitting struggle for civil services, salam decided to complete his master in Mathematics. Salams Mentor wanted him to be teacher of English language or Urdu language, but salam was highly inclined towards mathematics. so decided to complete his MA in mathematics in 1946. In the same year on the scholarship, he moved to ST John's college Cambridge where he completed his Double BA honors degree in mathematics and physics in 1949.In 1951 he was awarded with Smith Prize for his most enticing work of pre doctoral contribution to the physics. Completing his education, he returned to Pakistan.He joined government college and later Punjab university as a professor. His area of interest for which he was awarded with Nobel Prize was "Electroweak unification theory". Passing through an experimental phase with different scientist he finally got Nobel prize for his unique work for humanity in the field of physics in 1979.He shared nobel prize with two other scientists. He got a good number of other prizes for his different works in physics. Smith Prize, Huges medal, Adams prize Nobel prize, sitar e imtiaz was the different prizes were given to this honorable scientist.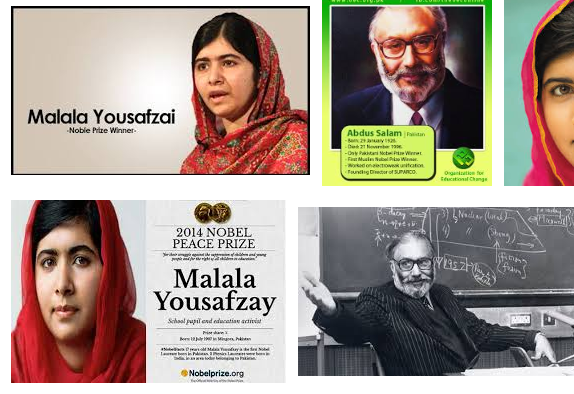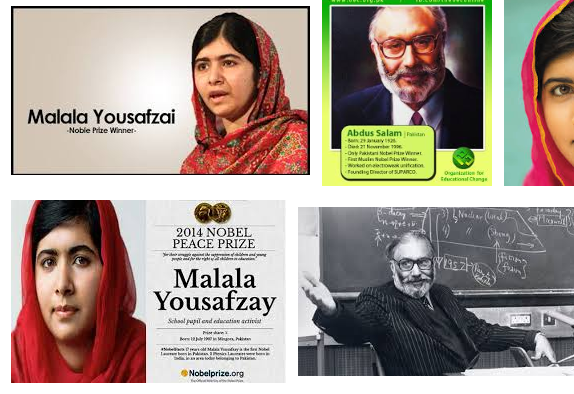 Malala Yusafzai;
                        Malala Yusufzai is a youngest Nobel prize leauterate . She born and raised in Mingora Khyber Pakhtunkhwa. During Malala school days, in her town girls were not allowed to enter school. She raised against this thing and fought for the rights of women. She got fired during her movement from Taliban. Commercialized by media, her movement got international focus. So far, she has given about 50 different prizes from different world organizations. She got Nobel prize in 2014 for peace and it was all about the List Of Nobel Peace Prize Winners Of Pakistan explained