One of the most well organized libraries, equipped with modern facilities is known as Quaid e azam library which is named after the legend Mohammad Ali Jinnah the founder of Pakistan. This library is located in one of the most renowned gardens of Pakistan "Lawrence Garden" which is also known as Bagh-e-Jinnah also named in the memory of the fable founder the Jinnah.  The library consists of almost 100,000 volumes of the books in various languages comprising of English, Urdu, Persian, Arabic and French. Various authentic books are available in the library on history, reference works, and literature and research papers.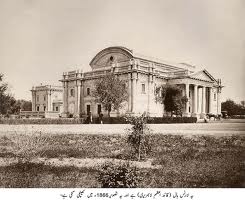 Not only traditional and old books are the beauty of this books treasure but latest books on Management Business administration, modern technologies and telecommunication are also the assets of this library. Exceptional consideration is made on the attainment of Islamic books, hadiths and tafseer of Quran. Translated Quran in all the languages and the literature on the Muslim evolution and history of the Muslim world are also available in the premises of the library. Very special collection regarding some of the unforgettable personalities of the past like Mian Bashir Ahmad, Dr. Naseer Ahmad Naseer, Atta Ullah Kaleem and Safdar Mir are also in the approach of the local people. A special and selective section is also available for the researchers where they can acquire all the data regarding their respective subject as well as previous researches and references for their benefit.
Due to a direct agreement with the Asian Development Bank (A.D.B) all the reports of A.D.B are available in physical shape as well as in the computer data for the analysis. Various memberships are offered by the administration to the local people. These memberships include "Students" who had to pay Rs.50 annually which is non-refundable and Rs.250 as security which is refundable. "General Membership" for Rs.150 annually non-refundable and Rs.500 as security which will be refundable, "Research Scholars" for Rs.150 annually which will be non-refundable and Rs.500 as security which will be refundable.
For "life time Membership" only Rs.5000 is paid once which is as security deposit and will be refundable. Various types of resources are also available in the library which includes "EBRARY" which offers a wide range of multidisciplinary content published by leading academic publishers, "JSTOR" which contains over 500 high-quality publications, "SPRINGLINK" which provides access to 503 full-text Springer-Verlag Journals and 738 full-text journals formerly published by Kluwer Academic Publishing etc. Quaid-e-azam library is one of the most operative and effective source of acquiring knowledge and data concerning various topics of the world which is in the reach of every individual who wishes for.
Quaid-e-Azam Library Picture Gallery
Contact Us:
Address
Bagh-e-Jinnah, Shahra-e-Quaid-e-Azam, Lahore
Telephone:(0092 42) 99201007
Fax:(0092 42) 99201006
E-Mail
[email protected]
Opening Hours
Monday to Saturday (8:00 am to 8:00 pm)
Friday's (8:00 am to 12:30 pm and 2:30pm   to 7:00 pm)
Contact Person
Mr. Rana Akhter Ali