A lie, an abuse, a theft, bride taking, blackmailing and speculation are some types of ways for direct and indirect corruption. The way of corruption is going to share according to the one taking bribe and other accepting it. It is vulgarization of corruption well defined and oriented in the form of governance rules and regulations. The archetypal and pragmatic notion to cope up corruption is going to consider here according to the well-defined rules of society. The below given are some factors that contribute and labelled as Causes Of Corruption In Pakistan.
Causes Of Corruption In Pakistan
They Want- I Give
I Want- I get
Low Salaries At government sector
Lack of regulation and accountability in Pakistan public sector
They Want- I Give
It is one of the first Causes of Corruption In Pakistan. They share negative approach towards the weakest system of Pakistan. They Want to mean harmful elements in Pakistan want to get control of things directly link to the future of Pakistan. The series of interaction between parties make it difficult for the public corruption. The public power movement make it reflective with respect to the corrupt ways used by those parties. They Want mean they want to access the public power without getting the public designation. Corruption means individuals and businesses are going to take the simple way of corrupt activities. The private access to properties is the hard form of corruption.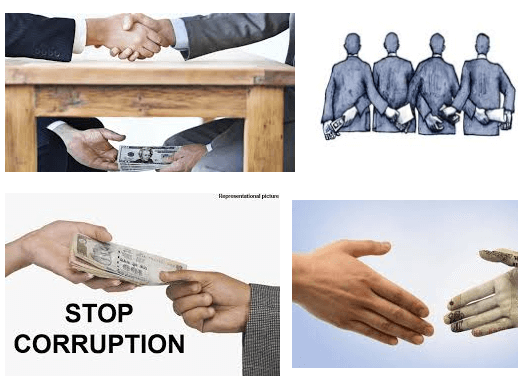 I Want- I get
It is another side of the corruption story in Pakistan. I want I get means every negative activity publically has some price. If they want means they have some price for such corrupt activities. Widespread bureaucracy Pakistan make everyone realize about the public affairs. Those affairs are highly developed corrupt ways that easily they cannot be controlled with the public officials. The illegal benefits does not matter when I want and I get. There is no realization behind this negative actions widespread in public institutions. Say No To Corruption Essay
Low Salaries At government sector
After the above two causes, there is another negative element which contributes towards the corruption in Pakistan. The basic reason of corruption is low salaries in government sector of Pakistan. The sector analysis at salaries level is going to consider with respect to the living standards. The living standards of government employees are not up to the mark. Fewer salaries mean they cannot improve their living standards under these salaries. The low salaries means the high chances of corruption in Pakistan.
Lack of regulation and accountability in Pakistan public sector
The weak accountability system in public sector means public institutions are inviting corruption themselves. Those institutions are providing free access to its employees without any check and balance. Every person from BS-01 scale to BS-22 scale has no binding for their actions. The ongoing process of corruption has no other option rather create negative image of institutions. The education, health and other alike institutions have direct approach of these undecided designations. It will create the mess in public sector. Such developed system means there is weakest condition with respect to the accountability and regulation.
ILM.COM.PK officially speaks and says no to corruption. The purpose to write Causes Of Corruption In Pakistan is not to endorse the corrupt elements rather it is nice to say about the analysis between negative points of public institutions should need to improve.