House Building Finance Company HBFC is now offering Small Builder House Building Finance Facility via Loan for all the builders who are holding the projects to build the residential or commercial buildings. Well all the Limits and the eligibility criteria are written here for all those builders who feel the need to get a loan to continue their project. You just have to read this entire article with full attention so that you can be familiar with all the instructions and the rules for this program as if you do not full fill any criteria for apply then you will be rejected for this program. The House Building Finance Company Limited HBFC was came in to existence in 13th June, 2006 under the companies ordinance 1984 by the government of Pakistan and since that time it is functioning according to the Act 1952(XVII OF 1952. The HBFC since the time of its establishment has financed almost 456, 256 units for Rs. 47.82 billion. The HBFC is performing its functions in all over the Pakistan including Azad Kashmir and Northern areas. Well if you also want to get benefited through this facility then this is the time to avail it. Have a look down for it and follow the instructions.
HBFC Small Builder House Building Finance Facility Loan Limit, Eligibility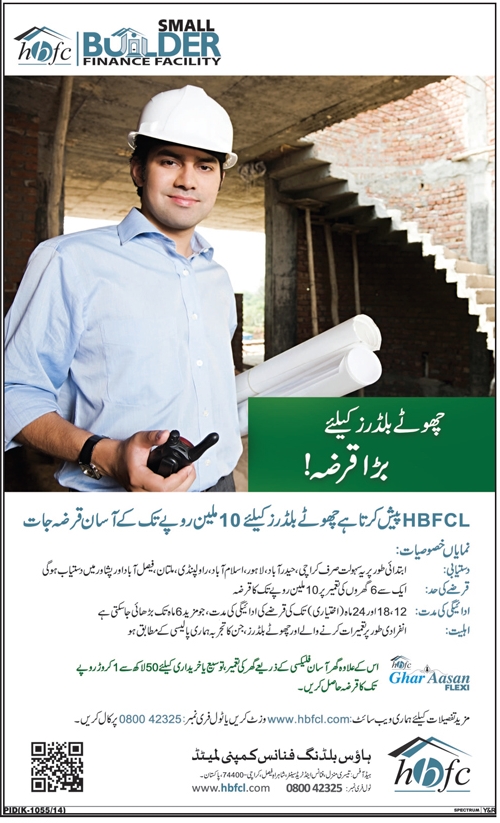 Important Features of HBFCL
House Building Finance Company Limited HBFCL is providing 10 Million rupees to small builders.
Initially this facility will be available in Lahore, Karachi, Islamabad, Rawalpindi, Multan and Peshawar
HBFCL is providing this Loan facility for 1 to 6 homes on 10 Million Rupees
Loan can be return in the installments of 12, 18 or 24 months duration, 6 months can be added in this limitation period.
Those individual that exists on HBFCL's Policy
Beside this the "Ghar Aasan Flexi" is also providing the loan facility from 50 Million to 1 billion to construct your home.
 How to Apply for HBFCL Loan Online
Well builders if you also want to apply then you have to get your application form and then fill in dully and resubmit it. The Loan agent will response you within 3 working days and will call you on your number you have mentioned in the application form. During your loan procedure you can check your account by signing in to the HBFCL Loan Account. If your application form lies on the HBFCL requirements then you have to make an agreement with HBFCL and have to response against your agreement.