It is the complete guide that how the new policy will implement. How To Proceed For IMEI Check PTA In Best Way is the narrative that is essential for every resident of Pakistan. It is the duty of every one of us to make a safe and secure environment in Pakistan. The recent myth of the western media about the terror mindset in Pakistan can be fatal by doing the activities recently launched by the DIRBS system of Pakistan Telecommunication system. Device Identification is important for the registration and the blocking system in order to identify the fatal mobile phones that were being theft in all cases. The blocking system is efficient but it cannot work unless or until users from all over Pakistan participate in this new campaign of IMEI Check PTA. Although PTA reverted its decision to block all unregistered mobile phones in Pakistan after 20 October. Wi-Tribe Ranked No.1 in Quality by PTA
IMEI Check PTA
Rather, PTA will educate the public about the next step they can protect their devices. Sending SMS to all users makes the proper way to review the analysis about the whole step being taken. The sending SMS and responding to the SMS is not an easy task for PTA and the whole technology ministry. It is all about the IMEI Stolen Check PTA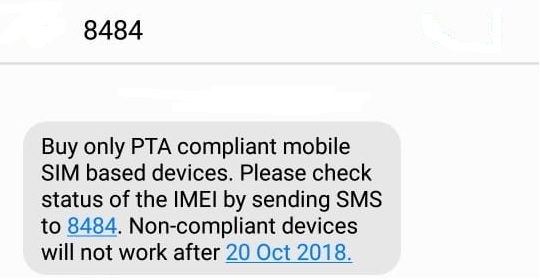 The verification of PTA is not just for formality but it has the gigantic impact upon the security issues being created in Pakistan. If you want to avoid any blockage of cellular services at your end stay informed about the IMEI Check PTA and compliant and non-compliant system recently launched. The only tip for the next step is to buy PTA compliant mobile SIM-based devices. GSM devices can proceed for IMEI Check PTA
PTA Online IMEI Check
Through SMS– Send IMEI number to 8484
By Application–Download Here
Through Website–Visit Here
How to protect your IPhone In Pakistan through IPhone IMEI Check PTA
It is normal way to smuggled IPhone from foreign countries to Pakistan. Now it can be done through the IMEI Check PTA  and will not functional after the due date 20 oct 2018. There are many people in Pakistan who was wondering to get procedure about the  PTA Online IMEI Check.
Different Users Different Replies
Most of the replies consists of Complaint, Non compliant Valid and Invalid. These all replies reflect the record of PTA about your mobile phone and mobile SIM. The Valid status devices are saved one as well because it will be register after due date of 20 Oct. If your device is not valid according to the replied SMS from PTA then there is no worries at all as well. For example, you can use only one SIM using before the 20 October. No other SIM can be used in that mobile phone device showing invalid IMEI check. Please stay updated with this page for the all kinds of news and alerts linked with recent activity.