Get the latest General knowledge about Pakistan in the Urdu language book which is containing the MCQs which you can download in PDF format. I am comprising the cultural, economic, religious, and all the possible norms of this Islami Jamhooria Pakistan. First of all, I would like to state that our country is a God gifted land that was acquired by the Indo-Pak subcontinent on 14th August 1947. This terrestrial was assimilated after British Rule which was totally against Islamic traditions of life. Basically, this country was sovereign for the Muslims but nowadays different religions are living independently under proper government rules and regulations. Since 1947 to date, there are thousands of changes have occurred from political ways to basic state-level human beings. And the purpose of writing this post is to update you with all the basic and important facts about Pakistan. You can see the changes in its political system, water system, power system, educational activities, developmental activities, and there are so many other activities that are mandatory for each Pakistani to a readout. Because of these not only informative but also interesting. It shows our love for our country, and I think it is our religious obligation to love the country where we are living even if we are Muslim or belong to any other religion. So now, let's move toward the MCQ questions which are containing important general knowledge questions about Pakistan.
General Knowledge About Pakistan
The following book is containing Basic general knowledge about Pakistan with answers. You are watching more than 500 short questions about general knowledge about Pakistan in English and important facts about this country. You can prepare it for any question or if you want to increase your knowledge about this country then let's start with Map which helps you out about finding the land limits and area under the governance of Pakistan. As well as general knowledge about Pakistan with answers is mentioned below and you can read.
General Knowledge About Pakistan MCQs With Answers
Pakistan general knowledge MCQs with answers are going to mention below and people can learn all questions with answers because they read the question and do not know the answers but ilm.com.pk is giving proper information to the students. Further, general knowledge about the history of Pakistan in Urdu is already available on this page and people get all info in the Urdu language.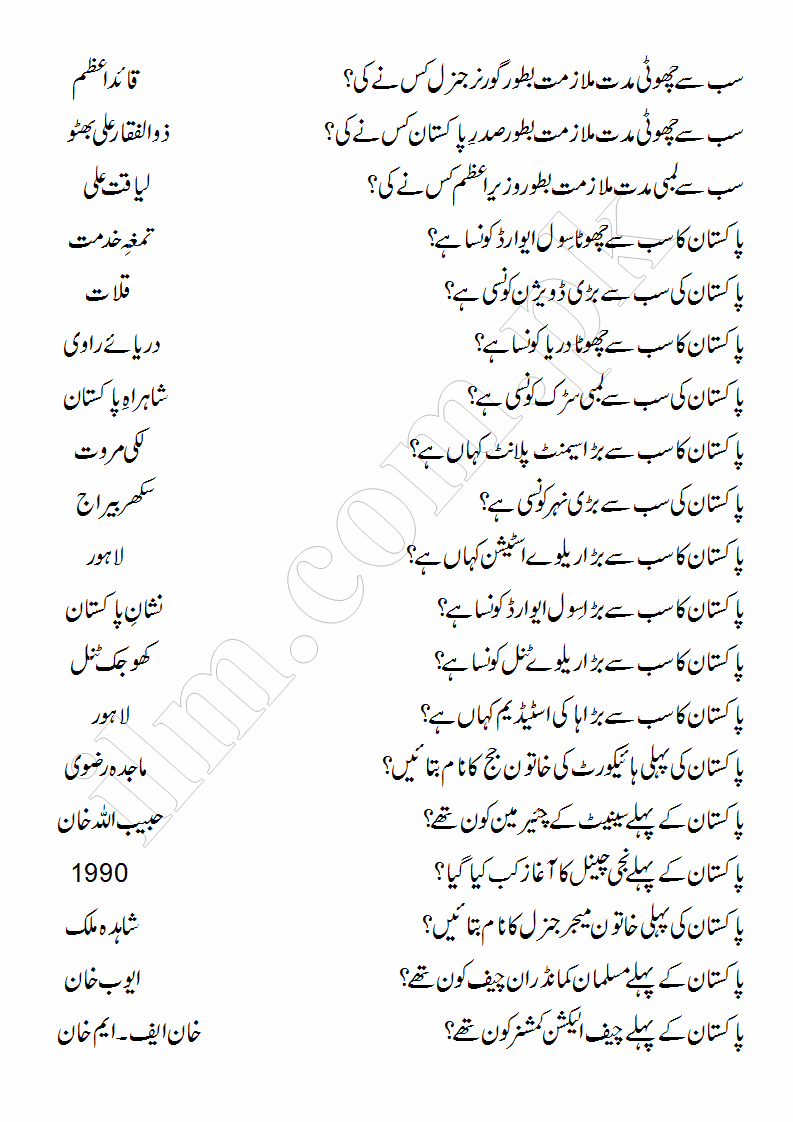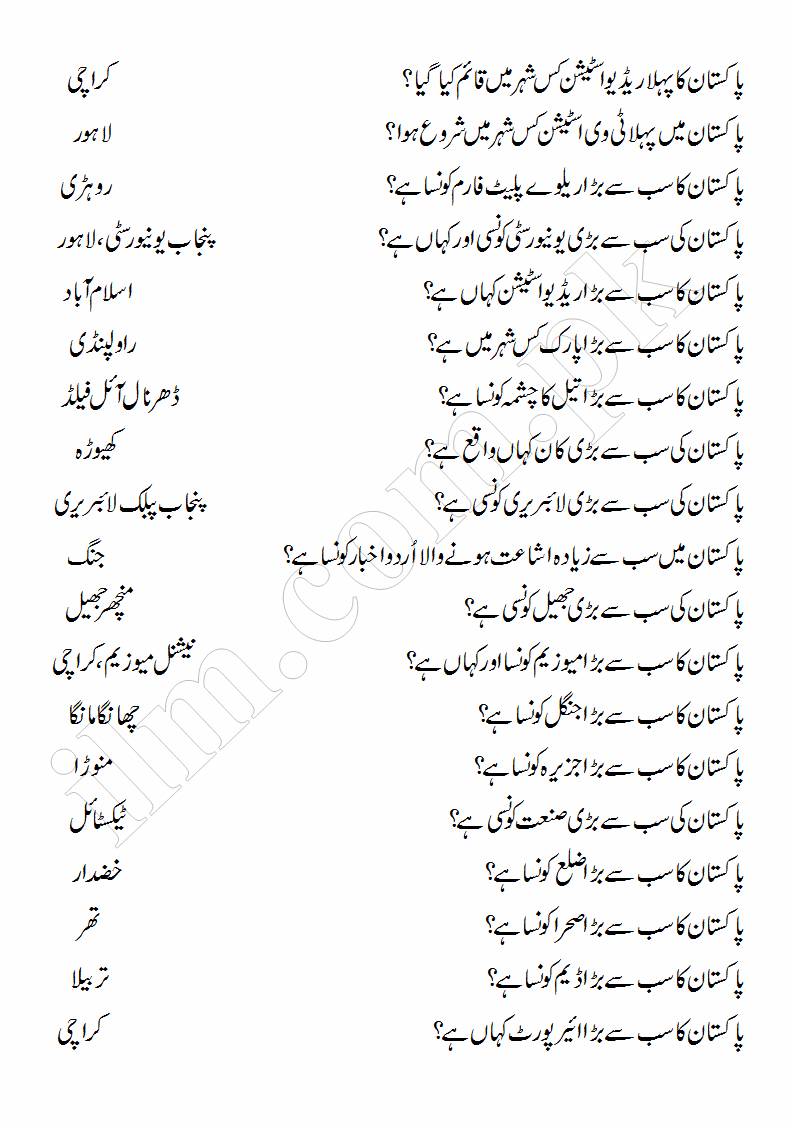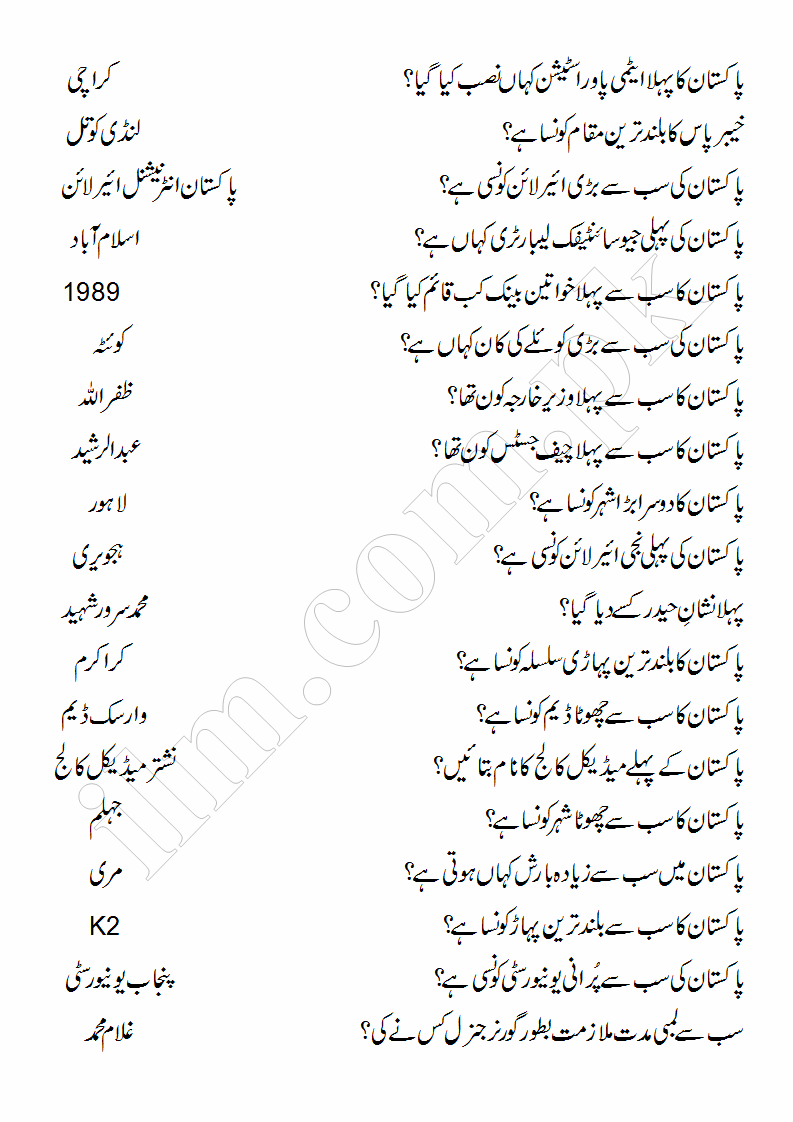 Although we have written down the complete general knowledge about Pakistan in Urdu. But in order to take the latest and updated information about our country then just keep on reading this article. We are regularly updating this page with the National Symbol, education, technology, sports, discoveries, and all the exploration made by the scientist. Above all, if you think that we have missed anything which must be written here then you must leave your comment on the following side. This will increase our affection towards your attention and that encouragement will motivate us to keep you updated with more and later facts about Pakistan.
FAQ:
What is basic general knowledge?
All the basic general knowledge about Pakistan is mentioned in the content as well people can read it. Moreover, this knowledge is best for children who do not know these types of knowledge.
What are some basic general knowledge questions?
Some basic questions are going to be listened to below. On the other hand, read below some basic questions.
Who is the first President of Pakistan?
Who is the first Governor-General of Pakistan?
Name of the biggest university in Pakistan.
Do you know about Pakistan?
If you do not know about Pakistan then must read above the information and you will better understand Pakistan. On the other hand, all basic information about Pakistan is mentioned on this page.
What are the top 10 GK questions?
All questions are important about GK because the information is necessary for all the students and people. Through reading humans increase their knowledge and read all the content and then increase their knowledge.