You can easily find here regarding how to apply for Domicile Certificate in Punjab, Pakistan. It is a very important certificate. The Domicile Certificate was come into existence in 1951 in Pakistan in order to register Pakistani citizens for so many reasons. As per law, the domicile certificate is obtained from only one city. It is necessary in order to get admission to any public college and university and is required for applying for any job in the public sector. You cannot apply for any government job without a domicile certificate. Domicile is issued by a Federal or Provincial Government or any District Magistrate. The government of Punjab makes it easy and simple to get a domicile certificate within a few days. Here we are going to present a full guide to applying the procedure for domicile certificate in Punjab. You can easily find here full detail of domicile applying procedure and process. For further instructions read this article till end will probably help you in this regard.
How To Apply For Domicile Certificate In Punjab Pakistan
Domicile is a very important piece of paper which is actually your guarantee about your character and the residency. It is very necessary and mandatory for the individuals who are going to apply for any government level job. When you are eligible for domicile and where to apply is all written down so just keep on reading this article to get the procedure to apply for a domicile in Punjab Pakistan.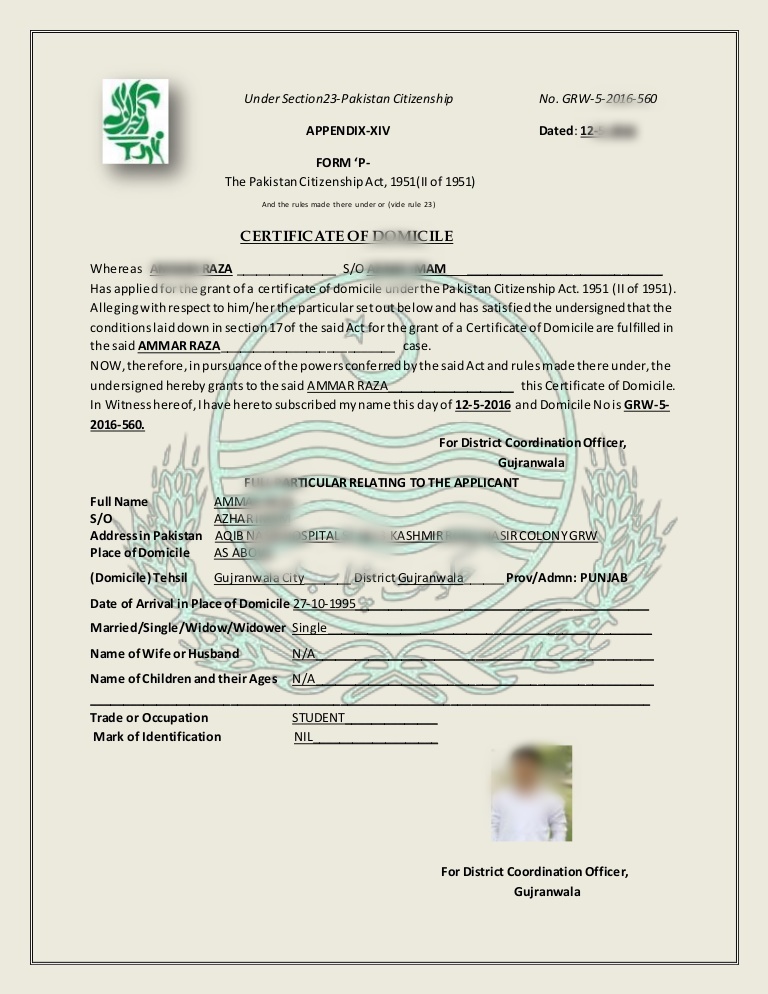 Applying Procedure for Domicile Certificate:
The applicant can follow the below-listed instruction in order to apply for a domicile certificate in Punjab, Pakistan.
The interested applicant easily got challan form for domicile certificate from the court
Applicants are required to fill the challan form with exact and accurate figures
Applicants have to attach the required documents in the domicile application form.
Applicants are required to submit the challan form to any public Bank of Punjab to register.
Obtain a receipt after paying the fee mentioned on the challan form
Collect your domicile certificate on the date mentioned on the receipt.
Required Documents for Domicile Application Form:
There are some necessary documents required to attach with the domicile application form. The lists of required documents are listed below in detail.
Copy of CNIC of application in case of fewer than 18 years B Form copy will be submitted
Copy of Father NIC or Husband NIC
Birth Certificate/School Certificate
Copy of SSC or Metric Certificate
Bank Receipt
3 photographs of an interested person
Original Property document or utility bill
Click Here For Domicile Management System
Toll-Free Helpline for Domicile Applicants:
If you are interested to make to your domicile the government of Pakistan makes it easy and simple to get detail information regarding the domicile process and procedure by calling on a toll-free helpline. They will instruct you how to apply for a domicile certificate in Punjab, how much time required for its processing, its fee and any other relevant information which you want to inquire regarding domicile certificate can easily be asked. Toll-free Help Line: 0800-02345
So this is a complete method for how to apply for domicile certificate in Punjab Pakistan along with fees, verification method, and where to apply. Hope you are all now well aware of this procedure, but incase of further suggession or confusion you can leave your comment below.