Sindh Bank offer Prime Minister Youth Business Loan Scheme for the year 2015 so that is why candidates the complete Eligibility Criteria along with the Features of Business Loan and application is available to this page online for you to be download easily. Well Prime Minister of Pakistan Mian Shahbaz Sharif has started this youth business loan scheme for all those candidates who have completed their bachelor or master degree education and wanted or have desire to start their own business but do not have enough resources due to insufficient funds. Now this is not a big problem for you anymore because you are now able to get Business Loan from this scheme easily what you just have to do is just present your business plan approved by SMEDA and get your loan to start your business. First of all for the Punjab the NBP and First Women Bank are the banks which provides loan to the youth but now for the Sindh there is a new bank that is Sindh Bank. Sindh Bank has more than 225 branches all over the Pakistan in more than 112 cities so that is why every one can has easy and quick approach to the Sindh Bank. All the other details of the Sindh Bank Prime Minister Youth Business Loan Scheme 2015 has given below so have a look down.
Sindh Bank Prime Minister Youth Business Loan Scheme 2015 Eligibility
Features of Youth Loan Scheme:
In the first round of the Youth Loan Scheme more than 1 lakh youth will be able to get loan to start their own business and become their own boss
In the Youth Loan scheme 50% loans are specified for the women of Pakistan and 5% for the widows of Martyrs.
90% of the total amount will be given to you by the Bank for your business plan to be execute
The return period of the loan is total 8 year in which first year you do not have to pay back
Loan taker will just pay 8% markup on the total amount of the loan
The balloting result will be totally according to the merit and unbiased.
Sindh Bank PM Youth Business Loan Scheme Eligibility Criteria:
All those candidates who have Pakistan CNIC and age of the candidates must be between 21 years old to 45 years old
Application form are available in all the branches of the Sindh Bank as well as in any of the SMEDA office near you Other than that you can also download the Prime Minister Youth Business Loan Scheme 2015 form from the Sindh Bank official website
If you need guidance about to prepare a business plan then you can go to the SMEDA official website where all the procedure along with the sample business plan are attached for all of you.
It is compulsory for every candidate to attach the business plan along with the PM youth business Loan Scheme 2015 form.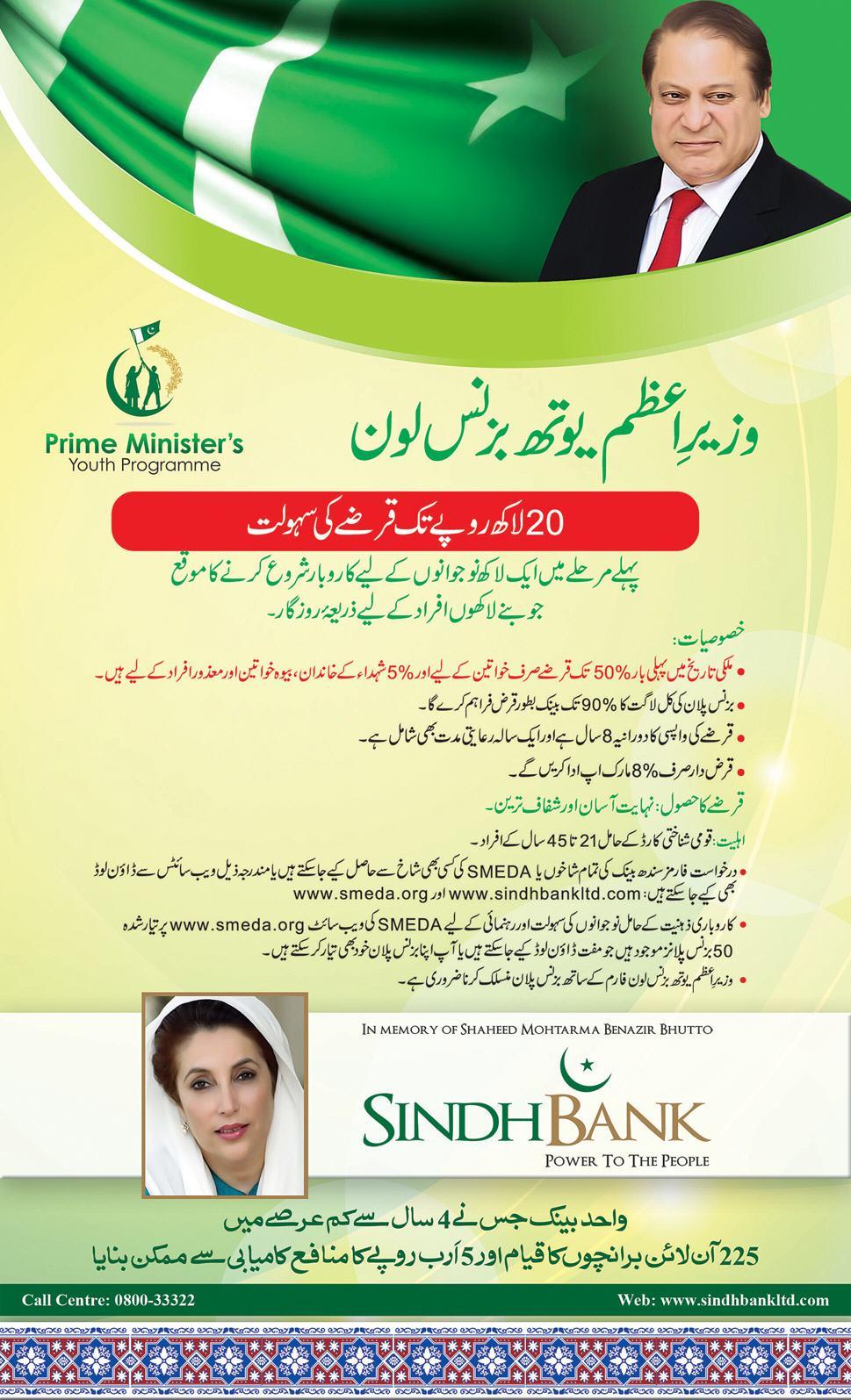 Well candidates if you have all the eligibility then this is really a good chance to start your own business and earn more than a salary you got.