If you are looking for STSI Scholarship Past Papers 2021 MCQs PDF Download then you are in the right place because all information about STSI Scholarship is available on this page. Recently they have announced the scholarship programs for the facilitation of the students who are deservedly for scholarship on the other hand bundle of the students have applied for the test but these people will select who will meet the criteria of the scholarship. Now everyone is worried about the test because no one appears before the test of this organization so ilm.com.pk is understood the problems of the students and provides all material regarding STSI Scholarship Past Paper 2021 and candidates can easily download from this page. So further detail of  STSI Scholarship Past Papers 2021 MCQs PDF Download s listed below.
STSI Scholarship Past Papers 2021
Click Here to Download
Those students who troubled the past paper now can easily download after clicking on above the link. Past paper plays an important role during the preparation of the test because students cannot know where the test question will come from. So past paper helo to the students and students understand the criteria of the test and preparation accordingly. On the other hand, sometimes questions will come from past papers so before appear in test students must read the past paper.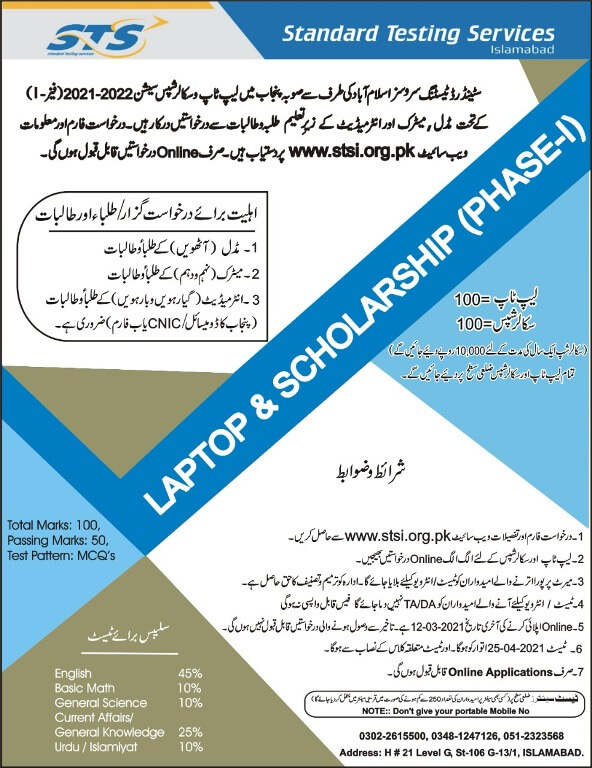 STSI Scholarship 2021 Test Syllabus MCQs Sample Papers
In the coming month STSI scholarship test will conduct the organization, so STSI Scholarship Past Papers 2021 Test Syllabus MCQs Sample Papers is now available and candidates can prepare her test from past papers and sample papers. On the other hand, the syllabus has announced by the office according to every subject. So the weightage of all subjects is mention below. So candidates will prepare the test according to the syllabus. The majority of the candidates will appear the first time in the test so they do not the knowledge about the paper pattern so sample paper helps the students and provide the information about the test.
Syllabus
| | |
| --- | --- |
| English | 45% |
| Basic Math | 10% |
| General Science | 10% |
| Current Affairs/ General Knowledge | 25% |
| Urdu / Islamiyat | 10% |
All the information on STSI Scholarship Past Papers 2021 MCQs PDF Download is mention with complete detail and the majority of the students are searching these types of material and prepare the test. So when any info about them will receive then we will share on this page for the guidance of the students who want to pass this test.