If you deserve and your previous marks are good then you should apply for Bahria University merit scholarships 2016 for Karachi, Islamabad, and Lahore campus. If you is a toper and study lover student but your financial status is creating hurdle between you and your studies then you must be availing this innovative merit base scholarship opportunity in order to achieve your goal/ target regardless of your financial position. BU is inviting application forms for undergraduate and graduate scholarships on merit base to the board topers, marks of a candidate in previous academic classes and the aggregates a candidate secure in BU entrance test. Through this scholarship you will get a handsome waiver in educational expenses just like reduction in tuition fee and other educational expenses. So if you is an eligible candidate then you just have to see that either you are eligible for this program or not. If you see that you are eligible then you just have to submit your application form at your city campus such as in Lahore, Karachi, and Islamabad campus. Scroll down this passage to determine your eligibilities and to get further rules and regulations.
Bahria University Merit Scholarships 2016 For Karachi, Islamabad, Lahore Campus
Terms & conditions/ Eligibility/ Required GPA, Aggregates
All students achieving GPA of 4.0 in semester examination will be awarded by the merit scholarship and their 50% of tuition fee will be concession of the following semester.
In case GPA 4.0 is not achieved by any student then the student with minimum GPA 3.75 will be awarded by the same criteria of merit scholarship
In case there is no any student with even GPA 3.75 then the students holding higher percentage will be entertained by the same scholarship
In case of tie all the students will be appreciated by the scholarship i.e. 40% of the tuition fee will be discounted by the university
Students of all the programs will be awarded by the merit scholarship except MBA executive program
BU Merit Scholarship Schedule for Campuses
| | | |
| --- | --- | --- |
| Campus | Last Date of Apply Online | Last Date Of submission of Application form By Hand |
| Lahore | —- July, 2016 |  —- July, 2016 |
| Karachi | —- June, 2016 | —- July, 2016 |
| Islamabad | — July, 2016` | —- July, 2016 |
BU Merit Scholarship 2016 Apply Online for Lahore, Karachi, Islamabad
Bahria University Merit Scholarships 2016 Advertisement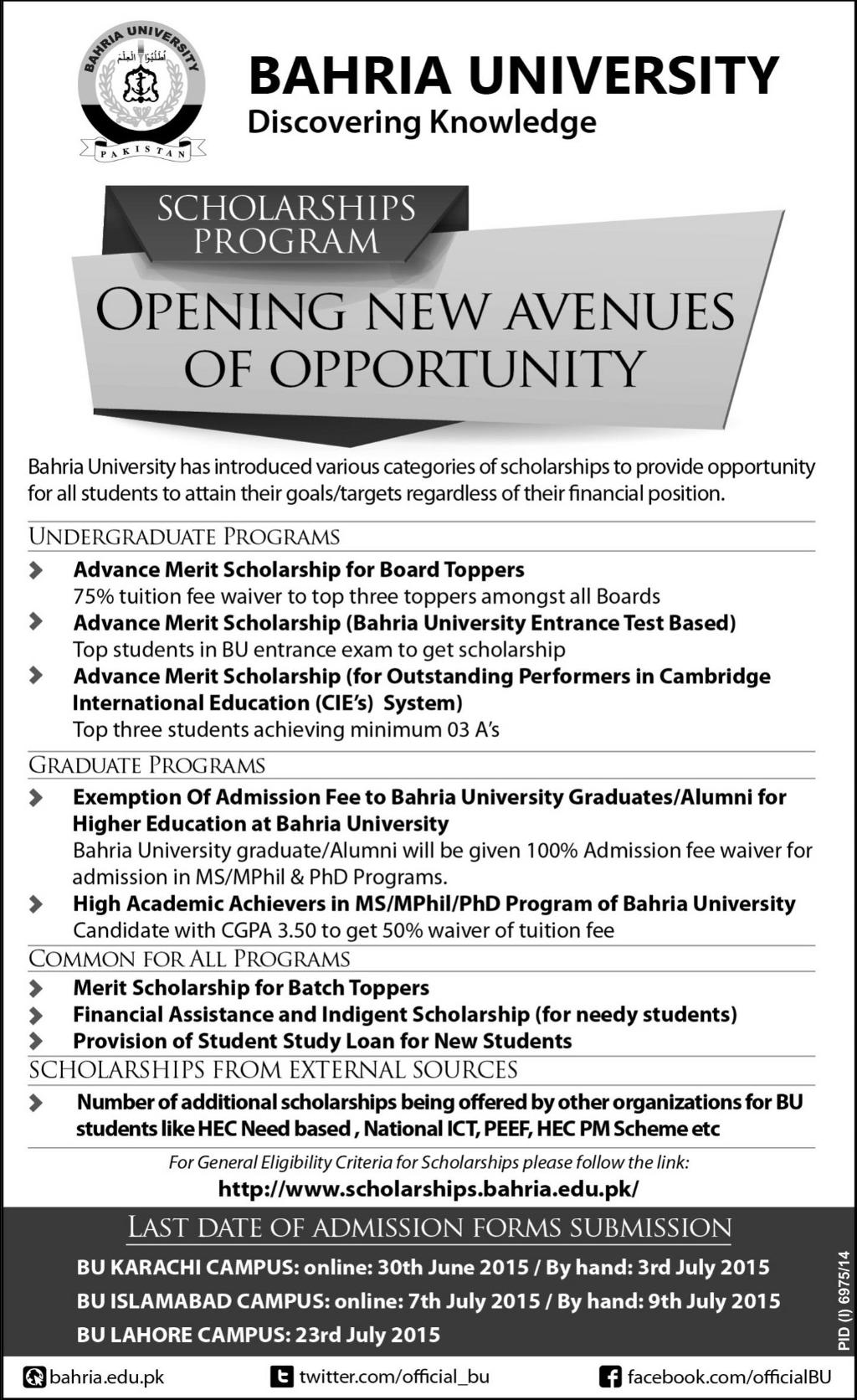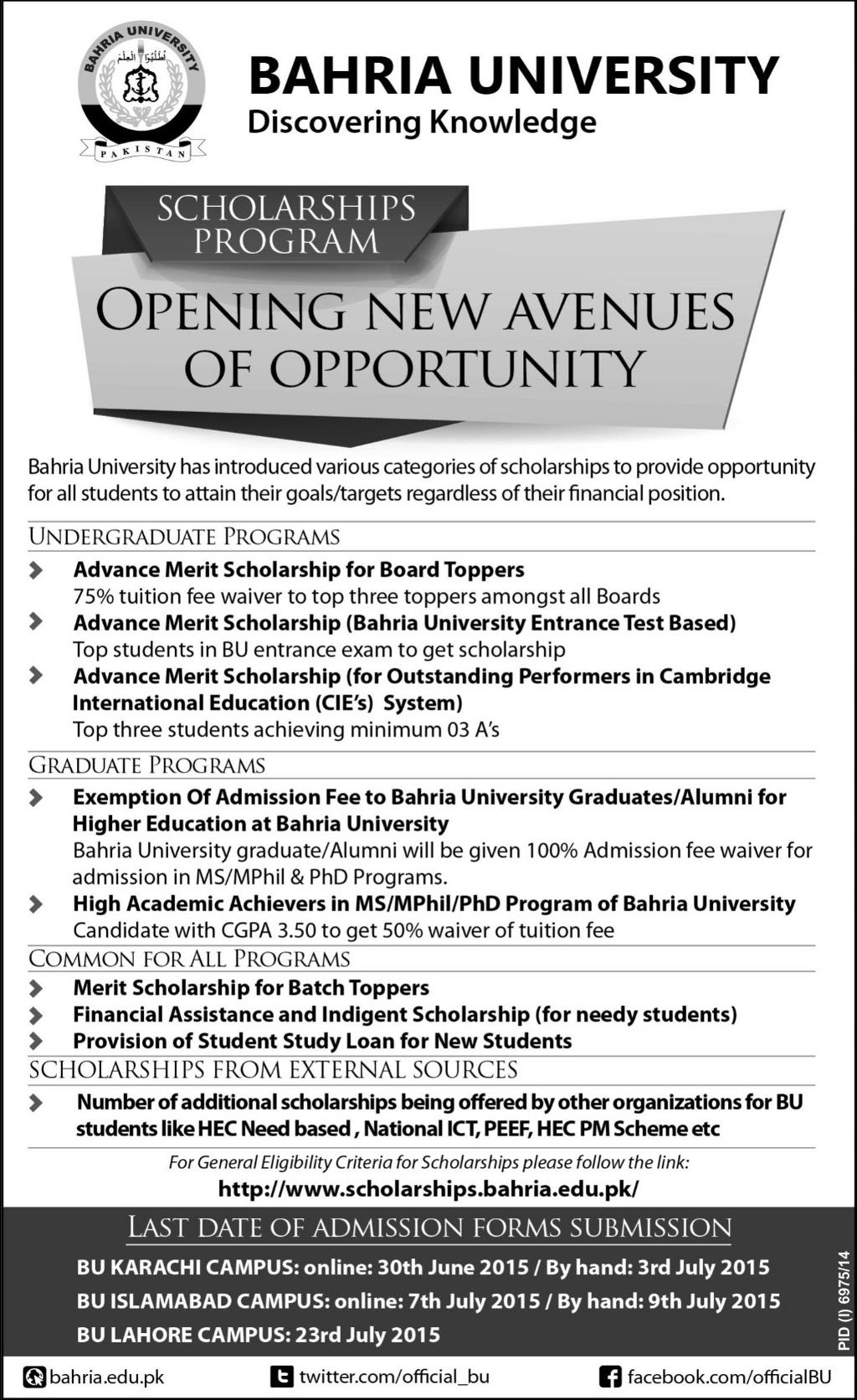 Note: as soon as the new scholarships are announced for the year 2016 will be uploaded here…
Bahria University is a public type university founded in 2000 by the Pakistan Navy. Its main campus is situated in Islamabad, Pakistan but with the passage of time it has maintained its campuses in Lahore and Karachi. It offer admissions to undergraduate, graduate, masters, and PhD level programme. BU is affiliated by the Higher Education commission HEC and Pakistan Engineering Council PEC also by ACU, NCEAC and PMDC. Due to these affiliations it has the faculties in all the disciplines such as medical, engineering, commerce and technology. In 2010 is has been awarded by the top 10 university in Pakistan offering admissions in all the faculties. Well now the Bahria University BU also offering merit scholarships to its deserving and eligible students. This year for 2016 BU is also offering merit scholarships in Lahore, Karachi and Islamabad campuses. In case of any confusion you can leave your comment in the following comment box, we will reply you as soon as possible about Bahria University Merit Scholarships 2016 For Karachi, Islamabad, Lahore campus.