NES is one of the best organizations that is working for deserving students that can not afford education expenditure. NES Peshawar Offering Scholarship Programs 2023 and giving 20 free Laptops and 50 scholarships to the students but most important firstly they will take the entry test and then issue the result. So those candidates who will appear in the top 20 positions will take the lab tops while the other 50 students will take the scholarship. Moreover, every year thousands of students get scholarships and complete their education while those candidates who get the Laptop now are working online and earning money. Further info about NES Peshawar Offering Scholarship Programs 2023 is going to mention below.
NES Peshawar Offering Scholarship Programs 2023
NES Peshawar Offering Scholarship Program 2023 has been announced officially and students can apply before the last date which is 16 July 2023 after this date, no application will process by the management. On the other hand, download the application form and then fill it with complete valid information and send it to the given address. After sending the application start the preparation of the entry test. Most important this scholarship is not for all the students just those candidates who can apply who belong to KPK Province.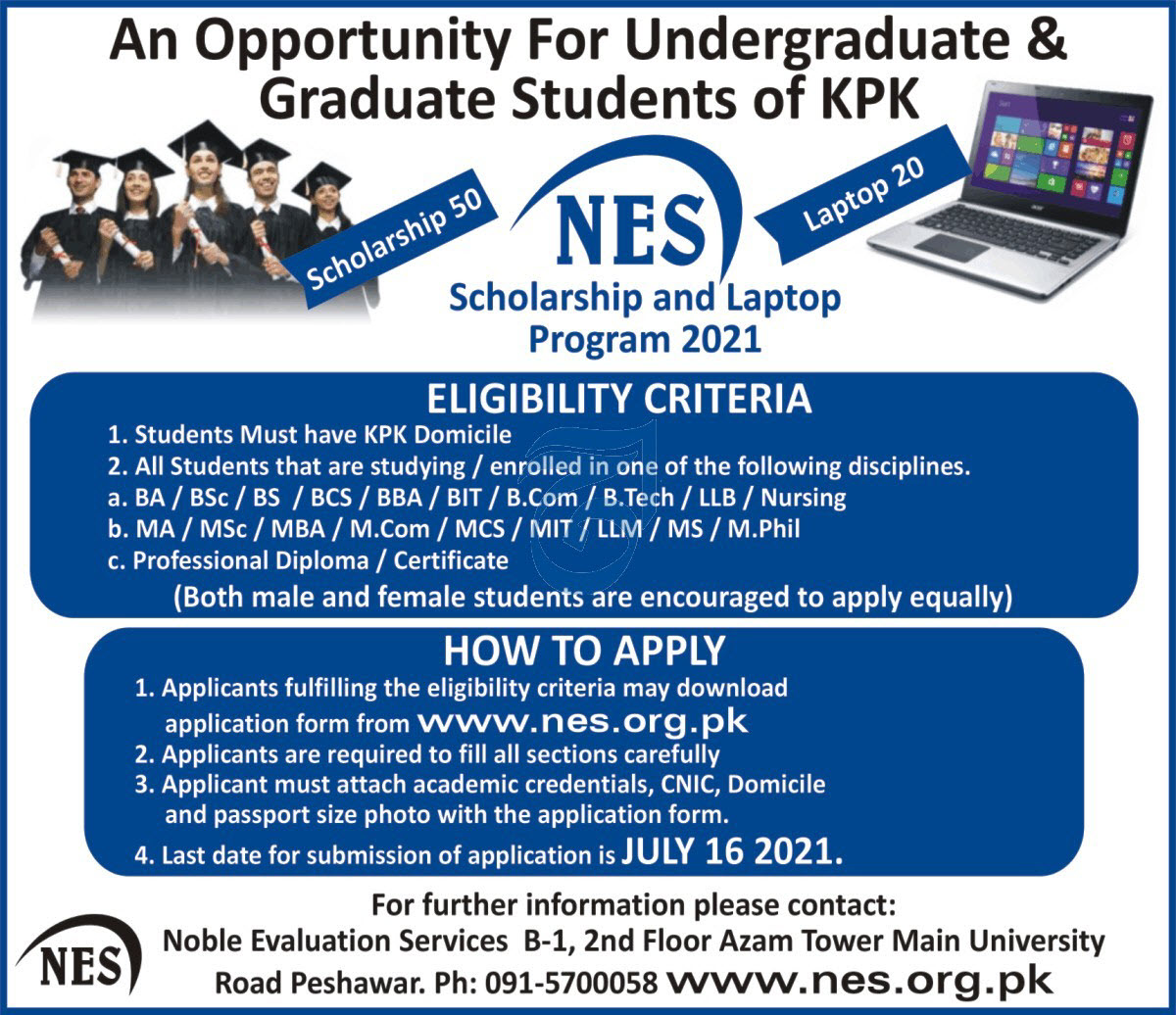 NES Peshawar Offering Laptop
Some people search that this is giving the laptop. Yes, because this is a basic need for all students and many of the students make different projects at the university level. Many of the students are very talented but due to a lack of resources, they do not earn money online. While laptop usage is very high at the university level.
Eligibility Criteria:
Students must belong to KPK.
All the candidates who are getting an education on a higher level can apply for BA, BSc, BS, BCS, BBA, BIT, B.Com, LLB, and Professional Diploma Certificates.
How to Apply?
Firstly read the criteria for eligibility.
Then download the application form from "www.nes.org.pk".
Applicants are required to fill all sections with careful and valid information.
Must attach academic credentials, CNIC, Domicile, and Passport size photo with the application form.
Application Form:
Now, candidates can download the application who are looking while many other people are looking at an online procedure that does not exist. Download the application form carefully and send it to those addresses that have been announced by the organization.
Graduate and undergraduate students can apply till 16 July 2023. This is the last date for application submission and all the required documents are mentioned on this page. Moreover, when they will announce the final date of the entry test and result then we will share it on this page.