For deserving students, NUML University has updated NUML Need Based Scholarships 2019 Criteria For Admission. Students can get financial who are seeking admission in NUML University Islamabad through HEC Need Based Scholarship. National University of Modern Languages is one of the top emerging universities in Pakistan which is offering various undergraduate and postgraduate programs. It offers various scholarships to its students so that they can avail a chance to get an education from the best institute without worrying about the heavy dues. So if you are also a deserving student than you can apply for the NUML HEC Need based scholarship. The last date to apply for this scholarship along with application procedure and eligibility criteria is as follows. Only those applications will entertain by the officials which will receive before last date along with complete information and required documents.
NUML Need Based Scholarships 2019 Criteria For Admission
Higher Education Commission is providing opportunities to talented students who are from remote areas. Students who are not able to pay their fee but they have talent can apply for this scholarship program in order to get admission at NUML Islamabad. The purpose of this program is to uplift the poor and lower middle-class society of Pakistan by fulfilling their academic needs.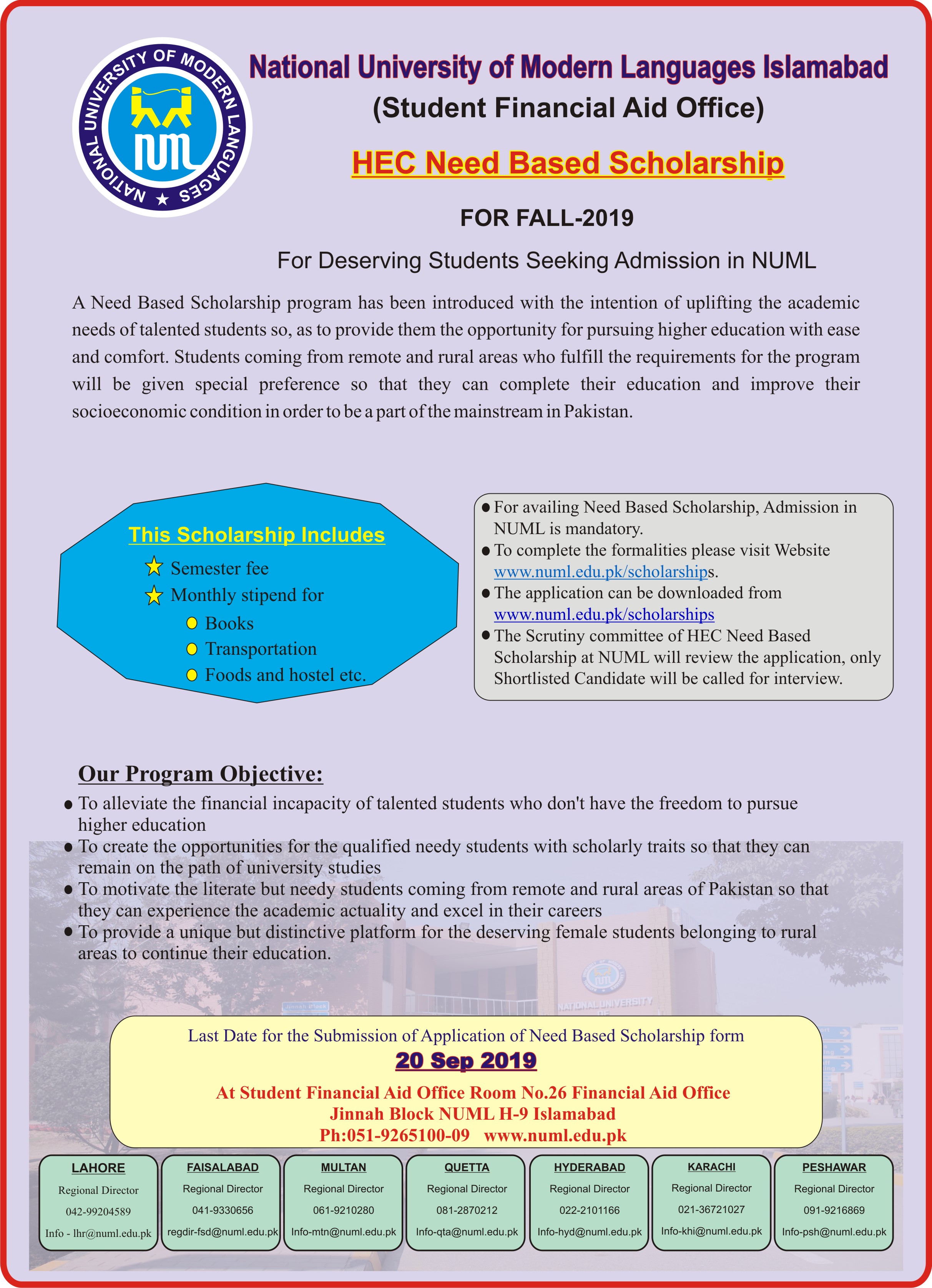 NUML Need Based Scholarships 2019 Eligibility Criteria:
Students who are willing to take admission in NUML university on need base, must apply for the HEC need based scholarship
Only those students can avail this scholarship who are applying for graduate or undergraduate program
The decision of awarding scholarship will be done by the Institutional Scholarship Award Committee ISAC Numl
Those students who are applying for admission in any regional campus of the university can also apply for this scholarship
NUML Need Based Scholarships Last Date:
Last date to apply at NUML university is 20 September 2019
How to Apply?
In order to apply for NUML Need Based Scholarships 2019 student can download the form and fill with the black pen carefully. After filling the application form, students can attach the required documents which are mentioned on the official website of this university. After that, students can submit their application form along with the required documents at Student Financial Aid Office Room No 26 Jinnah Block Numl Islamabad before 20 September 2019. False and incomplete applications will not be entertained. For more details you can visit the official website of NUML University Islamabad.