Punjab Educational Endowment Fund PEEF is now offering Master Level Scholarship 2016 for outreach and special quota for all those candidates who deserve it. All the related information about PEEF and application form is available here in this fastest growing educational web page. You need to stay connect with this page so you can get all the upcoming updates about any educational activity. This time the page is providing you the PEEF Scholarships 2016 for master level educations for those candidates who have been qualified their Bachelor level educations and now willing to continue their further education in master's level. So if you are among those candidates who want to continue their further master level studies but due to some reasons as financial disorder, then you are hereby informed that you should apply for PEEF scholar ship so you can meet your educational expenses. In this case the government of Pakistan will hold your expenses by providing you the scholarship on the behalf of your marks or CGPA you secure in you previous bachelor examination. Well candidates if you want to get PEEF Scholarship 2016 then you have to qualify the following eligibility points. Have a look down.
PEEF Master Level Scholarship 2016 Out Reach, Special Quota Application Form
PEEF Out Reach Scholarship
Following candidates can get Scholarship exists in the outreach category of PEEF Scholarship. They are following-
Candidates who have secure minimum 60% aggregates or CGPA 2.5 in any Bachelor level degree.
Only the fresh qualified candidates are eligible for Outreach Scholarship
Candidates whose fathers or guardian's income is less than 30,000/- per month.
Those candidates cannot get any scholarship that has already done their masters from any recognized University.
Candidates whose father is a Government employee of BS 1-4 and his income is less than 30, 000/- per month.
 PEEF Special Quota Scholarship
Those candidates whose father have died or disable to do any job as they are Orphans can avail PEES Scholarship.
Special students who are disabled can also get this opportunity.
Candidates whose parents are government employee of BPS 1-4
Those candidates who belonging to Minority can also apply for PEEF Scholarship 2016.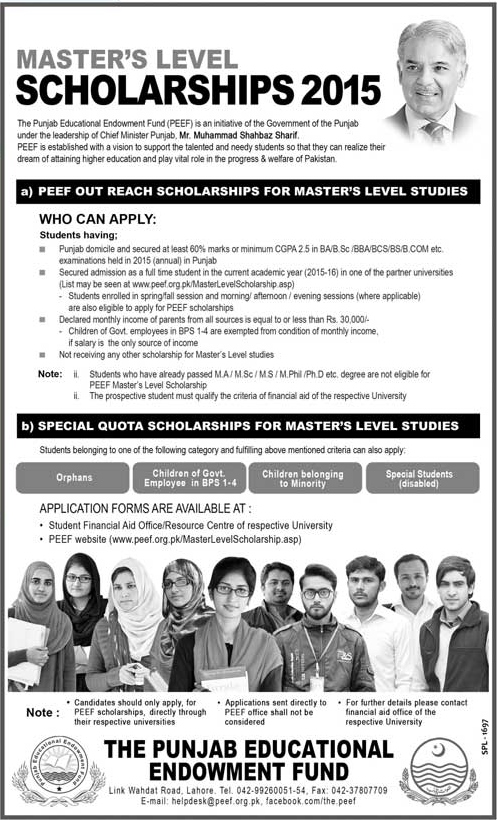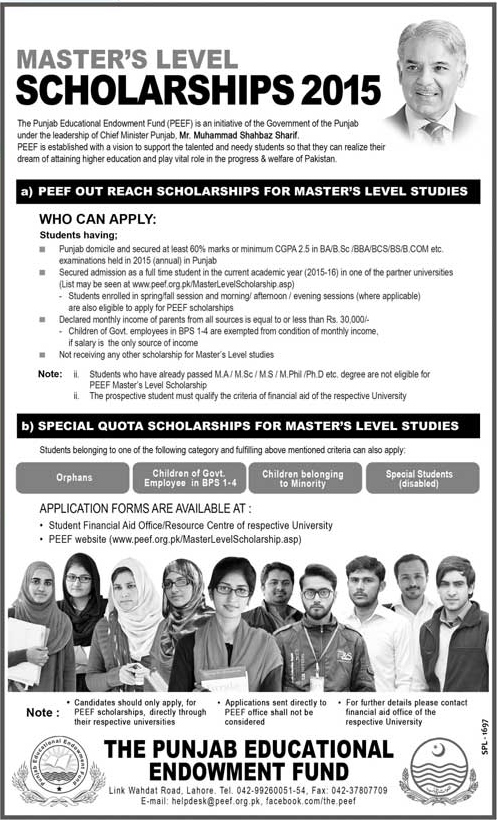 PEEF Master Level Scholarship 2016 Out Reach, Special Quota Application Form 
For More details please contact
The Punjab Educational Endowment Fund PEEF,
Link Wahdat Road, Lahore, Pakistan
Tel: 042-99260051