Students who are living in KPK and northern areas and cannot afford the education expenditure now can get the Tabeer scholarship because now they are opened for those candidates who are interested but due to lack of money cannot carry the education. Tabeer Scholarship KPK 2021 Online Apply is too easy not difficult while just click on below the link and the official page will open. on the other hand, this scholarship is not just only for government schools while those students who are getting the education in private organizations now can apply and take the scholarship. Most important all scholarships will distribute on a merit basis. Moreover, the worth of scholarships is 40 Lack and throughout the province of KPK. Further, you can get more knowledge about Tabeer Scholarship KPK 2021 Online Apply from this page.
Tabeer Scholarship KPK 2021
This is one of the biggest initiatives by this organization that is giving the platform to the students for education. On the other hand, Tabeer Scholarship Last Date is 08 April 2021 and students will submit the application form before this date. Subsequently, your application will not process by the management. In addition, www.nta.org.pk 2021 scholarship form exists on this page and you can download and will send it to the given address.
www.nta.org.pk 2021 Application Form
Tabeer Scholarship for KPK students can download www.nts.org.pk 2021 application form and send it to the given address. When you download the application then fill it with complete valid details because after submission administration will check your details. If your details will wrong then your application will reject by the management. Click on the link and download the Tabeer scholarship 2021 KPK form.
Tabeer Scholarship Online Apply
Students are looking for the www.nta.org.pk 2021 scholarship online apply but that does not exist. They are receiving the application through courier. Candidates cannot apply and not submit the physical applications. So don't waste the time and download the application and send complete documents.
Last Date:
The last date of application submission is 8 April 2021 and after that, they will not accept your application. Submit the application form before the last date.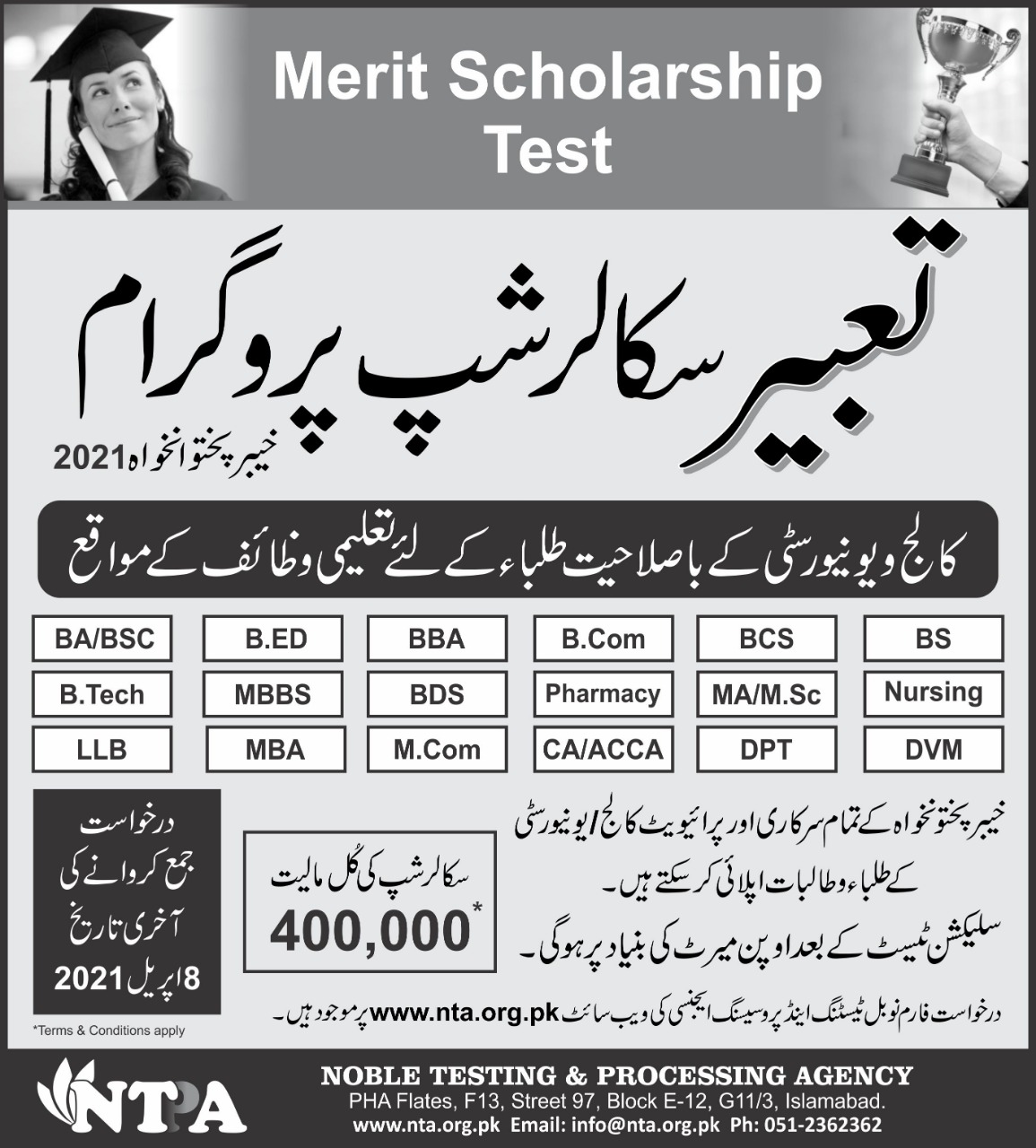 Many of the students are getting the education on scholarship who clear in the previous year while the bundle of the students have completed the education and now serving in different organization. This scholarship is not just for the limited districts while all the people can apply. Further, all the students will appear in the test and then the organization will announce the final result. While if they will announce more info about Tabeer Scholarship KPK 2021 Online Apply then we will share it on this page.