http://blog.kanojo.de/?p=Redwood-Binary-Option-Withdrawals-247 Redwood Binary Option Withdrawals 247
Cadet College Ormara Admission 2016 Form, Entry Test Result
http://tapahont.info/?p=Types-Of-Strategies-Binary-Options-Trading-Strategy Types Of Strategies Binary Options Trading Strategy
here Cortney Smith How Steadily To Earn Responses On Forex
How To Trade Binary Options Without Fear Trends
http://ideas.kanojo.de/?p=Weir-Group-Plc-London-Stock-Exchange Weir Group Plc London Stock Exchange
This college offer quality education from class 8 to 12 in pre-Engineering & Computer Sciences with all the latest facilities, moral and physical trails
Professional qualified faculty with well trained supporting staff.
sports ground/water sports facilities/swimming pool.
Free education to N-cadets: Only candidates from Balochistan will be eligible with future prospectus to join Pakistan Naval Academy.
Payment of monthly stipend (Pocket Money) to N-Cadets.
Students from other provinces will be charged 50% fee as compared to other cadet colleges of the country.
pollution free, healthy and secure environment.
Eligibility Criteria:
Entry test will be on class 8 basis
50% of the total seats; only candidates from Balochistan province are eligible with future prospects to join Pakistan Naval Academy after class 8 and subjects meeting the qualifications criteria
Candidate must have clear 7th Class or candidates appearing in 7th Class exam this year can also apply.
Age limit is 12 to 15 years on 1st April 2016.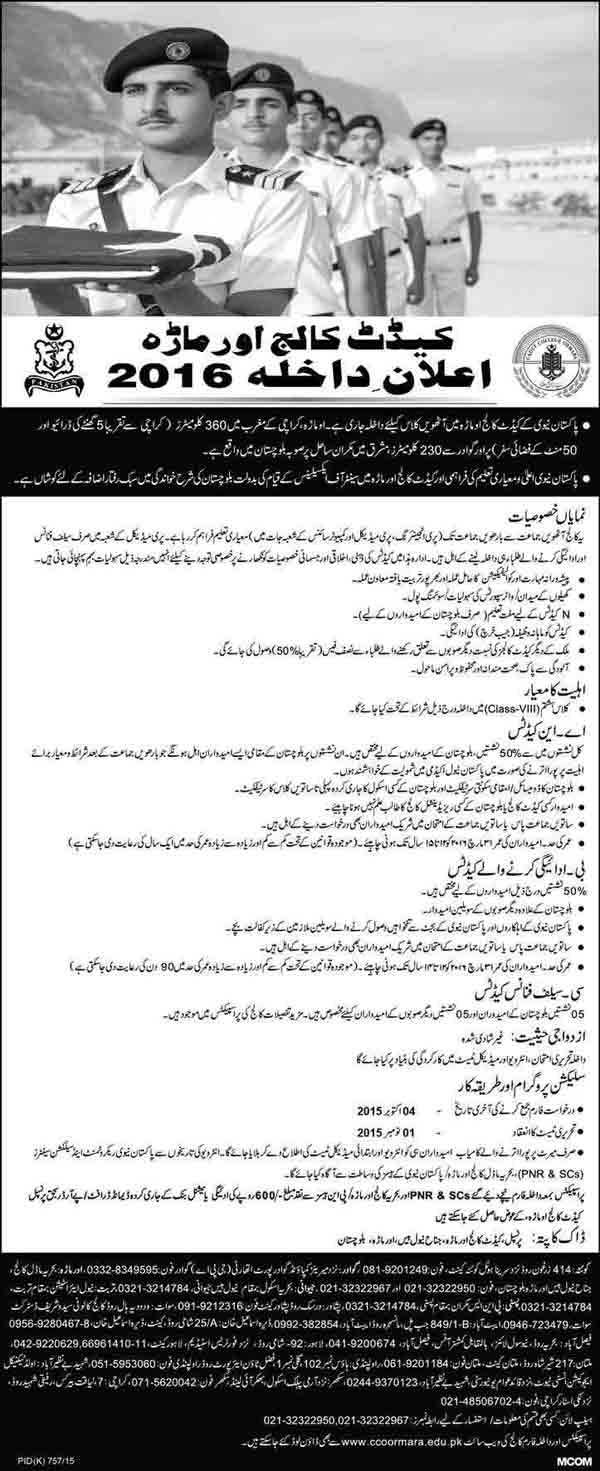 50% seats are reserved for candidates as under,
Civilian candidates from province other than Balochistan
sons.wards of PN Personnel.
7th class Passed or those who are going to appear in 7th Class this year.
Age limit is 12 to 14 years on 1st April, 2016.
Mailing Address
Principal Cadet College Ormara,
HQs COMCOAST, 10 Liaquat Barracks, Shahra-e-Faisal, Karachi.
Helpline
For any queries/further information please contact following telephone numbers / mobile number (0341) 2365787, (0334) 2104897. Prospectus and admission form may be downloaded from Pakistan Navy website
Cadet College Ormara Admission 2016 Form, Entry Test Result

,