If you are looking for Cadet Colleges Admission 2021-22 In Pakistan then, it is to inform you all that the admissions are open to various campuses. So all those parents who are seeking their child to be admission in Army or military or cadet colleges to make their perfect base for join Pakistan army in future as an officer rank are hereby informed that you must download cadet college admission form from their official web sites or from this page below and after filling and attaching all the required and necessary documents with your form resubmit it to the college admission office within the given form date schedule for each school separately. Admissions are open in cadet college Murree, Kashmir Point Murree, Cadet College Qutbal, and Cadet College Fateh Jang and here in this post, you will get the date for submission of the admission form for each class and the age limitations for each class. Criteria are the same in All Cadet Colleges in Pakistan. Alongside selection procedure, entry test, and exam center details are also discussed here in this post below. You just have to keep in tune with this page and follow the instructions written here with details and perform each procedure properly otherwise any application form that is received after passing the last date will not be entertained.
Cadet Colleges Admission 2021-22 In Pakistan Download Form Date Schedule
For the knowledge of the students, all cadet colleges' links are mention below, and those candidates who want to apply now can click on the link to apply for admission as well as spring admission 2021 has announced. While all admission forms and schedules in mention with complete instruction and guidance.
Age Limitations
Management of cadet college has declared the age criteria because everyone cannot apply for admission just those people will make a part of this institute who will meet the age limit.
For 5th Class Age should be 10 to 12 years till 1st April 2021
For 6th Class Age should be 11 to 13 years till 1st April 2021
For 7th Class Age should be 12 to 14 years till 1st April 2021
For the 8th Class, Age Should be 13 to 15 years till 1st April 2021
For 9th Class, Age Should be 14 to 16 years till 1st April 2021
Selection Procedure
For taking Cadet Colleges Admissions 2021 intake; you have to download the admission form from the below-given link or visit the official website of that cadet college you want to get admission to. Admission form along with prospectus can also be obtained from the admission office of the concerned college in cash payment of the prescribed amount.
After this, you have to fill in the form and attach all the required documents with this form and then resubmit it to the college admission office by hand or by post (in case of post your form should be reached at the college admission office before the last date of submission of the application form)
Note: Any admission form that is received after the last date will not be entertained in any case or no age relaxation will be allowed after the date mentioned i.e. 1st April.
After receiving the application form officials will analyze and determine each form and send a written test admittance card (roll number slip) and interview date and venue through the TCS service at the home address of a student mentioned in the admission form.
Cadet Colleges In Pakistan Written Test Details
The cadet colleges written test is conducted according to the academic studies a student has been requisite in his previous classes for he has applied from the subjects English, Urdu, Mathematics, and general science.you can also get the Cadet colleges entry test result here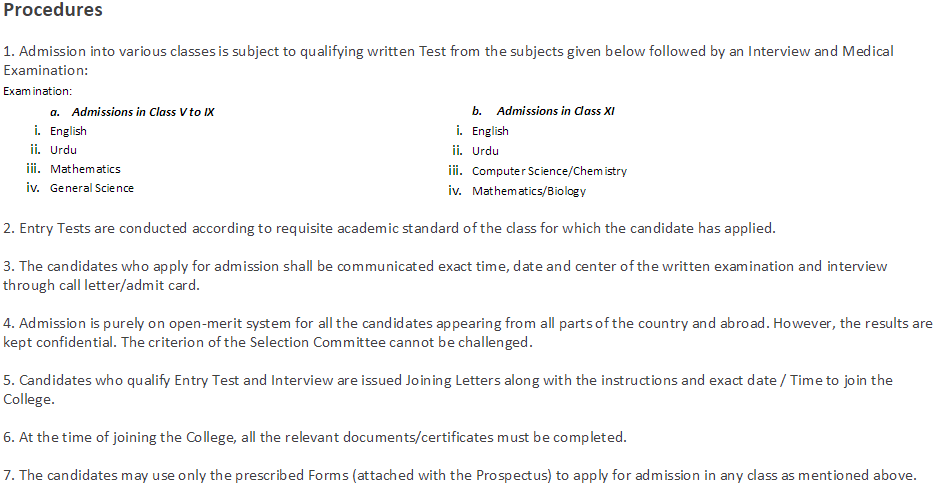 All about the cadet colleges in Pakistan have been discussed here above the post and we hope that you are all now fully aware of this admission in all of these colleges. But in case you have any query in your mind about cadet college admissions/ Cadet School Admissions/ Army School Admissions/ Military School Admissions you can send your FAQs in the below-given comment box, we will reply to you as soon as possible relating to Cadet College admission procedure details.