You can Easily download the Hajj Application Forms 2014 Download from this page along with the Application Form Submission Bank List where you could easily submit your Hajj Application form. Ministry Of Religious Affairs Pakistan announced Bank List to Submit for Hajj 2014 Program & Hajj 2014 Application. You can get the details of Banks involve for Submitting form is listed here so that you do not have to search any more here and there and waste your time so simply visit this page till end it will clear your all ambiguities and will provide you the accurate information which really helps you in every aspect. The complete list of all the banks are listed here as candidates are only able to submit their Hajj Application in these bank. Hajj is the obligation in Islam and every Muslim must do Hajj for at least one Time in his whole life if he becomes eligible financially or Physically. Hajj Required both Finance and Physical Heath. Every year there are thousands of the Muslims go from the Pakistan to the Saudi Arabia to perform Hajj so now the government of Pakistan has announce that the Banks are ready to accept the Hajj Application forms 2014 from the March so all those Muslims who wants to perform hajj this year have to submit their form up to  the given dates the complete details of all the other information is listed here down on this page so have a look till end of this page.
Hajj Application Forms 2014 Download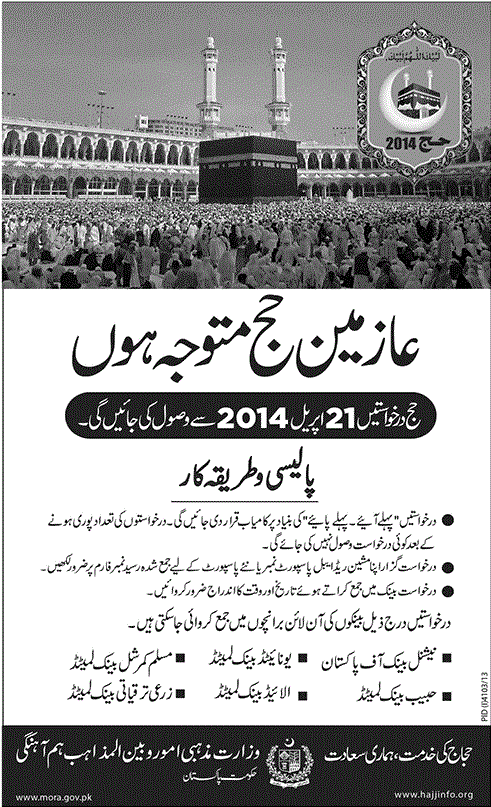 Hajj Application includes new Policies and whole Plan of Government and other Regarding Notice about Hajj 2014. You Can download Hajj Application Forms 2014 just here through below given frame.

Hajj Application Information 2014
Pakistan Banks List Submit Hajj 2014 Applications

Hajj Dues for Government Hajj Scheme
Official spokesman said on Sunday while addressing to the media that 179,210 Pakistani will perform Hajj this year and among them half will go under the government scheme and rest will be in other private group and dues are divided into three parts Blue, Green and white and here are the place of departure and rates detail given below.
Place of Departure

Blue

Green

White

Karachi/ Quetta/ Sukkar

411,000

351,000

285,000

Islamabad/ Peshawar/

Lahore/ Multan/ R.Y.Khan/

 Faisalabad/ Sialkot

421,000

361,000

295,000
.

If you Still have any confusion and query about Hajj Application Forms 2014 Download for Pakistan Banks List Submit Hajj 2014 Applications, then Comment section is there for you to solve it as soon as possible.
Hajj Application Forms 2014 Download

,