Military College Murree 11th Class Admission 2017 is open but for this Written Test Result Date must be known to you as if you are not able to get passing marks in the written test then the college will not allow you admission in the 11th class. The Mission of the Military college Muree is To educate and groom the cadets mentally, morally and physically with a view to nurturing their requisite leadership qualities for induction into the Pakistan Military Academy and the scope of the college is to provide sound education from class VIII to XII at subsidized rates to the wards of serving as well as retired / released Army personnel Civil Armed Forces and civilians. So here are the more details of the admission and eligibility criteria have a look.
Military College Murree 11th Class Admission 2017
Application Form:
Applications on Prescribed form are invited for admission in class 11th. Prospectus / Application forms can be obtained from Military college Muree Upper Topa,By hand or through Bank Draft in avour of"Commandant Military college Muree, Payable at bank Alflah, Mall Road Muree" Code no 0180. Prospectus are also available at Army Selection and recruitment Centers at Karachi, Multan, Lahore, Rawalpindi, Peshawar, Jhelum and Quetta. Prospectus/Application forms can also be downloaded from this page easily.
CLICK HERE TO DOWNLOAD APPLICATION FORM
Military College Murree Admissions Online 
Coat of the prospectus Form is
Officers By Hand: Rs.650/- Through Mail: Rs. 700/-
Soldiers By Hand: Rs.350/- Through Mail: Rs. 400/-
Civilians By Hand: Rs.800/- Through Mail: Rs. 850/-
Click on the relevant Category to Download the Application Form
Eligibility criteria:
Wards of army officers/junior commissioned officers/Soldiers (Serving/retired), Civil Armed forces (Serving Only), MES (Army) and Civilian are eligible to apply. Details are as follow
Matric Passed– Candidates appearing in 10th class exam may apply
Age limit 15-17 years on April 2017. Waiver of 90 days can be granted in upper and lower age limits as per existing rule
Admission is based on Marks in written test, intelligence Test, Interview and Medical Examination
Written test Schedule:
Written test will be held on 25th May, 2017 (Sunday)
Written Test Examination Centers:
Peshawar, Abbotabad, Rawalpindi, Jhelum, Kharian, Sialkot, Gujranwala, Lahore, Sargodha, Bahawalpur, Okara, Multan, Pano Aqil, Hyderabad, Karachi, Quetta, Muzafarabad, Gilgit and Muree
Last Date for Submission of Application is 20th April, 2017
All the applications be submitted to "Commandant Military Collge Muree, Upper Topa Muree hills
Old Papers: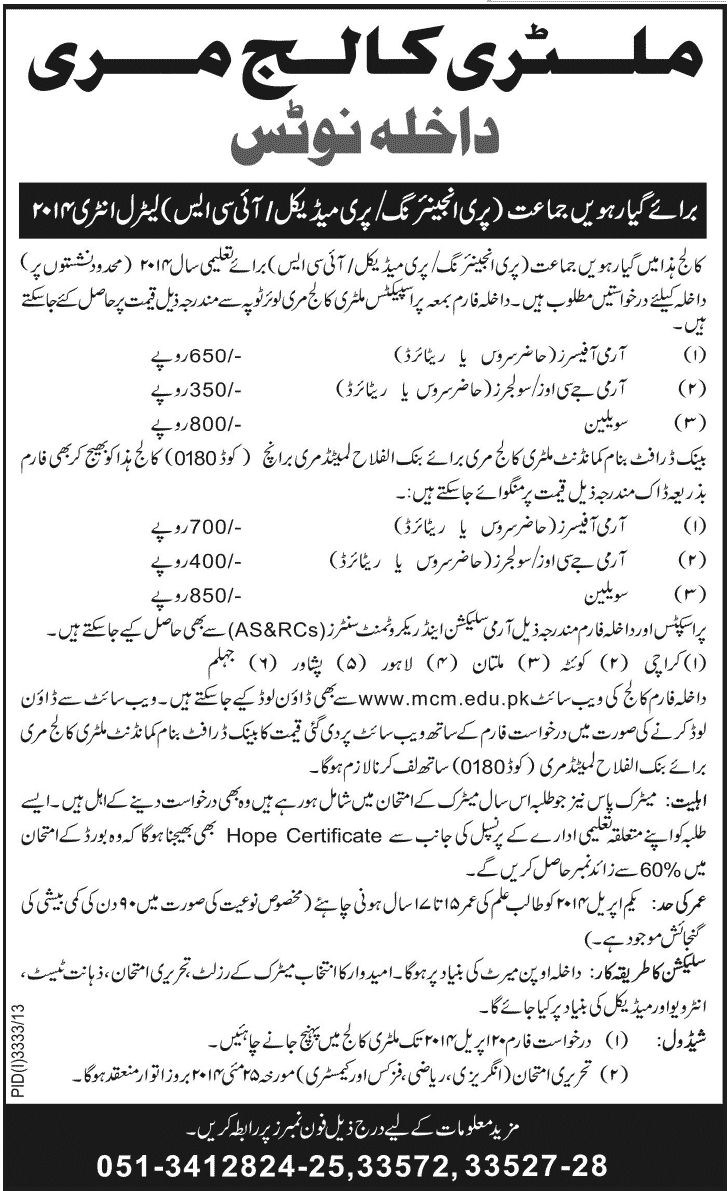 For more Queries Contact:
For any query, Please contact: 051-3412824, 051-3412824, 051-3412825, 051-3412825, 051-41933572, 051-41933572, 33506, 33527, 33528