Admissions for the session of 2016 are now open in Quaid-e-Azam College of Engineering and Technology Sahiwal for all those candidates who are going to décor their future with engineering fields and have qualified their previous education with pre Engineering fields. Here on this page you will get all admission related information according to the officials as you can also apply online through this page by click on the page of admission in Quaid e Azam College of Engineering and Technology. You are advised to read the entire article so you can be satisfied about your admission. The College prefers those students who are self motivated and shine in their studies and have secure more than 60% marks in their examinations. So if you are among those candidates then this is the tie to avail this golden opportunity before the deadlines of dates. The College from the time of its establishment providing best quality educations to national and overseas candidates through highly qualified teachers who are departing educations to every student enrolled in their college. The College is affiliated with University of Engineering and Technology Lahore, UET, and recognized by Pakistan Engineering Council Islamabad PEC Islamabad. If you also want to get admission in this well named organization have a look down.
Quaid e Azam College of Engineering and Technology Sahiwal Admission 2016
Admission 2016 Programs
Quaid e Azam College of Engineering and Technology is offering admission 2016 for the undergraduate programs in the Engineering Fields in following faculties.
Admission Procedure
To get admission in Quaid e Azam Medical College candidates have to obtain the prospectus along with the admission form from the admission office by paying the cash payment of Rs. 1000/-. After this you should read the entire the application form carefully and by fill in dully and attach all the required documents resubmit it to the same office during the working hours.
Another way to get admission is apply online.
Click here to apply online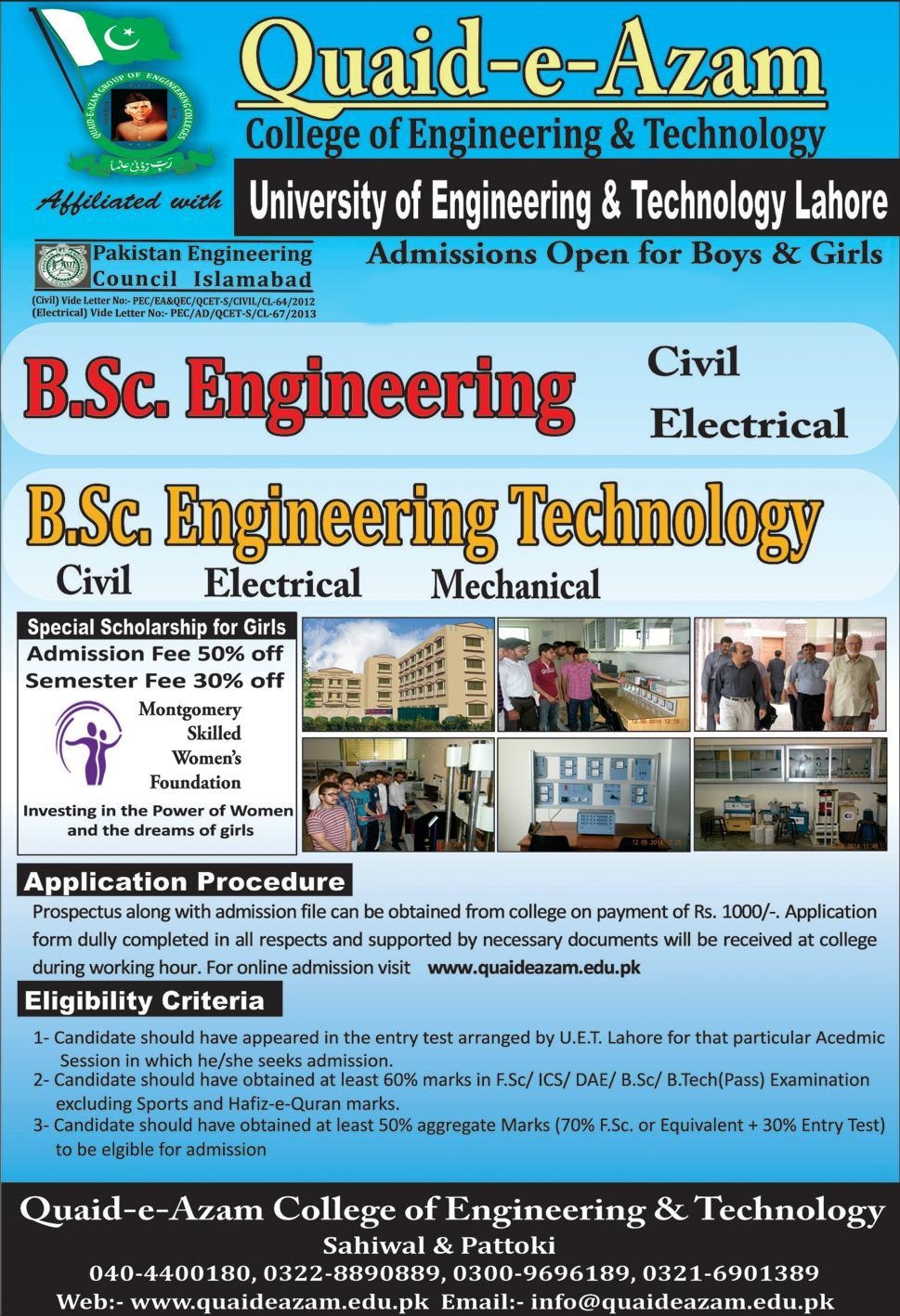 Entry Test
Willing candidates have to qualify the engineering entry test which is conducted by University of Engineering and Technology UET, Lahore. It is necessary for every candidate that he or she must pass this entry test so they can be qualify the given merit according to the admission committee. So those candidates who have secure minimum 50% marks in this Engineering College Entry Test ECAT is welcome by the University if he or she also gain he minimum 60% marks in the annual academic certificate.