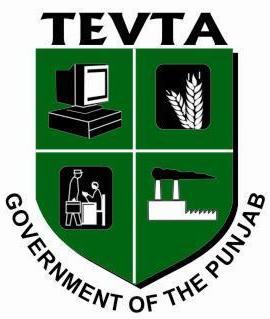 TEVTA was established through an Ordinance (No XXIV of 1999) promulgated by Governor of the Punjab which has now been replaced by TEVTA ACT (ACT X of 2010) Punjab.
Basic Object of Establishment:
Its basic aim is to enhance global competitiveness in Punjab, through an excellence and prolific workforce by developing demand driven, standardized, vibrant and incorporated technical education and vocational training service.
Now TEVTA (Technical Education & Vocational Training Authority) has offered admission in following faculties:
Drafts Men Mechanical
Electrician
Machinist
Welder
Autocad
Eligibility Criteria:
Matric pass candidates can apply for Drafts Men Mechanical, Electrician and Autocad. And for Machinist and Welders middle pass can also apply.
City and Guilds Diploma/Certificate level Courses
Certificate in Electrical Installation
Certificate in Metal Machining
Computerized Designing (2D level 3)
Computerized Designing (3D level 3)
Diploma in Electrical Installation
Diploma in Metal Machining
Eligibility Criteria:
Candidates how have pass matric in science subjects can apply.
Terms and Condition for Admission:
For regular course the age limit is 15-20 but there is no age limit for City and Guilds Courses.
Get prospectus within office time by paying Rs. 40/-
The last date for application submission is 28th August 2012.
And the interview will be held on 3rd September 2012 at 08:00
All candidates should have to come with original qualification certificates.
There are total 83% seats from which 05% is disable quota, 05% is majority quota and 02 % is Army quota.
There are 05% seats for TEVTA employees as well.
There is also hostel facility.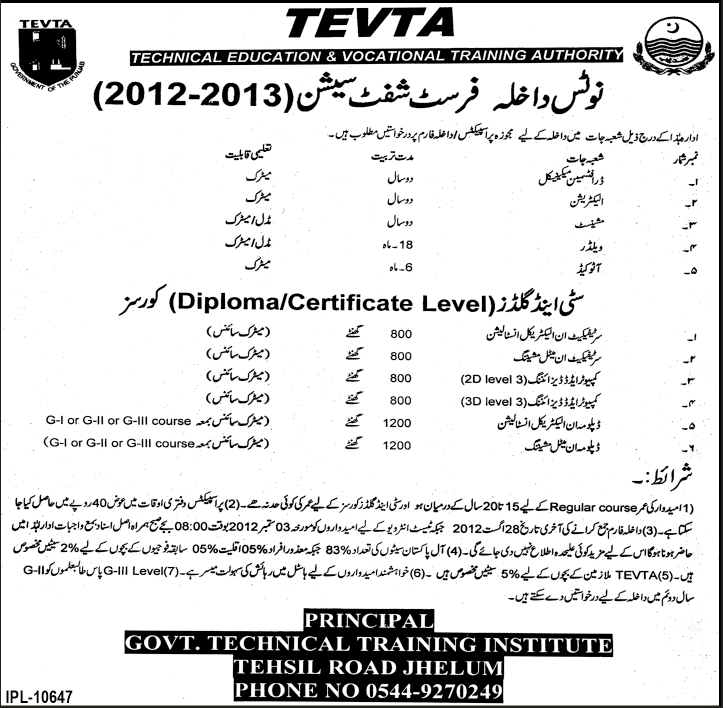 Contact Information:
Principal Govt. Technical Training Institute, Tehsil Road Jhelum
Ph: 0544-9270249