So, you are looking for CSS Preparation Books And Material. CSS is a competitive examination that will be held by the Federal Public Service Commission. This exam has great importance for every student. But in preparation for CSS, there are some certain problems, which candidate confront when he aspires to take CSS exam. It is better to make your own short notes after absorbing knowledge through various resources. This practice enables the candidate to give his personal touch to the answer and to reflect the genuine activity of his mind. Try to be different by developing an independent and analytical approach towards different topics and issues in both your written as well as interview. It has concluded that different but rationale-based ideas are appreciated in this exam. Try to be more logical in your answers. This is a kind of exam in which you can present even radical ideas. You give portents reason to prove your proposition. Regarding heading or paragraphs, it depends upon the type of questions you are attempting. Among these problems one is
CSS Preparation Books And Material
To solve this problem here you find some instruction that will be very useful for CSS students. Rely on quality books as writers like Bajwa or Bhatti stands nowhere in comparison to Strahier, De Blij, or Vincent Smith. Both the quality books and quality notes are equally important and helpful but books should always be consulted first. It will help in improving your notes. The candidate should keep in mind that cramming the readymade material can be very harmful.

English
For composition " LA HILL" book is useful and for précis writing a book written by "LA HILL" is also available in the market.
S.No.
Title
Author
1.
English Grammar in Use
Raymond
Murphy
(Cambridge
University Press).
2.
Practical English Usage
M.Swan (Oxford University Press).
3.
The Little, Brown Handbook
H. Ramsey Flower & Jane Aaron (The
Little, Brown & Co; Harper Collins.)
4.
A University English Grammar
R.  Quirk  &  S.  Greenbaum  (ELBS;
Longmans)
5.
Write Better, Speak Better
Readers Digest Association.
6.
Modern English in Action
Henry Christ (D.C. Heath & Co.)
An essay is definitely the most important part of this exam. Take a few sample essays on different topics, read them twice thrice, and then write them on your own. Improve your expression with practice and avoid using one word, again and again, use synonyms instead.
Pakistan Affairs
Three books are consulted for the preparation
(a)Trek to Pakistan
(b)Pakistan Affairs wrote by "Akram Rabani"
(c)International relation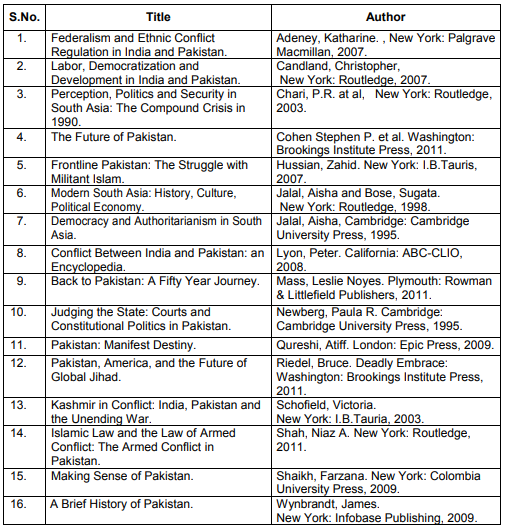 Current Affairs:
For the preparation of Current Affairs, reading of Quality Newspaper is really important. Second, a digest is written by "Safdar Mehmood" is also useful.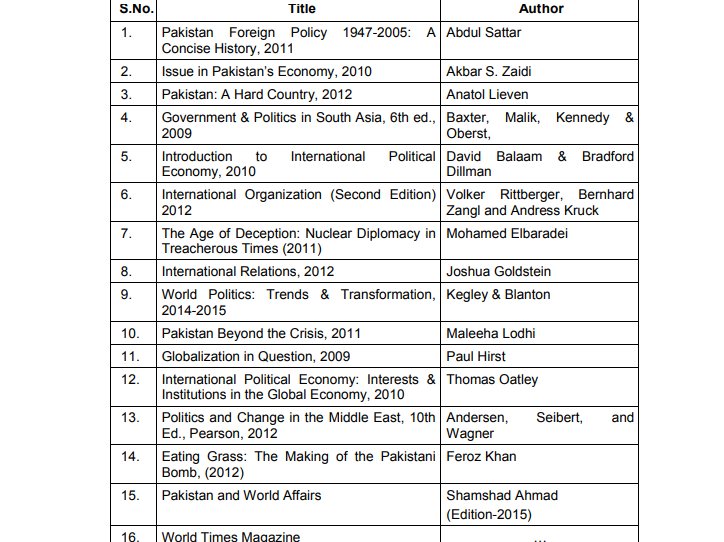 General Science And Ability:
Islamic studies: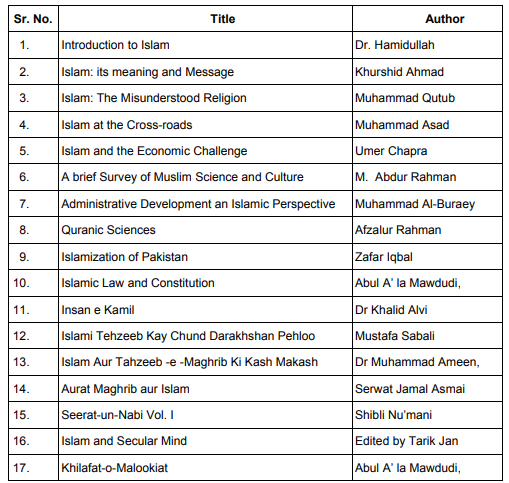 For Islamic studies textbooks of the Bachelor and master level, as well as other Islamic books like Bahesht-i-Zewar, are important. so it is all about the CSS Preparation Books And Material explained here on this page. If you want to share here something else share it with us in the comment box regarding CSS Preparation Books.