MCAT is an entry test exam which has been conducting for medical students who want to get admission in medical colleges. Medical College Admission Test MCAT has been conducted by the University of Health Sciences UHS. Every year more than fifty thousand medical students apply for the admission in the medical colleges and universities in Pakistan but the seats are only 3400. This is very compulsory test, which is helps for the evaluation of students for the admission in private or government medical colleges and universities. UHS arranges this test one time in a year in the month of August for medical students. The result of this entry test result will be announced in the month of September and class will began from the November. The purpose behind this test is to check the knowledge and abilities of a student who want to become a doctor in future.  Each question in this test is concept based and to evaluate the general abilities of a student to solve questions from biology, chemistry, physics and English portion. One who will qualify this test with excellent marks will surely get admission in any medical college or university if he has also scored good marks in his intermediate exams too. After reading this article you will come to know about the MCAT in Pakistan information, introduction and how to apply, which is written below.
MCAT In Pakistan Information, Introduction, How to Apply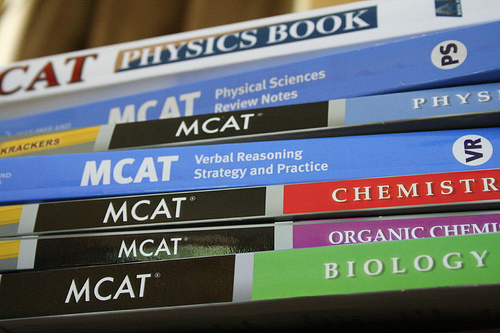 MCAT In Pakistan Information:
MCAT is an entrance test which is compulsory to pass for admission in any private or government medical college or university in Pakistan. This test is very important because it decide that either student is willing to get admission or not. Admission criteria in government and private university is divided into three portion and MCAT consist upon 50% marks. Rest of the 50% marks is divided into 10% marks from matriculation and rest of 40% from the intermediate. MCAT is consisted upon the 220 MCQs questions and each question has 5 marks. From 220 questions, 88 questions are from biology, 44 questions from Physics portion, 58 questions from Chemistry and 30 questions from English section. Each correct answer will results in 5 marks while wrong answer will result in 1 mark deduction. Total time is allowed for the test is 2 hours and 30 minutes. Students, who want to get admission on open merit basis or on reserved seats, must have clear this test with minimum 60% marks. Below than 60% marks will consider fail in this exam. Those students who will fail to qualify will also not eligible to take admission in any public or private medical university. Besides this, this test is valid for only one year and if any student fail to get admission in any medical college, have to appear in the MCAT entry test in next year for admission again.
MCAT in Pakistan How To Apply:
For submission of application form and fee for MDCAT-2017, the collection services shall be available at the counters of BankIslami (Pvt) Ltd branches all over Pakistan from 10th July to 28th July, 2017 (excluding Saturdays and Sundays), 09:00 am to 04:00 pm. Many educational institutes also provide application forms and help students in this test preparation.  Please scroll down for information about what to submit with application form.
Submit your duly filled application form
Attach three attested from back passport size photos
Attested photo copies of FSC pre medical 1st year result are also compulsory to attach
Attested Matriculation certificate from the principle of the college are needed
Two self written addresses and stamped envelope are also advised to submit along with application form
A candidate who is going to apply for the MCAT entry test, have to submit or apply in a nearest college from where he want to appear in the test or willing to get admission.