MCAT Test 2013 Form Submission Last Date is announced as the only responsible authority to take the Medical Colleges Admission Test is the University of Health & Sciences so every year that body announce the date and after that last date no other application should entertained at all. Medical College Admission Test (MCAT) 2013 authorities announces the MCAT Test 2011 Form Submission Last Date which is discussed below in detail and according to the University of Health & Sciences the MACT test will be held on 13th of September as here down is the advertisement that is declared by the University of Health and Sciences yesterday in the most famous Urdu newspaper of Pakistan that is Jhang so have a look
MCAT Test 2013 Form Submission Last Date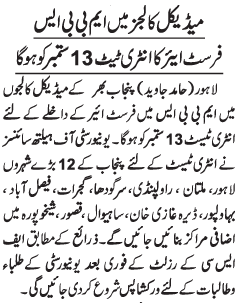 University of Health Science Lahore (UHS Lahore) has announced the application submission date for MCAT test 2013. According to the UHS advertisement the application forms for MCAT test 2011 will be available from August 20, 2013 till September 7, 2013 only on working days. The timing for getting application form for MCAT 2013 is 9am to 3pm.
MCAT test 2013 will be held on September 13, 2011, said the VC of University of Health Sciences Lahore. The last date of form submission is September 7, 2013 and no form will be accepted after 7 September, said Prof Dr. Mubashar Hussain Malik, VC of UHS Lahore.
Application forms for MCAT test 2013 will be available at the public medical colleges of Lahore, Multan, Bahawalpur, Faisalabad, Rawalpindi and Rahim Yar Khan within the due date. No application would be entertained sent via post.
The syllabus of MCAT test 2011 is published by the University of Health Sciences Lahore which is available online click here to check MCAT test 2013 syllabus.
The medical entrance test will held in the following cities and from where you want to appear in the MCAT Test 2011 get your admission form in the given respective college/university.
| | | |
| --- | --- | --- |
| Sr # | If a student wishes to appear from | submit application here |
| 1 | Lahore, Sahiwal, Gujrat, Gujranwala & Sargodha | University of Health Sciences Lahore |
| 2 | Multan & D.G. Khan | Nishtar Medical College, Multan |
| 3 | Rawalpindi, Hasan Abdal | Rawalpindi Medical College, Rawalpindi |
| 4 | Bahawalpur | Quaid-e-Azam Medical College, Bahawalpur |
| 5 | Rahim Yar Khan | Sheikh Zyed Medical College, Rahim Yar Khan |
| 6 | Faisalabad | Punjab Medical College, Faisalabad |
Check These Link To Get Maximum Information about MCAT 2013: