By checking on with this blog post, we would let you know about the detailed description of the PMC MDCAT Registration Form 2020 Online Apply Download. Students who want to apply for the MDCAT in Pakistan 2020 would be much anxious about getting into the stage of the MDCAT Application Form 2020 apply as well. But first of all, let's have a quick sum of discussion about what MDCAT is all about. According to the officials of the University of Health Sciences PMC Lahore, the Medical and Dental Colleges Admission Test will be conducted during the month of August or September. So to appear in this MDCAT test you first need to fill the MDCAT Entry Test Registration Form 2020 Online so that you could be a part of this Entrance test.
MDCAT Registration Form 2020 Online Apply

MDCAT Registration Form 2020 and people can apply online because now they will apply with the platform of PMC while the last date of online registration has declared and all registration will close on 2 November 2020 and they will conduct the test on 15 November 2020.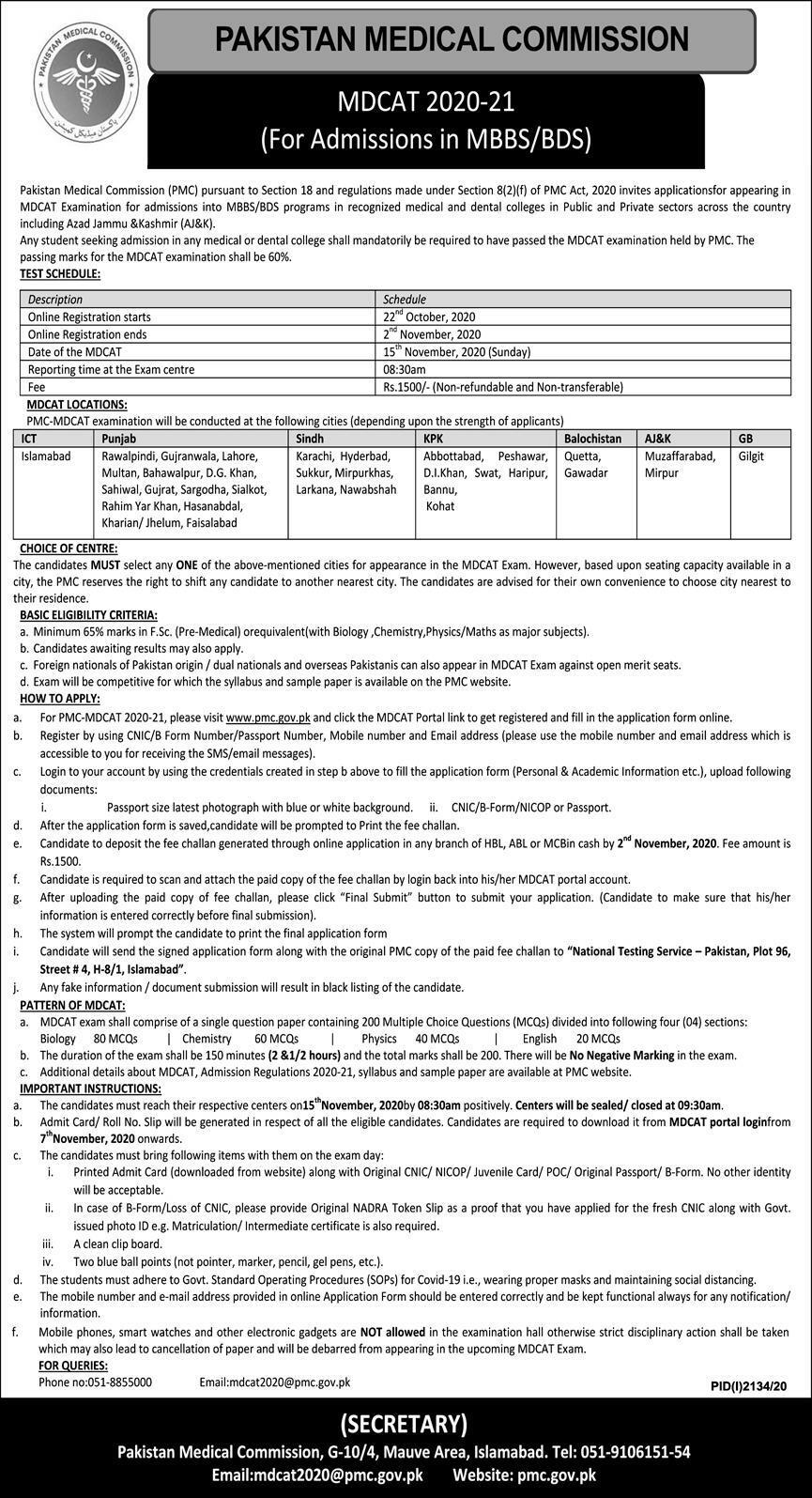 MDCAT Registration Form 2020 Last Date
PMC (Pakistan Medical Commission) MDCAT Registration Form 2020 Last date has released by the official and those people who have applied through UHS now will apply through PMC before 02 November 2020 because after this date organization will not entertain your application. As well as online registration will start on 22 October 2020.
MDCAT Entry Test Registration Form 2020
Registration Form
If you want to MDCAT Entry Test Registration Form 2020 Apply online, then first of all you will be logging into the site bankislami.com.pk. You will make the click on the option" register" that will make you offer with the simple application form appearing for the applicants.
Now you will be asked to upload his or her recent color photograph that has to be not more than a 2MB file. As you are done with it you have to make the click at the option of "submit" his or her application simply by clicking the "submit" button.
It is to be mentioned that on one CNIC, just one application form will be put into the submission.
As you are all done with the successful submission of the application form, the applicant will be assigned a "unique application serial number".
All along with the printed application form, the application will make the visit to the nearest branch of BankIslami (Pvt) Ltd for the submission of the fee. The submission fee is around Rs.1500/-(in cash) which you will be submitting to the concerned bank.
All the information of MDCAT has mentioned with complete details because before this news people applied through UHS but now they will do registration through PMC (Pakistan Medical Commission). So at the time of registration and be careful while the registration fee is 1500 rupees that are non-refundable.