Azad Jammu & Kashmir AJK Public Service Commission (PSC)District Complex Block "K" Muzaffarabad Jobs 2013 area announced by the official and according to the notification the applications for the job announced will be received till the 20th August, 2013 So all those candidates who want to be a part of the Public Service Commission in serving through different department should have to complete the application and submit it to the relevant department before the deadline. Candidate wishing to join also should be eligible according to the mentioned eligibility criteria at the end of the each post. All the rules and regulations which have to be follow are in the advertisement of the Public Service Commission of Azad Jammu Kashmir so it has to be follow as the incomplete or late received applications will not be taken under consideration and will not be entertained.
AJK Public Service Commission District Jobs 2013
Instructions:
If candidate wants to apply in more than one post then he or she has to submit each post application form differently. Application on a photostat paper or a simple blank paper will not be accepted. Along with the Application form there should also be a original bank challan receipt.
For the convenience of the candidates all the instructions and other important information is given on the Application form.
Application could be taken from the all Districts of the Muzaffarabad National Bank of Pakistan branches. other than that application form could also be taken from the head office branch islamabad and Head Office Branch Rawalpindi.
Fee of the assistant commissioner is Rs. 705/- and for other all vacant post the fee is Rs. 305/-.
It is compulsory for all candidates to fill the application form by themselves and the unwanted block should be cut off.
All the educational certificate attested copies with 4 passport size photographs should be attached with the application form.
A written test should be taken from all those candidates who apply for the Assistant Commissioner post.
Government can change the post vacancies according to them .
candidate applying for all those post that require Interview should have to attend a MCQ's test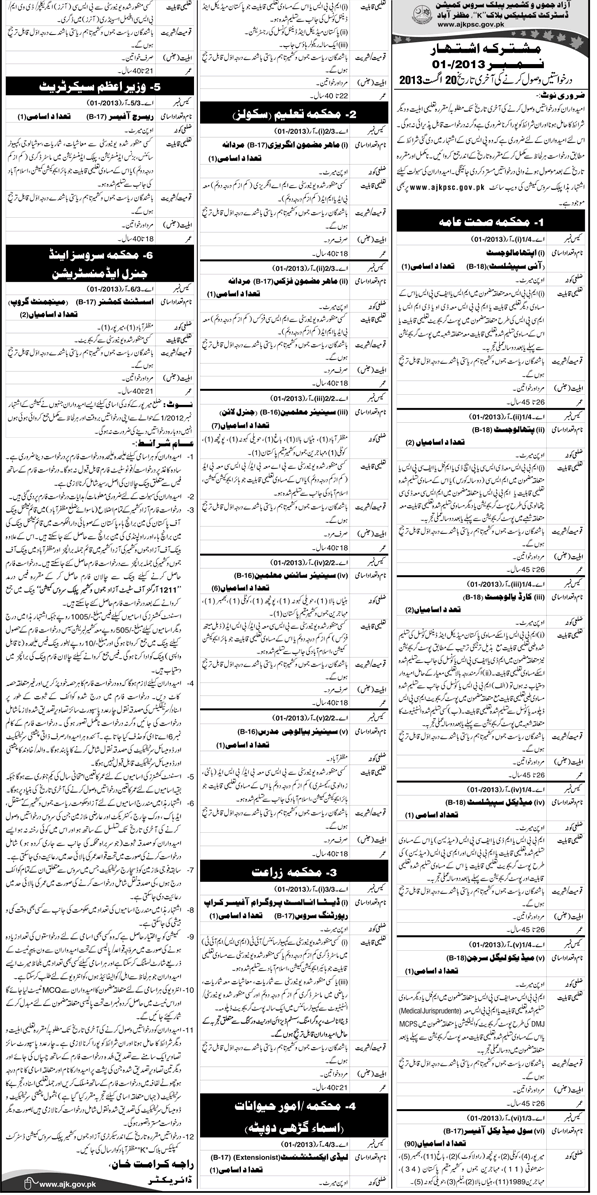 This is the advertisement that were issued with the order and approval from the Director of the Azad Jammu kashmir Public Service Commission Mr Raja karamat Khan. So do keep in mind the last date for the submission of the application form as it is 2oth of August 2013 and all the application received after that deadline will not be entertained for further procedure.