Allied Bank ABL Teller Job Opportunity 2014 is open and waiting for all the eligible candidates who want to be a part of the number one banking institute of the Pakistan. Allied bank with its existence of more than 70 years, has built itself a solid foundation with strong equity, Assets and deposit base. It offers complete banking services with major emphasis on retail and commercial banking. The bank has a branch network of 875 real time online branches and 652 ATMs in Pakistan. Allied Bank Offers value added services to its customers through high technology innovative solutions to meet customers requirements.
In accordance with our corporate strategy and human capital needs, we invite application from young graduates for placements, in branches across the country, in our Banking services function, for the position of "Tellers"
Allied Bank ABL Teller Job Opportunity 2014
About the Position:
This is a management grade position. Tellers are primarily responsible to manage customer service and handle over the counter banking transactions, Including Cash handling.
Career path:
Allied bank has a pre-defined career path for its Tellers, which includes performance driven progression opportunities to become Banking Services Officers (BSOs) in general banking after successful completion of specific continuous duration of service as Tellers, Subject to qualifying the internal assessment/written test.
candidates are offered market based competition salary and considered for performance increments, Subject to the achievement of desired performance levels as per bank policy.
Eligibility Criteria:
Qualification:Minimum bachelor degree from HEC recognized University in Pakistan or abroad. Preference will be given to commerce graduates.
CGPA/Division: Minimum CGPA 2.5/ 2nd Division or at least 45%
Age: Nor more than 27 years as on January 01, 2014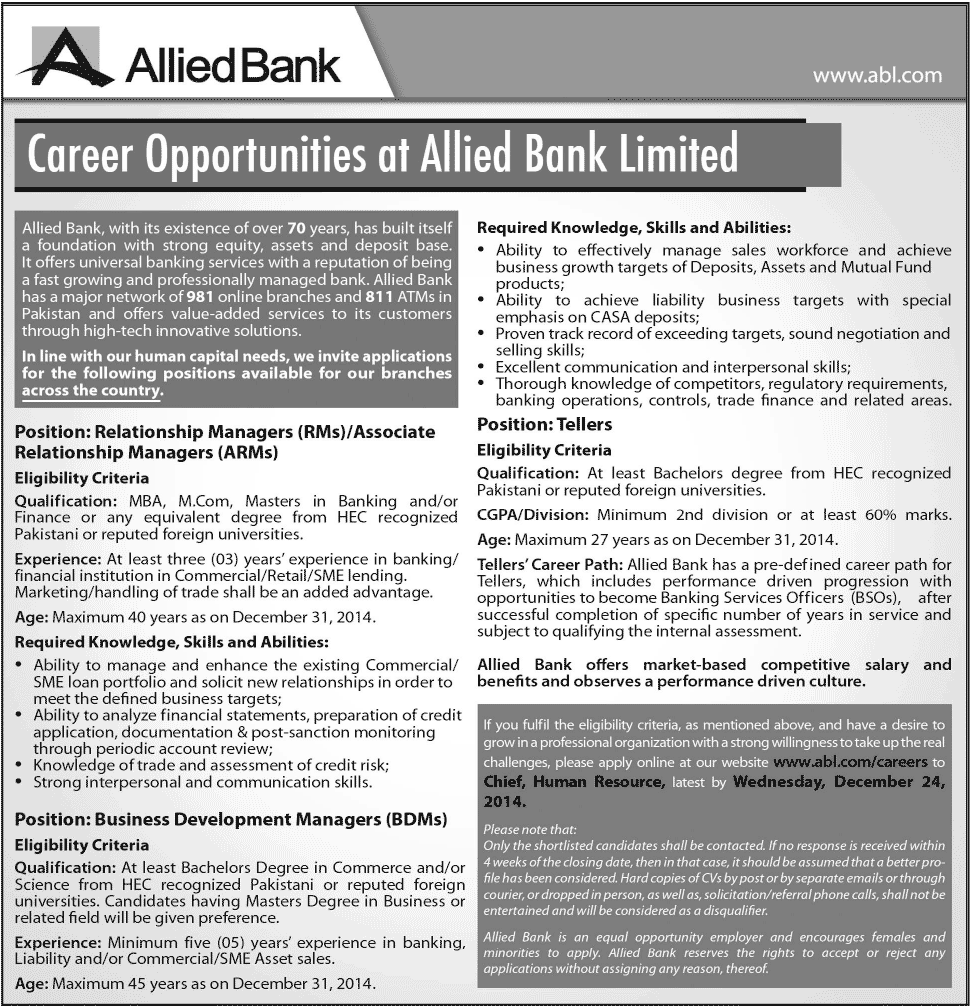 To apply Online:
CLICK HERE
If you fullfill the eligibility criteria, as mentioned here in and have a desire to take up banking career with strong willingness to face the challenge, Please apply here for the Tellers job as this is the best career start.
Allied Bank is equal opportunity employer and encourages females and minorities to apply. the bank reserves the right to accept or reject any application without assigning any reason thereof.