Many of the students are passionate to know How to Join Pakistan Army as Second Lieutenant with their extreme patriotism. Let's first understand what a second lieutenant is? A Second Lieutenant is the entry-level commissioned officer rank in the Pakistani Army. A Second Lieutenant is usually positioned in command of a squad comprising of 20 to 45 soldiers, including two or more rifle squads lead by a senior non-commissioned officer. Pakistan Army offers various natures of job opportunities to the youth of Pakistan every year. Intermediate and graduate students are registered in the Pakistan army as officers through different training programs. They are ranked as second lieutenant or captain after successful completion of the respective course in Pakistan Military Academy. Management advertisements for Jobs related to Pakistan Army are published in countrywide newspapers. One has to have detailed information about the courses or commissions. These details can be found on the official website of PMA. To join Pakistan Army as a second lieutenant, one needs to fulfill eligibility criteria and then can proceed for the recruitment and selection process. Following is the procedure to join the Pakistan Army.
How to Join Pakistan Army as Second Lieutenant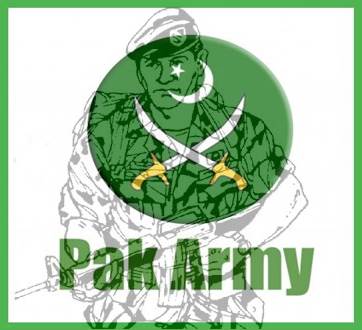 Eligibility Criteria to Join Pak Army
A) Age:
(1)
Intermediate or Equivalent
17-22 Years

Relaxable for three months both in upper and lower age limits.

(2)
Graduates (2 years graduation) and Serving PN / PAF Personnel
17-23 Years
(3)
Graduates with 4 years graduation programme (BS / BA (Hons) / BBA)
17–24 Years
(4)
Serving Army Soldiers
17-25 Years
B) GENDER: Male.
C) MARITAL STATUS:
Unmarried (Married serving personnel of the Armed Forces over 20 years of age are eligible).
D) NATIONALITY
All the citizens with the nationality of Pakistan or domicile holders of AJK or Gilgit Baltistan. Dual nationality holders have to surrender the nationality other than Pakistan.
E) PHYSICAL STANDARDS
i.      Minimum Height – 5' – 4" (162.5 cm)
ii.      Visual Standard
| | | |
| --- | --- | --- |
| (a) | Distance Vision | With glasses 6/9, 6/12 |
| (b) | Near Vision | J2, J7 or N8, N12 with or without glasses |
iii. Weight – As per the Body Mass Index.
F) EDUCATION:
(1)
Marks –
FA / FSc
(a)Minimum 60 % marks in FA/FSc and equivalent.

(b)Candidates who secure 60% marks or above in BA / BSc, BA / BSc (Hons), and BBA / BPA, with 50% marks in FA / FSc are eligible for PMA Long Course.

(2)
Relaxation of Marks – FA / FSc
Minimum 55 percent marks for the candidates from the specified area including Balochistan, FATA, Gilgit-Baltistan, District Neelum Azad Jammu Kashmir, District Kohistan, Chitral, Dir, Tehsil BalaKot (Kaghan, Naran) of District Mansehra in Khyber Pakhtunkhwa, Tharparker and Tehsil Umer Kot in Sind, District Rajanpur, Area of Cholistan Desert, Drawer Fort, Salamsar, Mojgarh and Dingarh of Punjab, who have been actually studying in same areas.
(3)
Serving Army Soldiers
50 %  marks in  FA/FSc and equivalent.
(4)
Hope Certificate
Candidates who have passed Part-1 of Inter exam with minimum 60% marks and have appeared/appearing in Part-II/Final Examination and whose result will be announced soon can also apply subject to provision of original Part-1 Marks Sheet along with "Hope Certificate" by the Head of College/University that they have a good chance of passing the final examination with minimum 60% marks. Such candidates will deposit their original Part-II Certificate/Mark Sheets along with 4 attested copies to GHQ PA Dte, PA-3(a), otherwise, their selection will not be processed further.
(5)
Verification of Marks Sheet / Certificate
Candidates not issued with certificates or in possession of duplicate/revised mark sheets/certificates of Matric / Intermediate / BA / BSc must get a Verification Certificate signed by Secretary/Controller Examination of concerned Board/University.
(6)
A-Level Candidates
A level candidates applying in Pakistan with aggregate 60% marks are eligible without seeking an equivalence certificate as calculated by IBCC. However, all candidates who have passed A level and equivalent examination from abroad are required to submit an equivalence certificate issued by IBCC.
INELIGIBILITY CONDITIONS
1-  "Not Recommended" twice by ISSB/GHQ Selection & Review Board.
2- Declared medically unfit by Military Hospital/ Appeal Medical Board.
3-  Enrolled cadets and recruits withdrawn/ resigned /discharged/ dismissed from Armed Forces (Army, Navy & Air Force) training academies/institutions on the grounds of discipline, character, medical, inefficiency, weak profile, or declared unsuitable.
3- An individual dismissed/removed from any other Government Service.
4-  Convicted by a Court of Law for an offense involving moral turpitude.
Procedure to Join Pak Army
Step 1: REGISTRATION AND PRELIMINARY SELECTION PROCEDURE
Candidates can either register themselves online or by visiting Army Selection and Recruitment Centres (AS&RCs).
A candidate can register on the website www.joinpakarmy.gov.pk. Date and time of test shall be intimated on the internet for which the individual should have an e-mail account. The candidates may also report at the nearest Army Selection and Recruitment Centres (AS&RCs) for registration/allotment of roll no along with necessary documents mentioned in the preceding paragraph.
Step 2: WRITTEN/ INTELLIGENCE TESTS
Written/Intelligence tests will be based on multiple-choice questions from English, Mathematics, Pak Studies, Islamiat and General Knowledge. The candidates declared successful in written/intelligence tests will undergo physical/medical tests and interviews at AS&RCs.
Step 3: PHYSICAL TESTS
The candidates must qualify the following physical standards at the time of preliminary selection:-
| | | |
| --- | --- | --- |
| (a) | 1.6 Km Run | 8½ minutes |
| (b) | Push-Ups | 15 repetitions in 2 minutes |
| (c) | Sit-Ups | 15 repetitions in 2 minutes |
| (d) | Chin Ups | 3 repetitions in 2 minutes |
| (e) | Ditch Crossing | 7'.4" x 7'.4" with a depth of 4' |
Step 4: INTERVIEW
Successful candidates will be interviewed at AS&RC and shortlisted for ISSB test.
Step 5: ISSB CALL LETTER
Successful candidates will receive a letter for ISSB tests through the website as well as call up letter.
Step 6: TRAINING PERIOD AT PMA
Candidate needs to complete a 02-year training program at Pakistan Military Academy.
How to Join Pakistan Army as Second Lieutenant
So, if you want to join Pak Army, then the procedure and eligibility are given above. All the students are allowed to apply for it. The Pakistan Army is one of the biggest and well-known armies of the world. It is a dream of every student to be an army officer. So, check all the latest dates and forms from the official website of the Pakistan Army. If you have any questions, then visit the comment section and leave a comment.