CECOS University Peshawar Jobs 2018 Professor, Lecturer and Manager are available and candidates are waiting for the apply. The first job that comes recently in the month of october 2018 is the professor, associate, assistant professor and civil engineering required the Phd in Civil Engineering from Higher education commission. It is recognized university and institution that can make the perfect way out to review the job opening and its effects on the future of the experience and publications. HEC criteria is possibly review about the way out that how it can review the possibility through the defined material and its appropriate mechanism. Further get the info about the Engineering Universities in KPK Pakistan
Last Date To Apply is 16 October 2018
CECOS University Peshawar Jobs 2018
The HEC criteria is simple and justified with reference to the CECOS University Peshawar Jobs 2018 Professor. The second array is the lecturer civil engineering perspective. It is complete assessment about the MS in civil engineering and higher education commission has the major role to define that either a person is liable to approach the experience through the justified material binding.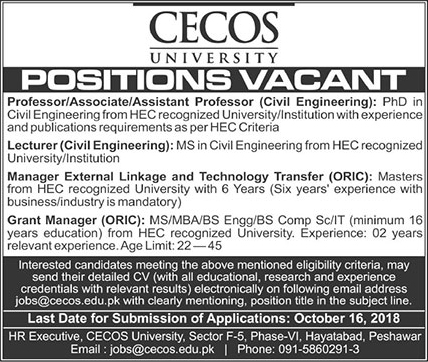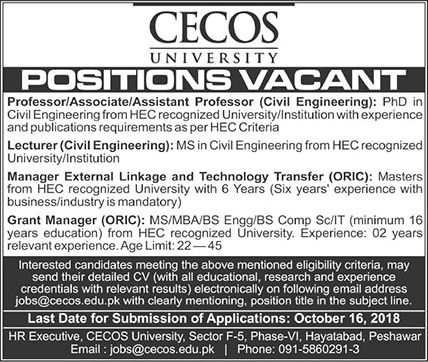 MS in civil engineering from higher education commission is enough for the CECOS University Peshawar Jobs 2018 Lecturer. The third and fourth opening is the manager external linkage and technology transfer ORIC and masters from HEC recognized university also required with at least 6 years experience with business and industry is mandatory.
The fourth job opening in this CECOS University Peshawar Jobs 2018 also the grant manager ORIC. The fourth job is the one that related to young people because it required only 2 years experience. It means the above CECOS University jobs opening 2018 relevant to the importance of civil engineering universities in pakistan.
How to Apply for CECOS University Peshawar Jobs
If you are going to consider yourself eligible to apply then you are required to move on next step that is how to apply for the current opening. The CV with the educational research and experience credentials must be submit to [email protected] position should be provided n the subject line.