Now people can check the PAF Commission in 127 Combat Support Course Online Registration 2021, last date, eligibility, how to apply and advertisement is all here. Pakistan Air Force (PAF) is inviting online registrations for hiring the Specialist Doctors and General Duty Medical Officer (GDMOs) Doctors through Special Purpose Short Service Commission (SPSSC) in Medical Branch. All candidates who want to join PAF after MBBS as a doctor and specialist, then here is your golden chance to avail the opportunity. You all have to make sure that either you are eligible or not from your age, qualification, physical standard, and other eligibility which are also mentioned on this page below of this passage. This is a good career opportunity in Pakistan Air Force to serve as a doctor. Doctors in PAF is a very handsome post for a candidate whose dream is to become a doctor. It is beneficial for you because after a specified period of time you will get retired and avail your pension. This job is also good for your career as well as your rank in society. So never miss this opportunity. Just read this post make sure you are meeting the eligibility and apply properly as per the criteria written in this post.
PAF Commission in 127 Combat Support Course Online Registration 2021
PAF Commission ion 127 Combat Support Course online registration 2021 has announced and eligible candidates who meet the criteria of the selection can apply online. While the last date of registration is 17 May 2021 and after the due date management will not accept your application.
Special Purpose Short Service Commission (SPSSC) In Medial Branch
PAF Commission In 127 Combat Support Course Online Registration
Before applying you have to see the eligibility criteria that if you are eligible for this post or not. The eligibility criteria are written below. So if you see that you are eligible for any post then you just have to click on the apply online button where you will have to fill in the online form by following the instructions written step by step in the online portal.
Selection Procedure
After receiving the application form officials will analyze it and will send a call letter for a written and physical test at your nearest PAF I&SC center. After you clear your initial test you will have to pass through the final test at AHQ Special Selection Board. One who will pass from each step will be hired finally.
www.joinpaf.gov.pk 2021 Online Registration
Candidates can apply online because the application form does not exist. So don't waste the time and click on apply online button the official page of PAF will open. You can do the registration. Further, all the documentation will upload on the portal.
19 April 2021 to 10 May 2021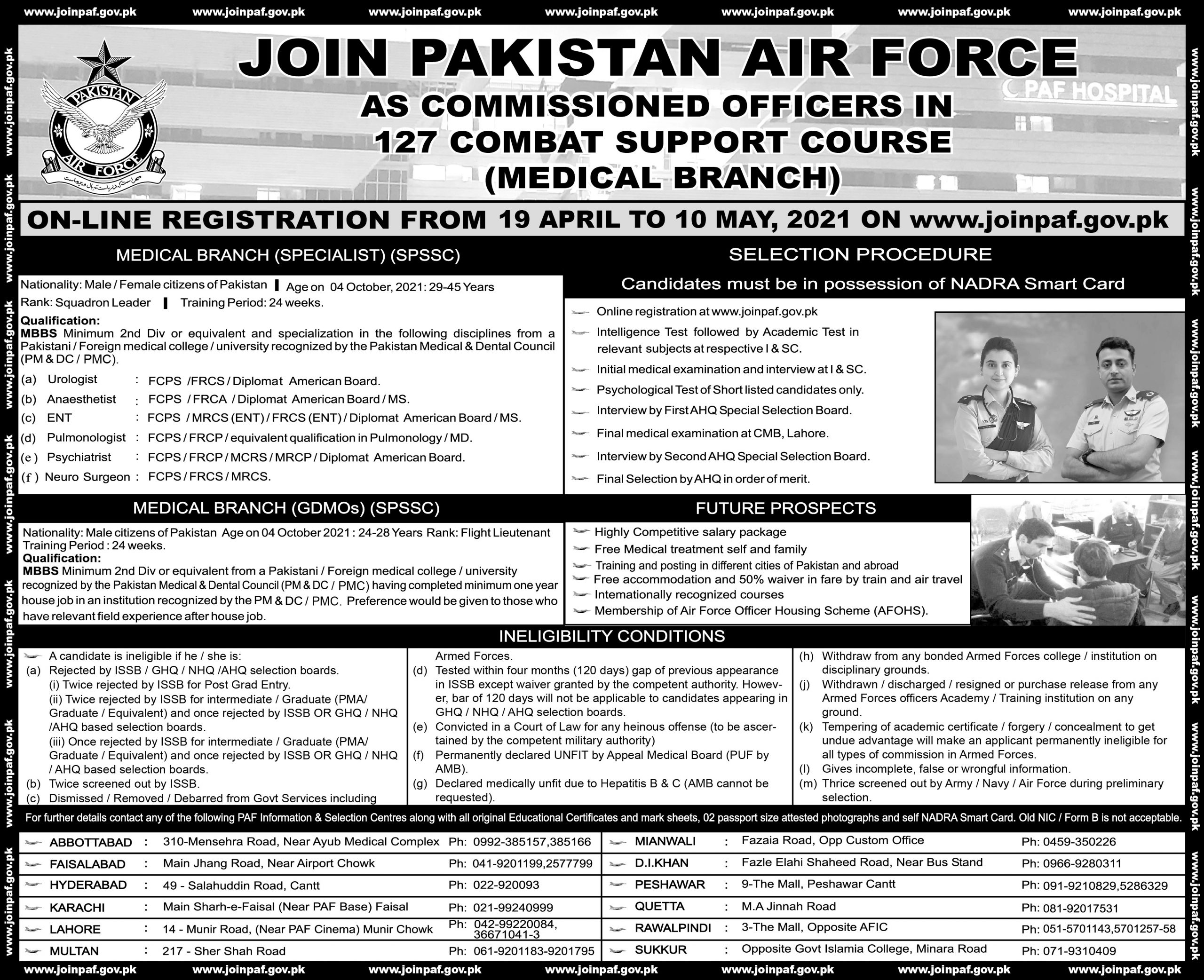 Hence this is all about PAF Commission in 127 Combat Support Course Online Registration 2021. Hope that you are all now fully aware and eligible to apply online for PAF jobs as Specialist Doctor and GMOs. But in case you have any confusion about it and want to ask your query you can send your question via the comment section below of this page in the comment box. Thank You!