The page is going to make an alert for those candidates waiting for Naib Tehsildar Jobs In KPK 2021 KPPSC. The competition service commission has a regulatory approach. It makes the accurate link between posts. The Khyber Pakhtunkhwa government is directly involved in announcing such posts. The website for the official body is www.kppsc.gov.pk. You will get the complete job details here on this page buzzed through the official portal. This is original jobs are market under the KPPSC advertisement 04/2021. It is also known as KPPSC November advertisement 2021. The online applications are accepted. Only Pakistani citizens with KPK domicile are called upon to apply for the current opening. This time FATA candidates can apply according to the official statement made clear by the KPPSC.
Naib Tehsildar Jobs In KPK 2021 KPPSC
Apply online is only an acceptable way because there is no other way to apply for the current opening. Physical applications are strongly rejected or not acceptable. The Easypaisa and JazzCash agent are allowed to make the deposit on the behalf of KPPSC. To get the receipt number through SMS. Kppsc.gov.pk apply online. Candidates are advised to fill all the columns carefully for the one application that is enough for all posts and categories of posts. If you decide to apply for the different posts with the same application you have to apply for the sub serial numbers. Online apply for Khyber Pakhtunkhwa public service commission.
KPPSC Jobs 2021 Naib Tehsildar
KPK boards of revenue and estate department vacancies are available and open to apply. Twenty 20 posts of Naib Tehsildar in revenue and estate department in general Quota. The qualification for this post is 2nd class graduation from any recognized university recognized by the Higher Education Commission. The twenty posts of naib tehsildar in revenue and estate department general quota available to apply and qualification for the post is 2nd class graduation
KPPSC advertisement Naib Tehsildar
The current advertisement required for Jobs In Khyber Pakhtunkhwa Public Service Commission KPPSC 15 Nov 2021 is open for the Naib Tehsildar in revenue and estate department women quota. The basic pay scale is BPS 14 is the merit allocation and only female eligibility is acceptable for the advertisement. The age of females limited from 21 to 30 years.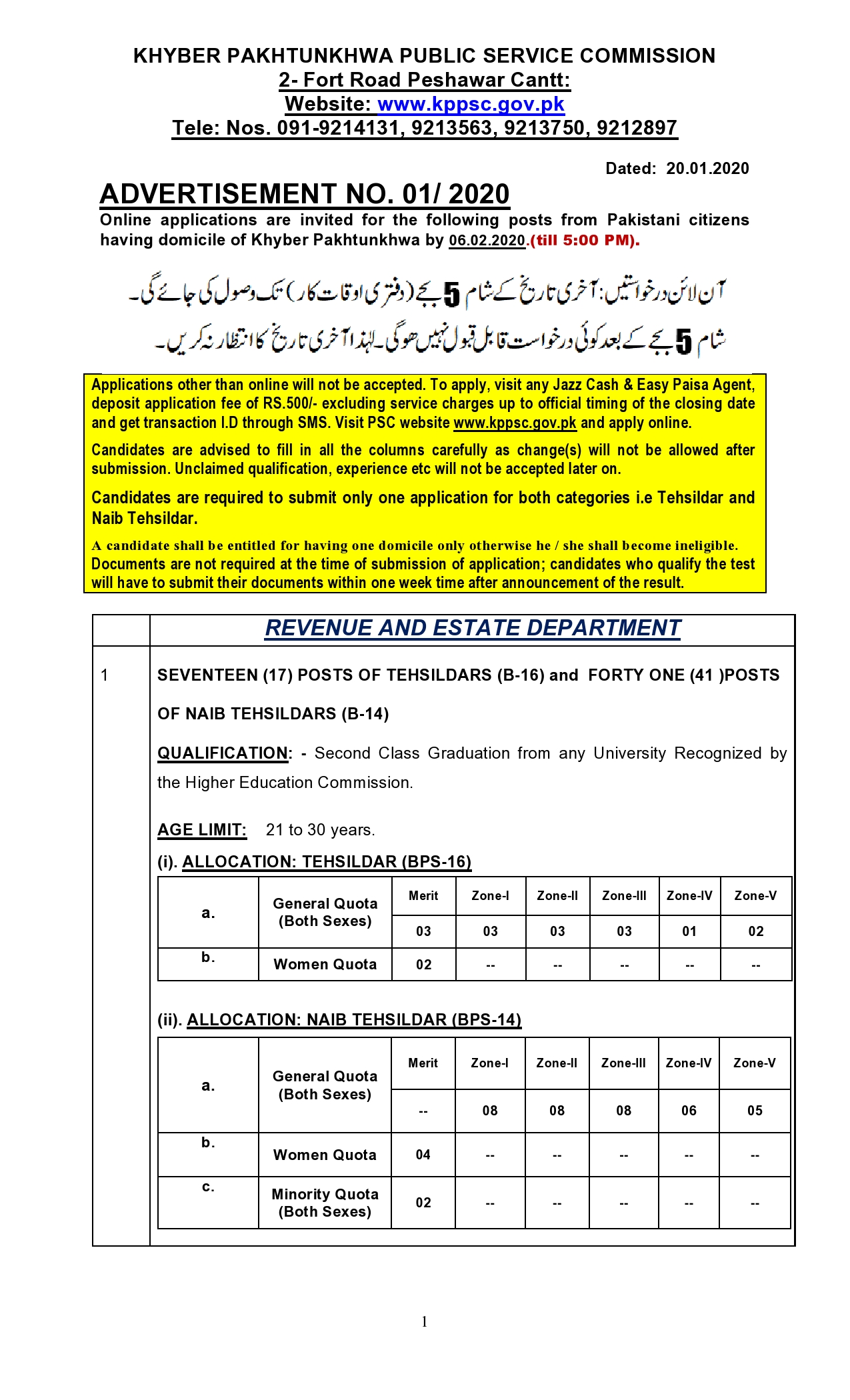 The minorities are required to apply under the special opening about the naib tehsildar disable quota. The BPS 14 is the scale that is doing best with the job description. The age limit is 21 to 30 years. The merit-based aspect in this job is doing perfectly according to application deadlines and procedures. KPPSC does not forget the disabled quota and only one post is available for this category.
The employee of the government, semi-government, autonomous and semi-autonomous can apply directly through the online procedure. Further departmental permission certificates are required for all other departments that want to apply for Naib Tehsildar Jobs In KPK 2021.