The page specified that PAC Kamra Jobs 2019 Advertisement is published in national newspapers. Even Online Apply aspect is open by taking the request through the finest advertisement program. The other naame of PAC is Pakistan Aeronautical Complex. The advertisement program also announced at the official website that is www.pac.org.pk . If you are searching for the current opening for PAC jobs then you are at the right place. You can join the current opening by the online apply aspect. It is government sector jobs are you are required to follow the rules being made by this government institution. The online registration is acceptable as it is open in PAC kamra. The grade BS 17 is allocated for the current opening. The recruiting candidate on a larger scale is the responsibility being made as per the published
PAC Kamra Jobs 2019 Advertisement Online Apply
The advertisement is bit longer and you can get the the details of each job according to the relevance approach. Every job listed in the PAC advertisement page can be approach the job description at the first side. You can judge every job listed here in the view that is doing as per the required assessment. The PAC Kamra Jobs 2019 are important and you can assess the requirements through the advertisement listed here in below field.
PAC Kamra Jobs 2019 Online Apply Last Date To Apply Is 13th January, 2019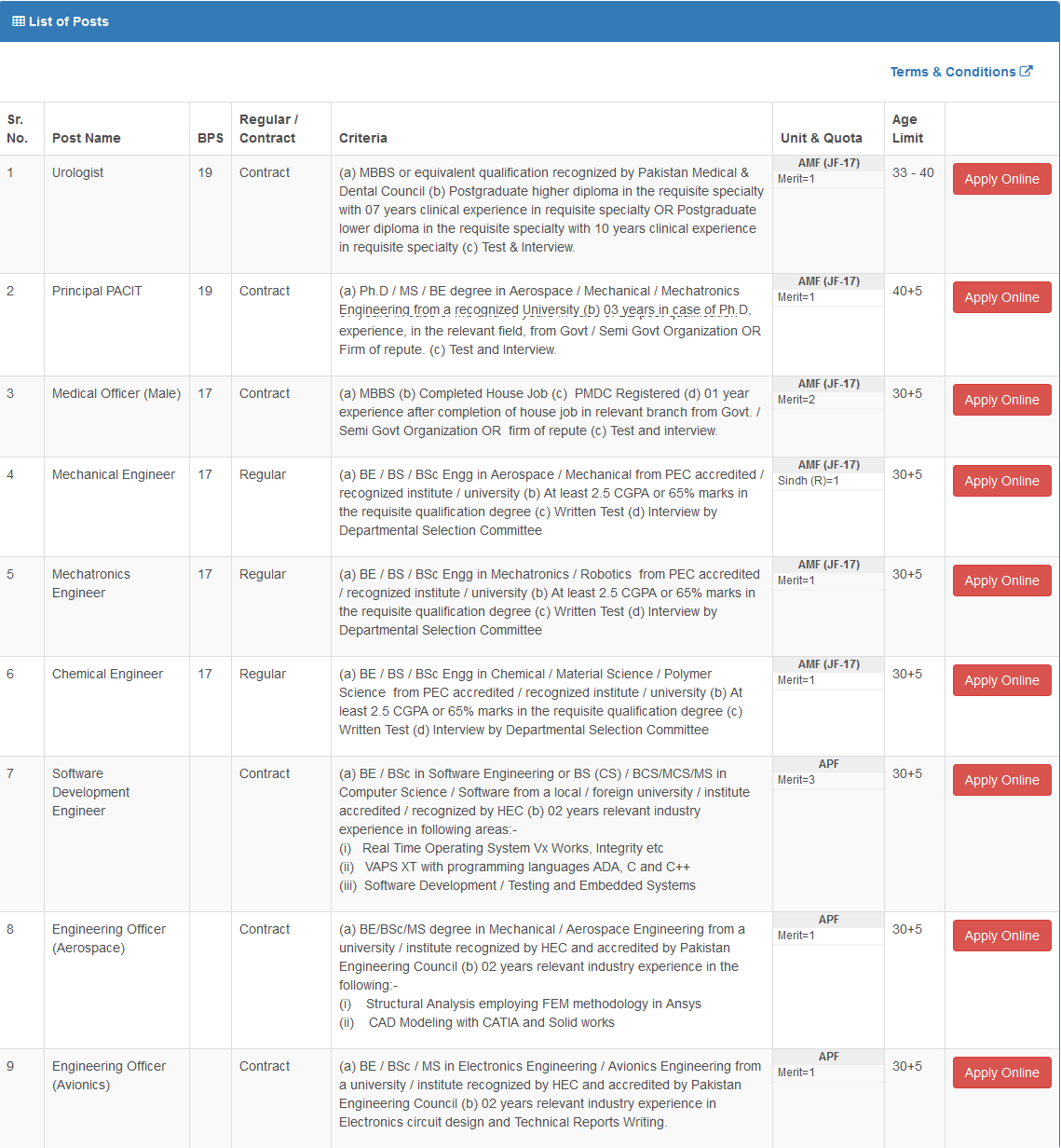 Pakistan Aeronautical Complex Kamra Jobs
The job designations included Engg aerospace, GSO-II Civ, Medical Officer Male, MD and Nursing Staff, Assistant, Nursing Staff, Laboratory Assistant Grade II, AFM metal worker, AFM mechanist, AFM Armaenent Fitter, AFM Comprressor Operator, Boiler Operator G II, Med and Nursing Staff, Snr chage Hand Metal worker and other designations.
PAC Kamra Jobs Online Apply
The official website link is available in below given button of the career approach. The PAC Kamra Jobs 2019 online apply approach. The application perspective again  forecast through the bachelor and master level. The purpose of the page is to explore the official online link that is revealed here. The notable position is the Supervisor Metal Worker that is regular position.
The Supervisor Painter vacancies are 11 that means it is regular position and the edibility of Matric class with the DAE as the minmum qualification. The Med and nursing staff is required and the merit quota is Punjab women 2 vacancies. One vacancy is merit based and other vacancy from Sindh.
Pakistan Aeronautical Complex Kamra Jobs 2019
The apply online perspective is doing relevance as per the regular approach. The HSM boiler operator vacancies are also open as you can get the idea about the new opening from this page. It is appropriate that you can fill up the application form from the website. It is normal to stay updated according to the PAC Kamra Jobs 2019 application form informed here.