Now you can join Pakistan Army as the jobs as Captain 2016 is announce through Lady Cadet Course LCC-13 Entry 2016. These jobs are just for all those female that lain down in the eligibility criteria as given under and holds the nationality of the Pakistani. This is the best career opportunity to start so what are you waiting for Pakistan Army is one of the armed forces of Pakistan that guards the border of the Nation from all the enemies so now the chance to join Army as a captain is in front of you and if you are a reasonable person than you should not miss this chance as the golden chances like this ever come in life again and again. All the vacant jobs will be filled with the Bachelor and Master Degree holder females on the merit basis so there will be no second way to enter into the Pakistan Army Except to clear the preliminary written test that would be taken in the Army Selection and Recruitment Centers in your city during 5th January till January, 2016. This will be notified to you when you register yourself and consider as an eligible candidate to appear in the preliminary written test. So if you want to try your luck then register yourself online or by visiting your nearest AS&RCs today as the last date to register yourself is January, 2016 and all those applications that will received incomplete or after the due date all these application will not be entertain in any case and those candidates will consider as ineligible candidates. More information of the eligibility Criteria, Registration process, Written test and result will be listed below on this page so have a look down on this post.
Join Pakistan Army As Captain through Lady Cadet Course LCC 13
Online Registration:
CLICK HERE FOR REGISTRATION
Eligibility Criteria:
CATEGORY OF SELECTION

QUALIFICATION

AGE
(1)
Corps of Engineers(Engrs)
BE Civil Engineering
28   Years as   on   May 2016.
(2)
Corps   of   Signals(Sigs)
BE –  Telecommunication EngineeringBE –  Software Engineering / Information Technology

BE –  Information Security

(3)
Army      ServicesCorps (ASC)
BE / BSc (Petroleum)
(4)
Corps of Ordnance(Ord)
MBA Supply Chain ManagementMBA Human Resource Management
(5)
Corps of Electrical&          Mechanical

Engineers (EME)

BE – ElectricalBE – Mechatronics
(6)
Army      EducationCorps (AEC)
MA / MSc in the following Subjects:-Computer Sciences

Pakistan Studies

Islamic Studies

(7)
Information & Computer Technology Officers (ICTO)
B.Sc – Computer EngineeringB.E/BCS – Computer Software/ Computer System/ Geographical Informatics

BS(IT), BSCS – Network System/ Information

Assurance

MCS / Masters in Computer Engineering, Masters in Software Engineering, MS in  Geographical Information System (GIS) & Remote Sensing or an equivalent /

higher qualifications in relevant discipline.
Written Test:
Written test will be taken from the candidates who have register them self before the January, 2016 as the schedule for the written test is given below and after the written test all those candidates who will clear this test will be moved forward towards the Physical Test in which candidates have to qualify 1.6 km in just 14 minutes and then the shortlists candidates will be moved towards the ISSB Test where the final selection has been made through some test. well the written test schedule is as follow
(1)
Engrs
 ————–
(2)
Sigs
(3)
ASC
 —————
(4)
Ord
(5)
EME
 ————
(6)
AEC
(7)
ICTOs
————
 Note: Officials Does Not Have Announced the 2016 Entry, As soon as They Announced Will be Uploaded here…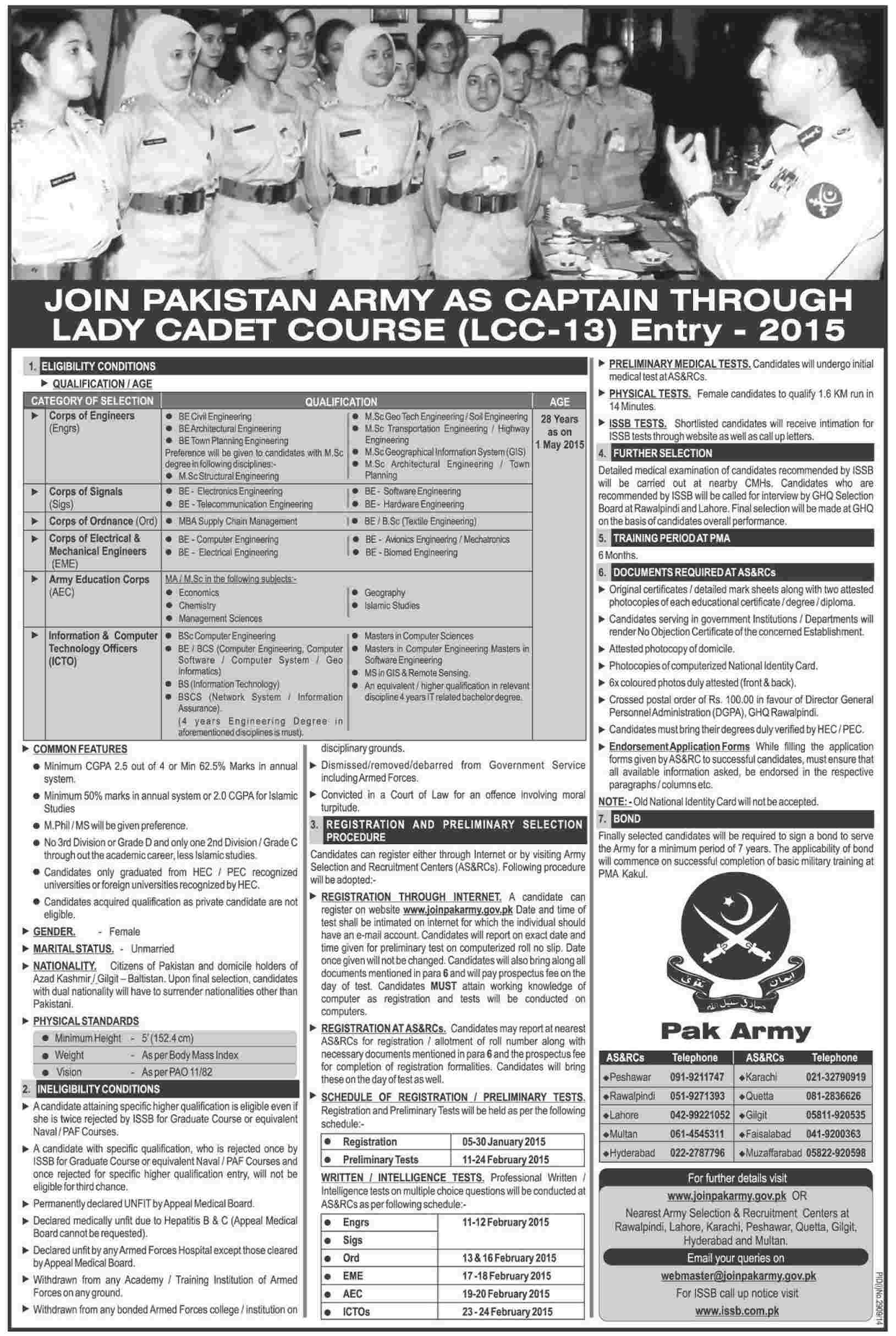 For More Information Contact:
Your Nearest Army Selection and Recruitment Centre in Peshawar, Rawalpindi, Lahore, Multan, Hyderabad, Karachi, Quetta, Gilgit, Faisalabad and Muzaffarabad.