PMA Long Course Requirements 2019 for physical and Medical is discuss here as PMA long course is a 2 year training program which is for the regular commission officers of combat as well as for the combat support arms and services. This course is of two years and consists of four terms. Each term remains for the six month and those applicants who successfully clear this training session direct become 2nd Lieutenants in Pakistan Army. All applicants, who have passed their intermediate, graduation or serving as a soldier in Army are eligible for this long course. Before you apply for this course please make sure PMA Long Course Requirements 2019 Medical, Physical, Age from this page. 2nd lieutenant is one of the higher ranks in Pak Army there for they provide no compensation in Pakistan Army Through PMA Long course 144 Registration requirements. A candidate who wants to do this long course must have medical fit and also meet with the physical requirements. Pak army has specified age range for this course and there is no upper and lower age relaxation.
PMA Long Course Requirements 2019 Medical, Physical, Age
Pak Army has set up the initial requirements for the PMA long course such as medical fitness, marital status, gender, physical standards etc. These requirements are compulsory to meet otherwise the applicant is not eligible for the PMA long course. Here is the detail of basic PMA long course requirements 2019.
PMA Long Course Physical Requirements 2019:
Minimum height of applicant must be equal or more than 5.4 feet or 162.4 cm
Weight of applicant should be according to as per the body mass index
Candidate have to complete 1.6 km running in 8 minutes and 30 seconds
Candidate also have to complete 15 repetitions of pushups in 2 minutes
15 repetitions of Sit ups in 2 minutes
3 repetitions of Chin ups in 2 minutes
4X7.4 with 4 feet depth Ditch crossing
PMA Long Course Medical Requirements 2019:
Applicant should not be physical defected
He also should not be color blind
Eyesight of candidate must be 6/6 with glasses
There will be Chest X-Ray
Blood picture will also be test
Urine test will also be there
In medical test, especially in ISSB your ear drums will also be check that either they are damaged or not
PMA Long Course Age Requirements 2019:
Candid who is applying after intermediate or equal must not be lower than 17 years and not more than 22 years however there is three month relaxation in upper and lower age limit
Applicants after graduation (2 years), must be between 17 years to 23 years
Those applicants who have done graduation ( four years) must be between 17 years to 24 years
Who are already serving as Army solider must between 17 years to 25 years in Age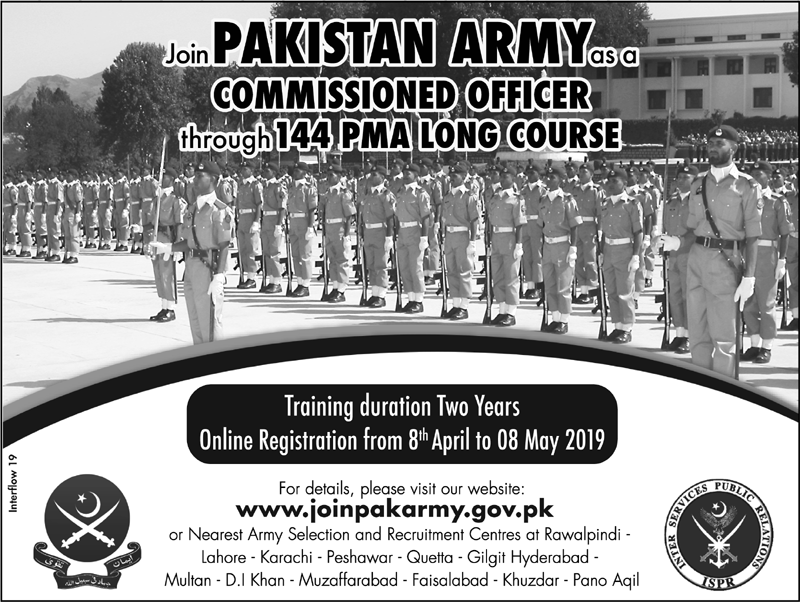 There are many other PMA Long Course Requirements 2019 such as educational requirements, marital status and many more. Those who are unmarried males of Pakistani nationality are allowed for this long course. Those who have Pakistani nationality but living abroad are also eligible to apply. In case of dual nationality, person should not allowed to apply for PMA long course.